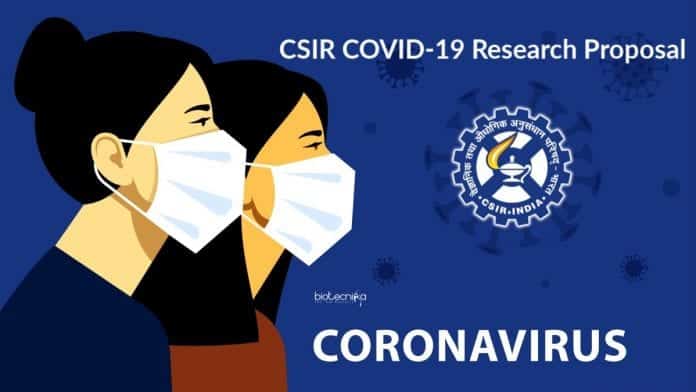 CSIR COVID-19 Research Proposal – Call For Applications
CSIR COVID-19 Research Proposal – Call For Applications. Latest CSIR-COVID 19 Call For Research Proposals. Interested applicants can check out all of the details on the same below:
This Call Expires In :
-909
Days
-21
Hours
-5
Minutes
-6
Seconds
CSIR

New Millenium Indian Technology Leadership Initiative (CSIR-NMITLI)
A Unique Public-Private Partnership Programme for Achieving Breakthrough Innovation

Hon'ble Prime Minister has given the nation a clarion call for fighting the Coronavirus pandemic. India, under his visionary leadership, has risen to address the challenge and is determined to create Corona Mukt Bharat by restricting and controlling the spread of coronavirus on one hand and treating & curing those infected on the other.  The identified technology has to play a transformational role in these trying times. We need to create breakthrough innovations and deploy them on massive scales.
Indian Industry has always risen to every national challenge so has CSIR by partnering with them with all its technological prowess. India now is the fastest-growing startup nation with budding entrepreneurs. We have a vibrant ecosystem which is capable of dealing with any challenge. It's with sense of urgency that we have to create in 'Team India' spirit
, a grand knowledge network by pooling all resources and move from ideas to impact. The New Millenium Indian Technology Leadership Initiative (NMITLI) of CSIR (a path setting technology development programme in operation since 2000, credited with building the largest public-private partnerships) is geared up to enable and accelerate the process of developing cutting edge technological solutions which will help in controlling, diagnosing and treating the Coronavirus affliction.
CSIR, in order to build a Pan India innovation movement, invites R&D proposals from Indian industry and startups. The proposals could be submitted as a standalone proposal or in partnership with academic institutions and/or national laboratories.
The proposal could be in areas such as:
Effective Containment Interventions;
Assistive Devices (such as affordable ventilators);
Innovative Diagnostics (rapid, affordable. cutting-edge);
Novel Drugs or Repurposed Drugs;
New Vaccines or Repurposed Vaccines;
Track and Trace Technologies.
CSIR Support:
Project clearance within 10 days;
Expert guidance of internationally recognized peers in developing and implementing the project.
Attractive financial assistance in proving the concepts and developing the identified technologies through a novel mechanism; and
Locating and forging a partnership with the best R&D competencies in the country.
Eligibility: 
Companies registered in India having:
more than 50% Indian shareholding;
less than 50% Indian shareholding along with manufacturing facilities in India.
The proposal should clearly bring out in brief (not exceeding 5 pages) among others; specific objectives, breakthrough and distinctive elements of the innovation, envisaged R&D and product development, expertise available with the industry and the networking sought with R&D institutions and academia to achieve the objectives set in the proposal. The format is attached.
Proposals may be sent to:
Director General
 COUNCIL OF SCIENTIFIC & INDUSTRIAL RESEARCH (CSIR)
Anusandhan Bhawan, 2 Rafi Marg, New Delhi – 110 011.
Email: dgcsir@csir.res.in
Last Date: April 05 2020.
View Flyer, Notification and Download Application Format From Below
Editor's Note: CSIR COVID-19 Research Proposal – Call For Applications. Please make sure that you are subscribed to the Biotecnika Times Newsletter and our YouTube channel to be notified of all of the latest in the industry. Follow us on all of our social media like Twitter, Facebook and Instagram.
Upload your CV to Biotecnika