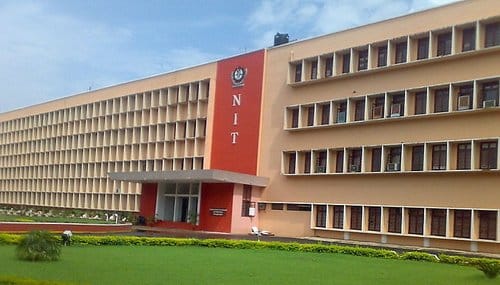 National Institute of Technology Rourkela,formerly Regional Engineering College Rourkela (REC Rourkela), is a publicly funded institute of higher learning for engineering and technology located in the steel city of Rourkela, Odisha, India. It is one of the 31 National Institutes of Technology in India and has been recognized as an Institute of National Importance by the National Institutes of Technology Act, 2007. NIT Rourkela has been ranked as the 21st best Engineering College of India in the Edu-Rand Rankings of 2015.
NATIONAL INSTITUTE OF TECHNOLOGY, ROURKELA
RECRUITMENT OF FACULTY POSITION
Advertisement No.: NITR/ES/01/2016
Position 1
Job Title: Assistant Professor (on Pre-Ph.D. Contract)
Salary: PB-3 (15,600 – 39,100) AGP: 6,000
Age Limit: 30
Position 2
Job Title: Assistant Professor (on Contract)
Salary: PB-3 (15,600 – 39,100) AGP: 6,000
Age Limit: 35
Position 3
Job Title: Assistant Professor
Salary: PB-3 (15,600 – 39,100) Minimum Pay in Pay-band 30,000 AGP: 8,000
Age Limit: 40
Position 4
Job Title: Associate Professor
Salary: PB-4 (37,400 – 67,000) Minimum Pay in Pay-band 42,800 AGP: 9,500
Age Limit: 45
Position 5
Job Title: Professor
Salary: PB-4 (37,400 – 67,000) Minimum Pay in Pay-band 48,000 AGP: 10,500
Age Limit: 50
Eligibility:
Biotechnology: Ph.D. in Biotechnology with B. Tech. in any branch of Engineering. Candidates with M.Sc. degree in Biotechnology followed by M. Tech. and Ph.D. in Biotechnology will be considered on the basis of subjects studied at M.Sc. and M. Tech. level, Ph.D. research topic (relevance to industry) and post Ph.D. experience.
Following is the list of academic groups in each department. Vacancy exists in almost all fields
Life Sciences:
Biochemistry and Molecular Biology
Cell and Developmental Biology
Immunology and Molecular Medicine
Microbiology and Ecology
Bioinformatics Group
Biophysical Sciences.
Biotechnology & Medical Engineering:
Cell and Molecular Engineering
Bioprocess Engineering
Environmental & Plant Biotechnology
Biomechanics & Bio transport Engineering
Tissue Engineering and Biomaterials
Medical Electronics and Instrumentation.
Chemistry:
Organic Chemistry
Physical and Computational Chemistry.
How to Apply:
Candidates willing to apply for one or more posts are requested to apply online at http://nitrkl.ac.in/Jobs Tenders/lFacultyPosition/Default.aspx.
The online application can be filled in multiple sessions.
Applications shall be received online only. No application or CV should be sent against this advertisement by email or letter mail.
Persons employed in Government and Semi-Government organizations may apply directly against the advertisement. For this the application should be completed online. The print-out of the    application generated online should be submitted through employer if shortlisted for interview.
Candidates are required to check the Institute website from time to time for latest information, application status, call for interview, change of dates and final results. No individual communication/intimation will be done by the institute.
Deadline:
Opening of online application portal    –    25 February, 2016
Closing of online application portal    –    13 March, 2016
Tentative schedule for interview    –    18 April, 2016 to 14 May, 2016
View Latest Jobs: