New AI-COVID software by Biocogniv to help labs rule-out COVID-19
We are 9 months into the pandemic and the world has seen major scientific developments in terms of pharmaceuticals and diagnostics. Artificial intelligence is, no doubt, the new way of doing things in the scientific world. The new AI-COVID software is an example of that.
Vermont-based private biotech company Biocogniv Inc. specializes in developing AI-powered software for diagnosis in hospitals. They have developed new AI-COVID software that determines the probability of a person suffering from COVID-19 in their blood's routine testing. The University of Vermont and Cedars-Sinai collaborated with the company to study this technology's performance and found it highly accurate, aiding in the reduction of PCR tests to be conducted. The Journal of Medical Internet Research has published details of this study.
Timothy Plante (MD), who is an assistant professor at the University of Vermont, explains that although we have a better understanding of the pandemic and patients affected by it, there is large congestion in the SARS-CoV2 diagnosis using PCR, which is the current standard method. PCR requires a particular sample, such as a nasal swab and sophisticated lab equipment.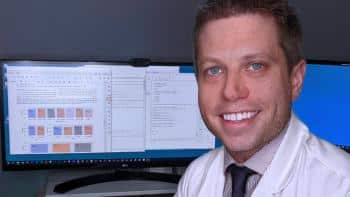 Tanya Kanigan (Ph.D.), the Chief Operating Officer of Biocogniv, says that a survey of 100 hospitals in the US revealed that emergency room-ordered COVID-19 tests have an average turn-around time of 24 hours or more. In contrast, the aim is to get results within an hour.
Highly accurate AI-COVID software
To understand the patient's electrolytes, immune system, liver, and kidney, tests such as Complete Metabolic Panels and Complete Blood Count are commonly ordered by the Emergency division. These are rapid, and with the new AI-COVID software, changes in these regular tests can be examined accurately. Using this data, a patient is tested for the probability of testing negative for COVID-19.
Chief Medical Officer of Biocogniv Jennifer Joe (MD), an emergency doctor in Boston, confirmed the software's use and efficiency. The device takes only seconds to analyze the blood tests and produces an insightful result that can be integrated into the lab's own analysis. Using this new AI-COVID software, the turnaround time for emergency tests in efficient labs focusing on the routine blood tests could be reduced to an hour or lesser.
Victor Tapson (MD), who specializes in pulmonary and internal medicine at Cedars-Sinai, explained that such technology helps doctors rule out COVID-19 during emergencies, which is currently a priority. He gave an example of a low D-dimer test that negates clotting, thus avoiding a chest CT scan. This saves both money and time.
Reduced time for PCR
Incorporation of the new AI-COVID software in emergency laboratories also decreases the time for typical PCR test results. Dr.Joe acknowledges its use in helping healthcare providers designate PCR tests for the patients who are in dire need of quick diagnosis, thus easing the bottleneck situation.
The researchers also validated the AI-COVID model on data from demographically and geographically diverse patients from twenty-two hospitals in the US and data from Cedars-Sinai. An AUC (Area Under Curve) value of 0.91/1.00 was achieved. Pathologist and Chief Scientific Officer at Biocogniv, George Hauser (MD), said that the new AI-COVID software has the sensitivity (95%) and specificity (49%) comparable to other rule-out tests.
Artur Adib (Ph.D.), the CEO of Biocogniv, expressed his gratitude to his highly-skilled, efficient team. Cedars-Sinai and the University of Vermont had their medical scientists validate the software. AI has progressed significantly as a cutting-edge technology that can now be incorporated into healthcare, which is a boon in this testing pandemic situation.
Author: Deepthi Prakash