RT LAMP Based COVID Test
The COVID-19 pandemic is caused by the novel SARS-CoV-2 virus namely, coronavirus. Countless people are getting affected daily. The lack of coronavirus vaccine or drug makes a stronger surge for quick, accurate, and sensitive COVID-19 screening methods to check and prevent the virus.
Existing technique
SARS-CoV-2 diagnosis is performed presently by RT-PCR method (Real-Time Reverse Transcription Polymerase Chain Reaction), where viral genetic material is detected in nasopharyngeal swab samples. However, this method has certain limitations. The method demands sophisticated and expensive devices as well as thorough training for applying this diagnostic method. There are chances of false-negative test results due to 95% method sensitivity and specificity. There is a long processing duration, for about 10 hours, delaying the detection and accessibility of the test results. This factor increases even more at remote locations because the samples have to reach the specific lab facility. In nutshell, RT-PCR can't keep up with the rising demand for COVID-19 diagnosis.
Another detection method, namely COVID-19 Serology assay is additionally used to identify antigens specific to the respective virus. Even though these methods are fast and cheap, it does not possess adequate accuracy and indicates high false negative/positive results and low sensitivity rates.
Exceptional approach
Based on the vagueness in COVID-19 detection, there is a pressing need for a refined COVID-19 screening method. RT LAMP technology is employed in this top-notch method in India. It involves amplification of the viral genetic material in a single step. In this procedure, RNA of coronavirus is transformed to cDNA (complementary DNA), catalyzed by reverse transcriptase enzyme through a process called reverse transcription. Afterward, cDNA is multiplied with the LAMP method. Despite the prevailing application of the LAMP technique in western countries beyond five years, the pertaining method is unfamiliar to our native IVD industry.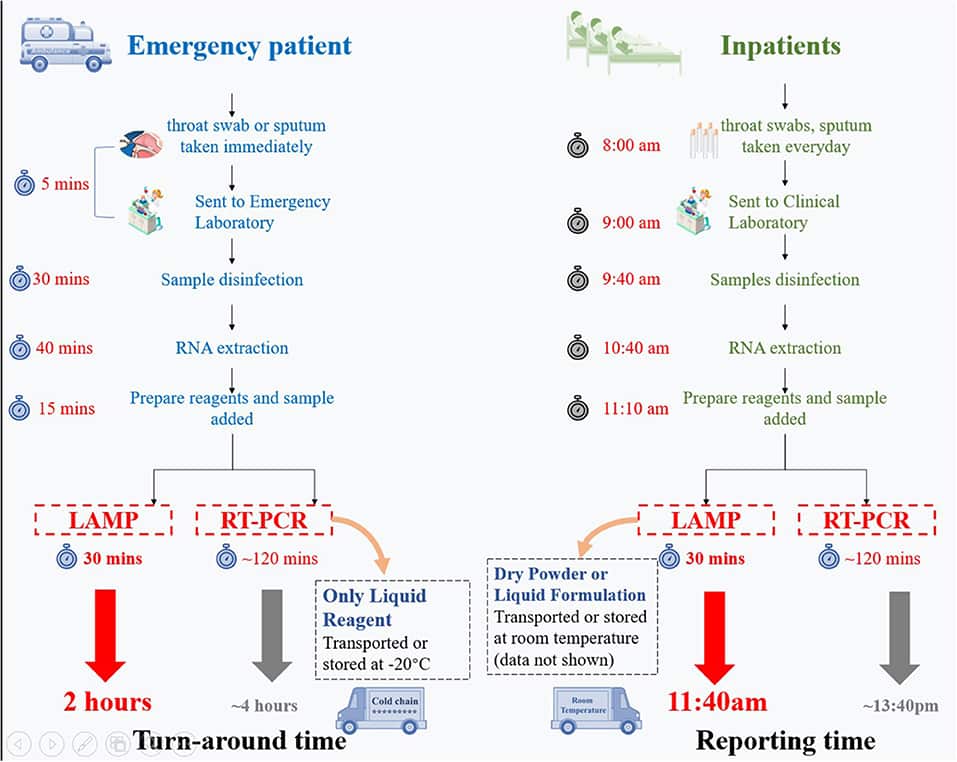 The RT-LAMP Based COVID19 test offers several merits when compared with the RT-PCR method. The latter method requires diverse temperatures in a single cycle. The temperature of the PCR mix has to be altered intermittently from 92℃ to 56℃ and then to 72℃. Therefore, RT-PCR methods require costly thermal cycler and real-time PCR instruments. On the contrary, the novel RT-LAMP technique doesn't need a thermal cycler because it uses a steady temperature (isothermal) of 65℃ for DNA amplification.
In addition, the amplified amount of nucleic acids in the RT LAMP Based COVID19 testis several-fold above that in PCR. Thus, the final detections can be done with a colorimetric assay, erasing the necessity of expensive machinery.
An essentially important benefit of the LAMP technique is that the method is very quick and the outcomes can be procured within 30 minutes and positive specimens in about 10 minutes. This on the other hand can be contrasted with the 8-10 hours long  RT-PCR method. This facilitates rapid-accurate test results from COVID-19 test centers.
An additional merit is the storage requirement for LAMP reagents. It requires 4℃ (normal refrigerators) compared to PCR reagents, which need -20℃ (deep freezers), increasing the expenses.
The LAMP method doesn't demand arduous formulations like RT-PCR. LAMP is inexpensive and doesn't require sophisticated devices. Also, the test can be carried out using minimal expertise and facilities.
Lately verified
ICMR (Indian Council of Medical Research) recently validated the RT-LAMP based COVID-19 test with 100% specificity and 98.7% sensitivity. Since RT-PCR COVID-19 Kits has 95% specificity, the LAMP technology is superior. The negative and positive predictive values in LAMP based kits are 98.8% and 100% respectively with an accuracy of 99.38%
Ergonomical
To tackle the COVID-19 outbreak, an effective, rapid, accurate, easy to use, confirmatory molecular testing method is cardinal. RT-LAMP testing is an exemplary technique for circumstances in India. There is a critical requirement to establish a national diagnostic capacity beyond what is attainable with existing assay kits. This is achievable with RT-LAMP assay which demonstrates great assurance as a diagnostic tool. The processing speed, economical nature, and simplicity enable it to be the perfect approach for detecting the virus.
ICMR validated and sanctioned LAMP-based kits for commercial use recently developed by the Indian Company, Agappe Diagnostics. The Kit name goes by LUME Screen nCoV.
RT LAMP Based COVID19 Test
Author: Geema George