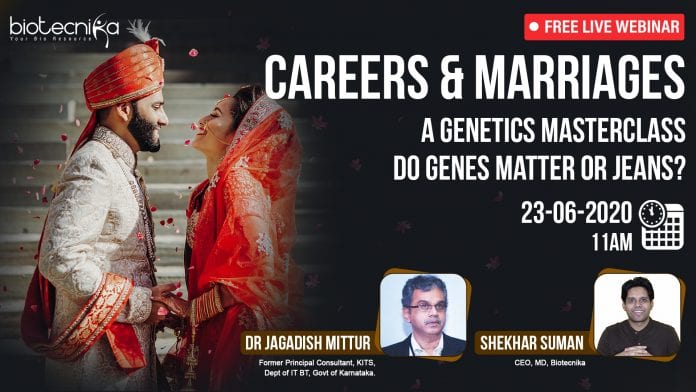 An Exclusive FREE Webinar
A Topic Nobody Talk's About & Nobody Cares About
"CAREERS" & "MARRIAGES" – GENES Matter Or JEANS?
Biotecnika Welcomes You All to Attend The Genetics Master Class – Free Webinar With Our Special Guest Speaker – Dr. Jagdish Mittur, PhD – Former Principal Consultant, KITS Department of IT BT and SST, Government of Karnataka.
Marriages: The Drama of GENES or JEANS?
Ever imagined how marriages used to happen in earlier times and how technology has changed the world to be online and .coms are the matchmakers now? During the process, major aspects of biology are matched and other sciences are considered namely Morphology, Phenotype, Taxonomy, Socio-Economics, Chemistry, Embryology, Physics, Psychology and what not! BUT WHAT ABOUT GENES and GENETICS?
The GENES has been ignored over JEANS Which, unfortunately, has led to the birth of Lakhs of children with rare genetic diseases like HLHS, Primary ciliary dyskinesia (PCD), Duchenne muscular dystrophy (DMD) and many more. There are 7000 different types. There are 70 million children who sufferer in India with genetic rare disorders & Almost 350 million in the world.
How unfortunate right!
To spread awareness about this serious issue and to make us realize our roles being
Geneticist & Biologists, Dr. Jagadish Mittur will be joining us LIVE on 23rd June 2020. He will also be talking about how genetics influences our day to day decisions.
Doesn't it sound interesting?
To listen to one of the most interesting talks mark your calendars and register now for this FREE Webinar
Webinar Details:
When? – 23rd June 2020
At What time? – 11 AM IST
Venue? – Online
Registration Fee? – It's Absolutely Free for all Biotecnika subscribers
Speakers: Dr. Jagadish Mittur & Mr. Shekhar Suman
It is one webinar you wouldn't want to miss
Fill out the registration form now.
About Dr. Jagadish Mittur:
Dr. Mittur Jagadish, a native of Mittur village in Karnataka, worked till recently as a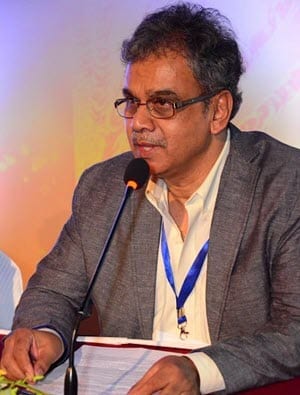 Principal Consultant in the Biotechnology Facilitation Cell (BFC) at KITS (Karnataka Innovation and Technology Society), Department of IT BT and S&T, GOK, gaining government work experience. Following his M.Sc., Botany from Central College, Bengaluru in 1974, and PhD in Microbial Genetics from Dublin, Ireland in 1979, he secured 16 plus years of Academic and also 16 plus years of Industry Experience in 7 different cities across 5 countries (India, Ireland, USA, Germany & Australia). He has gained cultural competence from his rich experience of interaction across various humanities while touching several R&D and Industry segments of Biotechnology.
Promoting ISR (Individual Social Responsibility) he built a team in 2001-02 in the busy streets of Malleshwaram for the safety of school children which continues to be active even after 18 years. His other activities include assistance towards elderly care, animal welfare, and places of worship. He has helped the building/functioning of two separate village schools in Mulabagal, Kolar, Karnataka.
For Starters, Do Read An Insightful Article Penned By Dr. Mittur Himself.  – Corona: A Clever Rogue or An Admired Superstar?
FREE Webinar On 23rd June 2020, Do Not Miss Out!
Upload your CV to Biotecnika