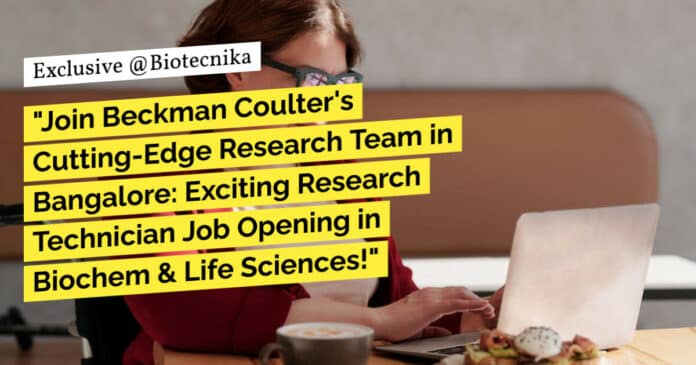 Research Technician Job Opening at Beckman Coulter For Biochem & Life Sciences
Beckman Coulter Life Sciences, a trusted partner in scientific and healthcare advancements, is seeking a Research Technician to join our team in Bangalore, Karnataka, India. As part of our mission to accelerate answers and drive excellence, you will contribute to the development of innovative products for the field of flow cytometry. If you are passionate about protein bioconjugation and purification, and have expertise in analytical techniques and problem-solving skills, we invite you to apply for this exciting opportunity.
Position: Research Technician: Conjugation & Protein Purification
Department: Research and Development Science
Location: Beckman Coulter, Bangalore Development Center
Responsibilities:
Participate in the design and development of reagents and applications, specifically novel antibody conjugation and characterization methods for use in Flow Cytometric applications.
Execute day-to-day laboratory work including bioconjugation, protein purification, formulation, and protein estimation by biochemical assays.
Follow standard practices and procedures in analyzing data to obtain answers.
Adhere to good laboratory and documentation practices throughout the design and development cycle.
Apply analytical skills and independent judgment to develop innovative solutions to complex problems.
Collaborate in study planning to meet standards and regulatory requirements.
Ensure compliance with health, safety, and environmental guidelines.
Report experiment status to supervisor and actively contribute to resolving performance and quality issues.
Take on new challenges and perform related duties as required.
Education and Experience:
Core expertise in protein biochemistry, including bio-conjugation chemistry and chromatography techniques.
Hands-on experience with protein purification and knowledge of flow cytometry or other assay development techniques.
Proficiency with preparative or analytical chromatography (Affinity, IEC, MMC, SEC) and advanced laboratory measurement systems (AKTA, HPLC, Spectrophotometer, Protein estimation techniques, FRET analysis).
Advanced degree in Biochemistry, Engineering, Protein Chemistry, Life Sciences, or related discipline, with 2-5 years of experience.
APPLY ONLINE HERE
Keywords: Research Technician, Biochemistry, Protein purification, Protein bioconjugation, Flow Cytometry, Bangalore, Karnataka, India, Beckman Coulter Life Sciences. Research Technician Job Opening at Beckman Coulter For Biochem & Life Sciences. Please ensure you are subscribed to the Biotecnika Times Newsletter and our YouTube channel to be notified of the latest industry news. Follow us on social media like Twitter, Telegram, Facebook and Instagram.