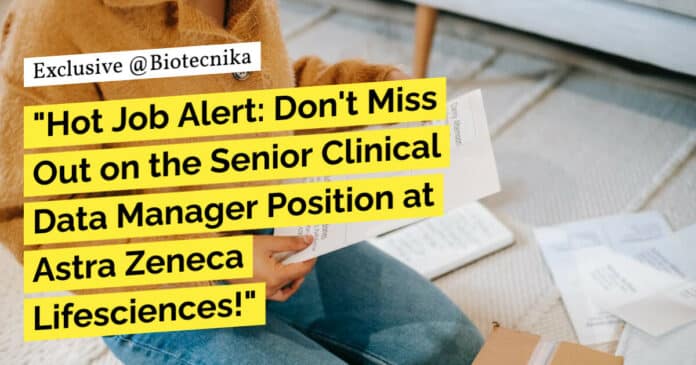 Astra Zeneca Lifesciences Job – Apply For Clinical Data Manager Job
Senior Clinical Data Manager I

India – Bangalore
Time type: Full time
Job Requisition ID: R-184922
Introduction to Role
Assist with coordination the Clinical Data Management (CDM) deliverables on assigned clinical studies and may be an expert on CDM processes, standards, and technology. May be a member of the Global Study Team (GST) for less complex studies. Collaborates with DM vendors and liaise with a variety of departments on a local and/or global level to ensure each study is run in accordance with the specifics of the model. Maintains Business Continuity for CDM processes and standards, including the integrity of the clinical database for the relevant studies. May work under the direction of an experienced Principal Clinical Data Manager.
Accountabilities
Provide study-level CDM administrative support based on the relevant model and DM Vendor
Conduct activities related to the study start-up, conduct, and closeout phases
Collaborate with Data Management Vendor regarding upcoming deliverables and milestone achievements
Oversee data quality, documentation quality, and types of these deliverables and milestones
Provide study status reporting to the relevant clinical study team members
Essential Skills/Experience
University or college degree in life sciences or related subject, pharmacy, nursing, or equivalent relevant degree
Knowledge of Clinical Data Management and experience in the Biotech/Pharma/CRO industry
Demonstrated current understanding of Good Clinical Data Management Practices (GCDMP) and relevant regulatory requirements
Demonstrated experience of clinical databases, different clinical data management systems, and electronic data capture (EDC)
Demonstrate understanding and experience in query management process and reconciliation activities
Ability to work flexibly on simultaneous projects and proactively manage time to meet own deadlines
Excellent written and verbal communication skills
Ability to work in a global team environment
Excellent organizational and analytical skills and high attention to detail
Desirable Skills/Experience
Demonstrated knowledge of clinical and pharmaceutical drug development process
State of the art understanding of database structures, programming languages, data standards (CDISC), and practices as they apply to CRF design, database development, data handling, and reporting
Demonstrated understanding of clinical data system design/development/validation and system interoperability
Demonstrated ability to work effectively with external partners
Knowledge of SQL, 4GL, VBA, or R software
Date Posted: 20-Nov-2023
Closing Date: 30-Nov-2023
Link to Original Notification to apply
Keywords: Astra Zeneca Lifesciences, Clinical Data Manager, Senior Clinical Data Manager, India, Bangalore, Full-time job, Life sciences, Good Clinical Data Management Practices, Biotech/Pharma/CRO industry. Astra Zeneca Lifesciences Job – Apply For Clinical Data Manager Job. Please ensure you are subscribed to the Biotecnika Times Newsletter and our YouTube channel to be notified of the latest industry news. Follow us on social media like Twitter, Telegram, Facebook and Instagram.