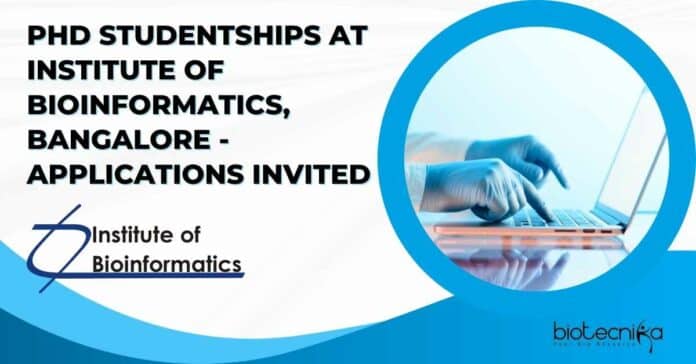 PhD Studentship at Institute of Bioinformatics, IOB PhD Jobs
PhD Studentship at Institute of Bioinformatics, IOB PhD Jobs. Institute of Bioinformatics Ph.D Studentship Jobs. Institute of Bioinformatics Careers. Institute of Bioinformatics Recruitment. Interested and eligible applicants can check out all of the details on the same below
Ph.D studentship in Mass Spectrometry-based Metabolomics and Proteomics Research
Institute of Bioinformatics (IOB; http://www.ibioinformatics.org) is inviting applications for Ph.D Fellowship positions. Institute of Bioinformatics (IOB) works in the areas of disease biology including cancer, genetic disorders and infectious Diseases using multi-omics and system biology approaches. Selected candidates will have the opportunity to work on LC-MS based Proteomics and Metabolomics for which IOB has state-of-art infrastructure. The selected candidates will be enrolled for their Ph.D at Manipal Academy of Higher Education (MAHE), Manipal.
Name of the position – Ph.D studentship (Mass Spectrometry-based Metabolomics and Proteomics)
Qualifications –
Applicants must hold M.Sc., in any area of life sciences or M. Tech in Biotechnology.
Candidates with M.Sc. in Chemistry/Analytical Chemistry will also be eligible.
Knowledge of analytical methods in chromatography and mass spectrometry is desirable.
How to apply –
Interested candidates may send their applications to [email protected] on or before 30th December 2022 along with their academic record
. Selection will be based on academic merit and performance in oral interview.
Editor's Note: PhD Studentship at Institute of Bioinformatics, IOB PhD Jobs. Please make sure that you are subscribed to the Biotecnika Times Newsletter and our YouTube channel to be notified of all of the latest in the industry. Follow us on all of our social media like Twitter, Telegram, Facebook and Instagram.