Subject-Wise NEET Exam Preparation
Preparing for the NEET necessitates effort, determination, discipline, time management, and, most importantly, complete concentration. You will be competing against thousands of students from across the country. Despite what appears to be an arduous task, a systematic and dedicated approach to the NEET can guarantee a positive outcome. Intelligent, hard work takes precedence over simple hard work. We've put together a comprehensive subject-wise approach for the NEET exam to prepare for and crack the NEET exam effectively.
Students should begin preparing for the exam at least two years in advance, i.e., in Class 11. NEET aspirants must plan their NEET preparation strategy with zeal.
Botany and Zoology are covered in the biology section of the NEET question paper. The total marks of the biology section in the NEET exam are 360 marks. Biology is a subject where students with better understanding and clarity can achieve higher scores. As a result, focusing more on Biology for NEET can improve aspirants' chances of passing the exam the first time. The NEET biology syllabus carries around equal marks of questions from Class XI and XII.
The NEET biology syllabus includes nearly equal weightage of Class XI and XII questions
. So, aspirants must cover the entire NEET
Biology
syllabus without skipping any topic.
The NEET chemistry syllabus is split into 3 sections: inorganic, organic, and physical. The NEET chemistry question paper consists of 45 questions worth 180 marks. Aspirants who prepare properly can achieve excellent results in the physics section and a high rank in the NEET exam.
Physics is the NEET exam is typically one of the most challenging subjects for medical aspirants. Particularly as NEET Physics preparation necessitates the hardest work and includes a wide range of theories and many numericals associated with each concept.
NEET: Marking scheme and exam pattern
The exam contains 180 questions, 45 from Physics, Chemistry, Botany, and Zoology, and the maximum mark is 720. The timeframe of the exam is 3 hours. The question paper is split into 2 sections: A and B in all 4 subjects. Section A contains 35 mandatory questions, and Section B has 15 questions, only 10 of which must be answered.
| | | |
| --- | --- | --- |
| Subject | No. of Questions | Marks |
| Physics | 45 | 180 |
| Chemistry | 45 | 180 |
| Zoology | 45 | 180 |
| Botany | 45 | 180 |
| Total | 180 | 720 |
Each correct answer will receive 4 marks, while each incorrect answer will receive 1. There will be no negative marking for not answering a question.
The Subject-Wise Approach and tips for NEET Exam are listed below, which can be used as an effective preparation strategy.
Subject-Wise NEET Exam Preparation: Physics Section
The Physics section, the most difficult of all, necessitates extensive knowledge of every topic. First, focus on topics on which you have a firm grasp. But don't entirely avoid your weak areas; work on them to improve. Review all of the general physics formulae on a regular basis.
Physics necessitates logical reasoning, a thorough knowledge of basic concepts, and the use of maths to solve problems. Physics for NEET is about applying ideas and concepts to solve problems rather than memorizing them.
How Should You Study and Master Physics for the NEET?
To achieve a higher overall score for admission to MBBS and other medical programs at top medical colleges in India, aspirants must excel in NEET Physics. To apply each minor concept to the numerical questions, it is crucial to understand each minor concept fully.
Best study tips for mastering Physics for the NEET.
Understand the syllabus and the exam pattern
One of the essential strategies needed to prepare for NEET Physics is a methodical and well-organized analysis of the syllabus. The main strategy for preparing physics for NEET is to become familiar with the NEET physics syllabus before you begin. It covers all of the chapters you studied in 11th and 12th-grade Physics. However, you must be familiar with the subject's detailed syllabus as well as the chapters that carry a high weight of marks.
Pay close attention in Physics class to what the teacher is saying. If you have any doubts, don't hesitate to ask your teachers and clarify them then and there. Make class notes, including formulas, summaries, new terms, definitions, etc. They will come in handy later to help you comprehend the concept or topic.
Before the class, take a quick look at the topic
Take a quick look at the index, table of contents, preface, headings, key paragraphs, and summaries for the topic or chapter you'll be studying in class. It will help you get a deeper understanding of what is being taught in class.
Master all of the formulas
Regarding NEET physics, formulas are essential for the preparation process. All of the formulas must be memorized and understood by the students. You will not be able to get a good grade in Physics unless you master the formulas. It is also suggested that, rather than memorizing the formulas, you understand the logic and principle behind each formula so that you do not become confused when applying them to different scenarios. Maintain a notebook with all of the important NEET Physics formulas and their related concepts for easy revision and reference.
It is well known that the NEET physics syllabus is extensive, and if you only use textbooks or study materials as notes, you may feel overwhelmed or clumsy. It is suggested that you make your own short notes. Your neet physics notes will come in handy during the revision process.
Studying and practicing Physics every day is a golden key
Make a study schedule for all 3 subjects, including Physics. Studying and practicing is essential for mastering Physics for the NEET. Study with full concentration and without any distractions. The golden rule for mastering physics for NEET is to practice, practice, and practice. The goal is to answer so many questions that you can predict which method will work best. You'll be able to answer the question more quickly as you gain experience.
Practicing NEET Physics questions will help you improve your application and problem-solving skills. You must practice answering a sufficient number of questions to master the skill of applying your knowledge to solve problems. Solve the examples and exercises from the NCERT textbooks without looking at the solutions. After you've answered the question, look at the solution and check if there's a better way to solve the problem.
Subject-Wise NEET Exam Preparation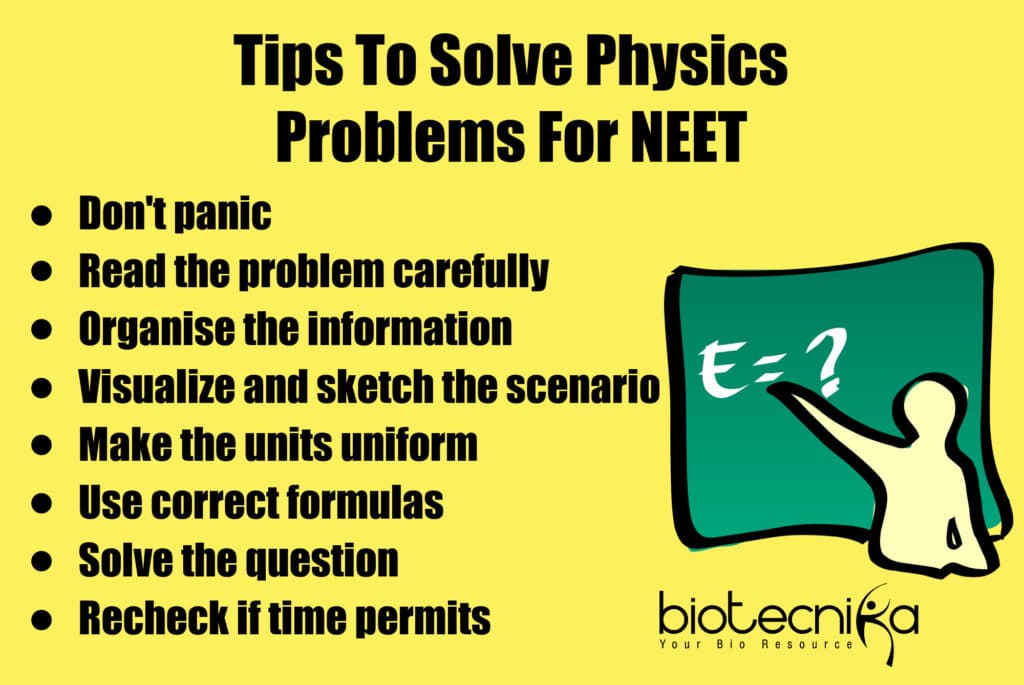 Improve Conceptual Clarity
Students preparing for NEET Physics must always begin with a firm grasp of the concepts. Physics is a subject that includes theoretical concepts as well as numerical problems. As a result, students find it difficult. As physics is concerned with studying matter, energy, and its interactions, you must employ your imagination to gain greater clarity. Comprehend all of the concepts in the topic in a detailed manner so that when you attempt the question paper, you have a good idea of the strategy and the core of the topic.
Attempt questions after understanding the concepts
Understanding concepts alone is insufficient in physics. Students must learn how to apply their knowledge in solving MCQs and numerical-based problems and comprehend the theoretical facets of NEET Physics concepts.
Try solving as many questions as possible but only after understanding the concepts. Physics differs from other subjects as it is heavily focused on problem-solving. The more problems you solve, the more familiar you'll become with approaches for choosing the correct formula in Physics. Start with the basic questions and work your way up to more tough ones.
Seek help from your teachers
If you have any queries, seek assistance from your teacher. You should first try the problems on your own, making a concerted effort, and if you are still unable to solve them, you should seek help from the teacher.
Pay more attention to Important Topics for NEET Physics
NEET physics preparation necessitates students' knowledge of the topics that carry more marks than others. This strategy could be very effective for students wondering how to prepare for NEET Physics.
Refer to the Best Study Materials
The NCERT books should be the primary preparation material for NEET Physics. Students studying for NEET Physics must know and understand all of the concepts covered in the syllabus and be able to solve all numerical problems.
Keep track of time while solving numericals
Time is an essential factor in NEET Physics preparation. Students must attempt to solve the NEET Physics questions in a limited amount of time. This will help in time management and boost confidence on exam day.
Students should take mock tests online to get a feel for the exam day scenario. NTA also provides mock test facilities (National Test Abhyas) to help students improve their speed of solving an answer.
Revise everything on a daily basis after the class
Revision is essential for remembering key details, figures, concepts, and techniques that you previously studied. Revising on a regular basis is the only way to keep the topics in your mind until the exam. Take a look at what you learned in class. Solve any problems or questions raised in class or related to what is taught.
Subject-Wise NEET Exam Preparation: Chemistry Section
The chemistry section of the NEET exam includes 45 questions carrying 180 marks, divided into 3 sections: organic, inorganic, and physical chemistry. Physical and organic chemistry predominate in the chemistry section, but inorganic chemistry should not be overlooked.
Chemistry is the most scoring subject among physics and biology, so aspirants can achieve a high score in the NEET exam with proper preparation.
How Should You Study and Master Chemistry for the NEET?
Organic, inorganic, and physical chemistry are the 3 major sections of NEET Chemistry. Students contemplating how to prepare for NEET Chemistry should preferably begin by thoroughly reviewing all three sections. These sections are divided between the Class 11 and 12 curricula.
One of the first steps to be taken is creating and implementing a solid plan. Create a study plan with attainable goals that revolve around you. If you wish to get a government seat, then you must obtain a score of at least 600.
Success in NEET chemistry is unavoidable, as it is said to be the least complicated section, requiring the least amount of time if properly prepared. If you want to get more than 160 marks in chemistry, you must answer at least 40 out of 45 questions correctly. Set your sights on this, and the rest will fall into place.
Emphasize the Important Topics
Students preparing for NEET Chemistry must be well-versed in the important topics to get a kickstart. As the NEET Chemistry syllabus is extensive, emphasizing the topics carrying more importance from the exam point of view will aid students in their preparation.
Students must solve mock tests online in order to manage the allotted time and become familiar with the real-world exam scenario in order to improve their speed in answering difficult questions. Taking mock tests will assist aspirants in being the best judge of themselves as well as in building their confidence.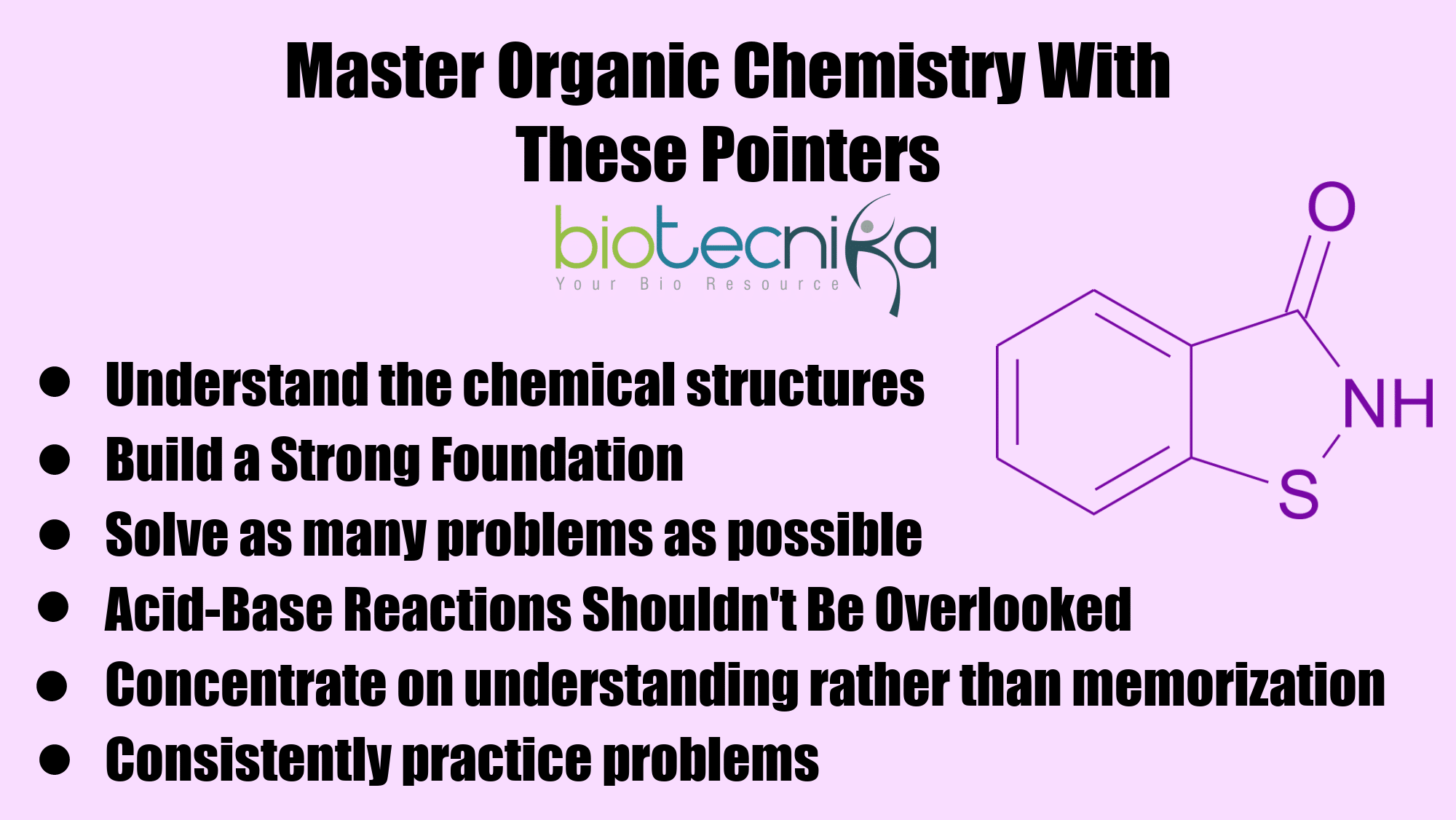 The most challenging step in preparing for any exam is selecting the right book. But once you've got the right mix of books, you've already won half the battle. Without confusion, NCERT is "the" book for NEET chemistry. Simply referring to this book for chemistry is adequate, easily pioneering your way to a NEET chemistry score of 160+.
Practice from previous years' papers
After reading a chapter, go over all of the possible questions from previous years, mock tests, etc. Concentrate on questions that frequently appear in the paper and decode their pattern. Recognize the constant theme of the question being asked. This would require time and practice. Formulas should be noted down in a separate notebook, and sticky notes should be used so that you see them every day and it registered in your brain. After finishing a chapter, keep a notebook with all of the formulas, reactions, mechanisms, and equations from that section for a quick overview while solving problems. Extensive revisions can assist you in decoding the pattern, so keep practicing.
Keep a separate notebook for formulas and use sticky notes
After finishing a chapter, note down all of the formulas, reactions, mechanisms, and equations from that section in a book for quick reference while solving questions. Make sticky notes and stick them around your room. You will be able to recall a lot more if you see them on a daily basis.
The more you learn, the more likely you are to forget it. Only by revising will you be able to prevent this. After you've studied each topic, set aside time for its revision. Students in Class 12 should constantly revise the Class 11 syllabus to ensure that every topic is still fresh in their minds.
Subject-Wise NEET Exam Preparation: Biology Section
Biology is the subject with the highest weightage in the NEET exam. This section contains 90 questions with a total of 360 marks, so aspirants should pay close attention to it. Only if you know how to study properly and are willing to improve yourself will you be able to achieve the highest possible score in NEET Biology.
The weightage of biology in the NEET exam is the highest. Only if you know how to study properly and are willing to improve yourself will you be able to achieve the highest possible score in NEET Biology.
How to Improve Biology for NEET?
Planning thoroughly is one of the most important steps to take before starting Biology preparation for the NEET. Students, as per their understanding, should create a daily study schedule and devote time to all subject topics. However, the value of such a plan will be realized only if the student adheres to it and puts it into action consistently.
Choose a plan that is both convenient and effective. Begin with the topics and chapters that carry the most marks. Some subjects require more preparation than others, and some require more memorization than others, so plan accordingly.
Be clear with all the biology concepts
The effective way to improve Biology for NEET is to clarify your concepts. Do not leave any NCERT topic, line, or word unexplored.
You can study from books other than NCERT to clear your Biology concepts because texts in NCERT can sometimes be confusing To understand NCERT, you must go through your notes as well, but keep in mind that about 75 questions will come directly from NCERT. So, don't ignore the NCERT books!
Concentrate on Important Units and Previous Year's Papers
Human physiology, Plant Physiology, Ecology, Genetics, and Plant Morphology are the most important units in NEET Biology that will serve as a foundation for your preparation.
After revising a chapter, look at the NEET previous year's questions to see the trend and type of questions asked from that chapter. This will let you evaluate how much of the chapter you recall and work on your weak areas. It is essential to review previous years' questions.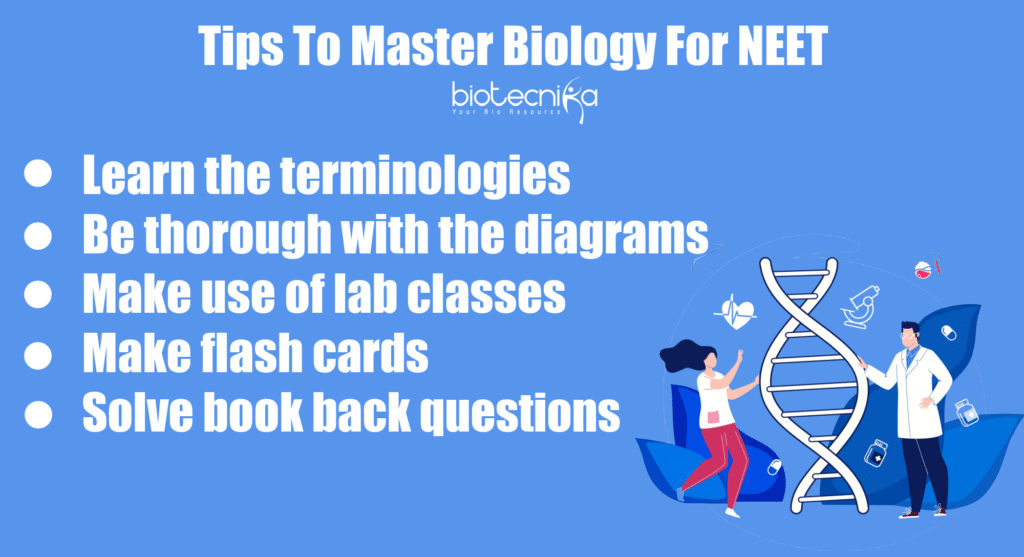 Most people overlook the importance of practicing MCQs in Biology. MCQ practice is essential in Biology, as in Chemistry and Physics. It is more probable to forget what you read than to remember what you practiced. If you have time, you can always practice more questions.
However, DO NOT ANSWER ANY QUESTIONS until you have completed the CHAPTER. The best book for studying Biology is NCERT.
Concentrate on NCERT books
In Biology, be meticulous with your drawings and labeling. Do not skip a single topic, line, or word of  NCERT. Mark only the points that you frequently forget or get confused about. Practice answering Biology questions.
Students must learn from legitimate material, so reading good books by reputable authors and publishers is necessary. NCERT books are largely used in preparing for the NEET Biology exam.
Make use of flowcharts and diagrams
Making tables, charts, and personal notes is extremely beneficial when studying biology for the NEET. As biology is a theoretical discipline with many topics that students must memorize, preparing notes and tables on those topics is necessary. Breaking down chapters into smaller parts provides much more insight and allows the student to retain the information for a much longer period. The use of different colored pens, highlighters, flowcharts, and bulleted lists can be extremely useful when taking such notes.
Regular revision is a must
It is critical to revise biology daily when preparing for the NEET. Students will only be able to clearly remember all the theoretical parts of the topic if they revise regularly.
---
Keyphrase – Subject-Wise Approach For NEET Exam; Subject-Wise NEET Exam Preparation; Subject-Wise Approach And Tips For NEET Exam