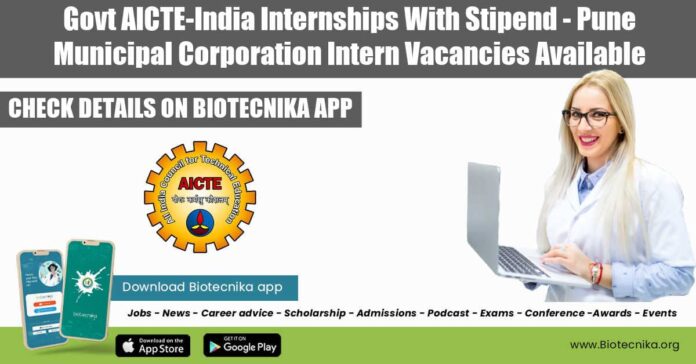 AICTE-India Internships With Stipend – Pune Municipal Corporation Intern Vacancies Available
AICTE-India Internships With Stipend – Pune Municipal Corporation Intern Vacancies Available. Government All India Council for Technical Education Internships 2022. Pune Municipal Corporation Intern Vacancies Available. Interested and eligible applicants can check out all of the details on the same below
Internship Description
INTERN M.SC BIOLOGY OR ZOOLOGY
Pune Municipal Corporation
Type – Full Time
Location – Pune, Maharashtra
Start date – Immediately
Duration – 12 Months
Stipend – 10000 /month
Apply by – 15-06-2022
About the program
The Pune Municipal Corporation is the civic body that governs Pune. It is in charge of the civic needs and infrastructure of the metropolis, which is spread over an area of 519 sq. km. This internship is the opportunity to work with Pune Municipal Corporation on planning policy level implemented related to basic urban infrastructure like road, water supply, sewerage, drainage, waste management, street lighting, building development, IT, legal, Account, Financial and revenue management etc. Pune Municipal Corporation invites applications from the eligible candidate for about 330 posts for the TULIP internship program. The candidates are requested to go through the details and ensure the applications fulfil the minimum prescribed criteria
before applying. Apply on or before 15th June 2022. The location of the Internship will be in Pune Municipal Corporation, Pune ONLY. Upload all semester or year mark sheets of degree.
Perks – Key learning opportunities for the intern. Exposure to the intern.
Who can apply?
Only those candidates can apply who –
are from M.Sc, M.Sc, M.Sc,
and specialisation in Zoology,Biology, Veterinary Sciences,
are available for a duration of 12 Months
have relevant skills and interests.
Terms of Engagement – The Terms of Engagement Will be as per TULIP Handbook and TULIP Guidelines
Number of openings – 5
Editor's Note: AICTE-India Internships With Stipend – Pune Municipal Corporation Intern Vacancies Available. Please make sure that you are subscribed to the Biotecnika Times Newsletter and our YouTube channel to be notified of all of the latest in the industry. Follow us on all of our social media like Twitter, Telegram, Facebook and Instagram.
Upload your CV to Biotecnika