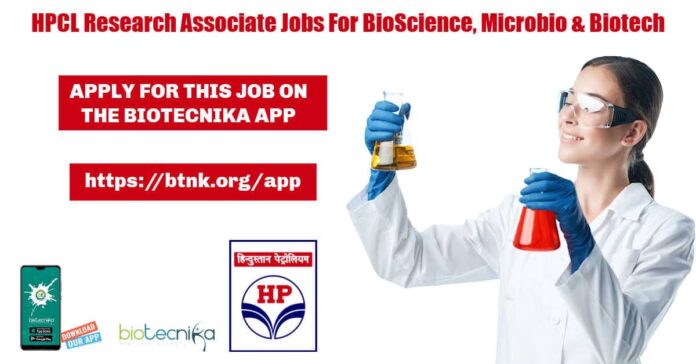 HPCL Research Associate Jobs With Rs. 85,000 pm Pay, Apply Online
HPCL Research Associate Jobs With Rs. 85,000 pm Pay, Apply Online. Hindustan Petroleum Corporation Limited Biofuels Limited Job Openings. Interested and eligible applicants can check out all of the details on the same below:
This Job Expires In :
12
Days
16
Hours
50
Minutes
47
Seconds
ENGAGEMENT OF FIXED TERM RESEARCH ASSOCIATES
FOR HP GREEN R&D CENTRE, BENGALURU
HP Green R&D Centre is located in Bengaluru. The objective of HP Green R&D Centre is to develop innovative & path-breaking technologies and products in the energy sector. HPGRDC has world-class laboratories in the areas of FCC/RFCC, Hydro-processing, Residue Upgradation, Catalysis, Bio-processes, Crude Evaluation & Fuel Research, Analytical, Novel Separations, Process Design & Scale-up, Centre of Excellence Nano Technology, Corrosion, Petrochemicals & Polymers and Centre of Excellence Lube Research which is built with state-of-the-art research facilities and equipment. The battery Research lab and the Engine Lab is in advanced stages of completion. To acquire the Intellectual Property Rights (IPR), HPGRDC has filed about 137 Indian patents and 161 International patents apart from 48 International publications. HPCL has been granted 103 patents to date and received various National Awards conferred by MoP&NG, Petrofed and The
Energy & Climate Initiatives Society.
We are looking to hire dynamic and aspiring candidates with Ph.D and M.Tech (As mentioned under Sl.No 2 Educational Qualification of Advertisement) as FIXED TERM RESEARCH ASSOCIATES on Fixed Term basis at HP Green R&D Centre, Bengaluru. Interested candidates are advised to apply online in the prescribed format. Terms of reference and other details regarding engagement of Research Associates on fixed term basis are enumerated
EDUCATION QUALIFICATION AND WORK EXPERIENCE –
Discipline – PhD, – BioScience/Microbiology/Biotechnology
Prescribed full time degree – Candidates with research experience in microbial bioprocesses with experience of working on yeast or bacterial molecular biology will be
preferred. In addition, candidates with research experience working on bio-fuels such as 2G Ethanol and Algal Biofuels are desirable.
Note –
At the time of application, the candidate should have proof of award of applicable degree/diploma certificate & marks sheets.
Candidates (belonging to General, OBC-NC & EWS category) should have secured a minimum of 60% marks (taking aggregate marks of all semesters/years i.e., taking an average of all the semesters/years, irrespective of the weightage given to any particular subject (including languages)/semester/year of the Institute/University) in all graduate and postgraduate degree examinations, relaxed to 50% (taking an aggregate mark of all semesters/years i.e., taking an average of all the semesters/years, irrespective of the weightage given to any particular subject (including languages)/ semester/ year of the Institute/ University) for SC/ST/PWD
Candidates with Integrated Courses can also apply.
Teaching Experience will not be considered as relevant work experience.
Research Work carried out during the course of acquiring PhD will not be considered as relevant work experience.
Candidates should have passed the relevant qualifying degree examinations/ awarded degree in PhD/Provisional degree at the time of application in the above-mentioned disciplines. All Degree/Diploma qualifications should be full-time regular course/s
from AICTE approved / UGC recognized University/Deemed University.
The courses offered by Autonomous Institutions should be equivalent to the relevant courses approved/recognized by the Association of Indian Universities (AIU)/UGC/AICTE. Candidates with Integrated Degrees should have done a Full-Time Course.
Wherever CGPA/DGPA or letter grade in a Degree is awarded, an equivalent percentage of marks should be indicated in the application as per norms adopted by University/ Institution. Higher Qualifications, if any to be mentioned. Candidate should produce
their degree conversion certificate issued by the competent authority of the University/ Institute in support of the conversion at the time of interview.
In the case of PhD candidates, experience (As of 20.09.2021) will be counted from the date of award of the final Degree/Provisional Degree. It is mandatory for candidates possessing PhD qualifications to mention the date of successful defence of Ph.D. in their application.
Candidates with Integrated PhDs may also apply. However, such candidates must produce master's degree qualifications.
Soft copy of the detailed CV including a brief description of the PhD topic to be uploaded along with the Application Form.
JOB DESCRIPTION FOR FIXED TERM RESEARCH ASSOCIATES –
To prepare a Project proposal including a work plan on the specific research topic assigned to the candidate
To carry out research activities on the specific topic including literature search, set up experimental facilities, if required, carry out experimental/ pilot/ simulation studies.
Interpret results and undertake studies for further development/ improvement.
Prepare technical reports.
Carry out any other activities that are assigned from time to time
Age – 32 years or below as of 11th October 2021, Age relaxation for OBC (Non-Creamy layer) SC/ST/PWD candidates will be applicable as per the Government Directives.
(The last date for reckoning age and all other eligibility criteria will be considered as of 11.10.2021)
HOW TO APPLY –
Login to http://hindustanpetroleum.com/hpcareers and click on our current openings. Visit Fixed Term Research Associates, R&D Centre, Bengaluru. Read all the instructions given on the website carefully. Candidates should keep a scanned copy of the Passport size photo (in jpg/gif format less than 50 kb) and a Soft copy of the detailed CV (including a brief description of the PhD topic in case of PhD candidates) ready before filling the online application form.
Fill in the online application form with all the relevant details carefully (details once submitted cannot be modified). Upload a Scan copy of your latest passport size photograph and DetailedCV.
Upon completion, submit the online application by clicking the Submit button at the bottom of the page You will get a system-generated unique 12 Digit Application / Reference No. Please note that this Application / Reference No. is important and will be required for all future references throughout the selection process.
Candidates are advised to take a Printout of the online Application Form, affix his/her recent passport size photograph, put his/her signature at the space provided and keep it with him/ her safely for future reference. Candidates are not required to submit a hard copy of the application form to HPCL.
Candidates with multiple applications for the same discipline are liable to be rejected.
The details filled in the online application form will be considered final and no changes will be entertained w.r.t. personal/ any other details, later on.
Stipend –
An all-inclusive stipend of Rs. 65,000/- to Rs. 85,000/- per month depending on qualification & experience, is payable. This includes HRA, Accident Insurance, Medical Insurance, etc. The company does not provide any transport facility for commuting to the office. However, there is a sharing bus facility which has to be availed by the Research Associates on a pay and use basis. Breakfast and lunch facilities are provided at the office premises for which a nominal monthly lumpsum amount will be deducted. The premium towards Insurances will be deducted from the stipend. As part of the discharge of their duties, they may be required to travel to other locations. Work-related travel expenses will be separately reimbursed as per the entitlements.
See Notification Below
Editor's Note: HPCL Research Associate Jobs With Rs. 85,000 pm Pay, Apply Online. HPCL Research Associate Jobs 2021. Please make sure that you are subscribed to the Biotecnika Times Newsletter and our YouTube channel to be notified of all of the latest in the industry. Follow us on all of our social media like Twitter, Telegram, Facebook and Instagram.