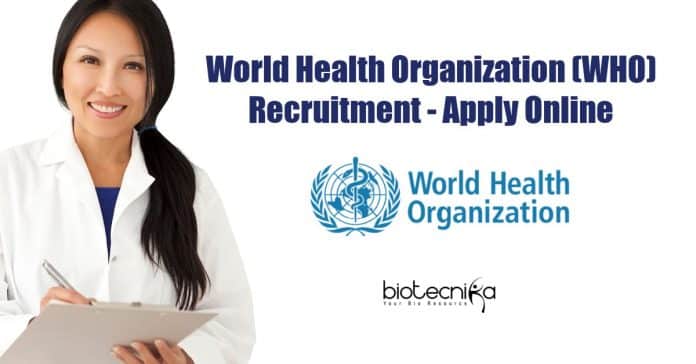 World Health Organization (WHO) Recruitment – Apply Online
World Health Organization (WHO) Recruitment – Apply Online. Interested candidates can apply online for the World Health Organization (WHO) Jobs 2021. World Health Organization (WHO). You can check out all of the details on the objectives of the program, eligibility and application procedure details below:
This call expires in :
-541
Days
-14
Hours
-14
Minutes
-56
Seconds
Name: NPO (VPD Laboratory Network) – (2100342)
Grade: NO-C
Contractual Arrangement: Fixed-term appointment
Contract duration: Two years
Job Posting: Jan 29, 2021, 6:12:32 PM
Closing Date: Feb 20, 2021, 4:29:00 AM
Primary Location: India-New Delhi
Organization: SE_IND WR Office, India
Schedule: Full-time
OBJECTIVES OF THE PROGRAMME:
WHO India Country Office collaborates with the Government of India and relevant stakeholders within the framework of the collaborative Country Cooperation Strategy (CCS), to actively support the development and implementation of national health policies, strategies and plans in the area of communicable diseases.
The WCO-India programme of work supports the GOI in:
(i) Strengthening the strategic and technical aspects of the WCO-India work in the area of communicable diseases (the pursuit of corporate objectives, ensure solid technical advice, follow-up and accountability, etc.);
(ii) Ensuring effective work within right-sized WCO operation;
(iii
) Improving quality and relevance of work at the service of India as a Member State;
(iv) Strengthening transparency through better follow up and evaluation.
Underlying Values and Core Functions of WHO
WHO's mandate revolves around six (6) leadership priorities specifying (i) advancing universal health coverage, (ii) health-related sustainable development goals, (iii) addressing the challenge of non-communicable diseases and mental health, violence and injuries and disabilities, (iv) implementing the provisions of the International Health Regulations (2005), (v) increasing access to quality, safe, efficacious and affordable medical products, (vi) addressing the social, economic and environmental determinants of health.
The South-East Asia Region (SEAR) of WHO is made up of 11 countries, with over 1.8 billion people, with India's population of 1.3 billion. All the Member States of WHO/SEAR (Bangladesh, Bhutan, Democratic People's Republic of Korea, India, Indonesia, Maldives, Myanmar, Nepal, Sri Lanka, Thailand and Timor Leste), share the common value of the highest attainable standard of health as a fundamental human right. All of WHO actions are based on this and rooted in the underlying values of equity, solidarity and participation. The mission of WHO India is to improve quality of life of the 1.3 billion people in India by supporting the government in eliminating vaccine-preventable and other communicable diseases, reducing maternal and neonatal mortalities, promoting healthy lifestyles, addressing determinants of health, preparing and responding to health emergencies and strengthening health systems for universal health coverage.
DESCRIPTION OF DUTIES:
Under the overall guidance of the Team Leader (NPSP) and direct supervision of National Professional Officer and Deputy Team Leader (NPSP), the incumbent will perform the following responsibilities:
Advise and monitor adherence to WHO recommended laboratory standards and procedures in polio, measles-rubella, diphtheria, pertussis and other vaccine-preventable diseases network of laboratories (here-on referred to as VPD lab network");
Advise and implement the maintenance of timely supplies of logistics and contractual agreements for the performance of work with the laboratories in the VPD lab network;
Monitor the weekly samples load of the laboratories in line with the maximum capacity of each laboratory and suggest appropriate actions to ensure manageable workloads in each laboratory in the VPD lab network;
Monitor the timeliness and performance of the VPD lab network and troubleshoot issues related to it;
Facilitate the transfer of appropriate technology and training related to the introduction of new technology to the VPD and COVID-19 lab network;
Coordinate training of virologists and laboratory technologists involved in surveillance activities;
Organize the flow of information between the VPD lab network and surveillance personnel in the field;
Provide technical guidance for expanding the role of laboratory surveillance for other vaccine-preventable diseases and COVID-19;
Coordinate with the government agencies & ICMR on the issues of laboratory containment of wild poliovirus;
Provide technical assistance in expanding environmental surveillance for poliovirus detection and monitor implementation;
Assist with activities related to transitioning of VPD lab network to support the intensification of routine immunization, measles and rubella elimination and other health priorities;
Support laboratory related activities during health emergencies such as COVID-19; and
Perform other duties assigned by supervisor.
REQUIRED QUALIFICATIONS:
Essential: University degree in Public Health or in other relevant and related fields.
Desirable: Postgraduate degree in Microbiology or Laboratory or Public Health.
Skills:
The incumbent should identify with the core values of the World Health Organization. Thorough knowledge of the situation in India with regard to laboratory services with a good understanding of the country's needs and priorities, of issues and policies in various aspects of communicable diseases, especially tuberculosis. Very good knowledge of WHO policies, programmes and guidelines in the related areas.
Good knowledge of the administrative functioning of government institutions and related departments/agencies, and of the other partners in India.
Sound technical and policy advisory skills, based on evidence. Leadership skills with demonstrated ability to work effectively with government and colleagues in a team setting at national and international levels, to share information and data and make oral and written presentations on technical issues. Very good ability to build and maintain relations and network with national authorities and other stakeholders across relevant sectors. Understanding of the potential motivating factors within a national context and ability to adjust to new approaches in an increasingly complex environment.
Modern management skills (planning and evaluation, etc.). Capacity to prepare terms of reference and to prepare and monitor and manage the implementation of contractual agreements. Capacity to convey information and options in a structured and credible way; ability to speak and write clearly. Proficiency in computer applications and the ability to draft reports.
Knowledge of WHO/UN agencies programmes and practices will be an advantage.
WHO Competencies
Teamwork
Respecting and promoting individual and cultural differences
Communication
Producing results
Building and promoting partnerships across the organization and beyond
Creating an empowering and motivating environment
Use of Language Skills
Essential: Expert knowledge of English. Intermediate knowledge of Hindi.
REMUNERATION:
Remuneration comprises an annual base salary starting at INR 3,174,179 (subject to mandatory deductions for pension contributions and health insurance, as applicable) and 30 days of annual leave.
ADDITIONAL INFORMATION:
This vacancy notice may be used to fill other similar positions at the same grade level.
Only candidates under serious consideration will be contacted.
A written test may be used as a form of screening.
In the event that your candidature is retained for an interview, you will be required to provide, in advance, a scanned copy of the degree(s)/diploma(s)/certificate(s) required for this position. WHO only considers higher educational qualifications obtained from an institution accredited/recognized in the World Higher Education Database (WHED), a list updated by the International Association of Universities (IAU)/United Nations
Educational, Scientific and Cultural Organization (UNESCO). The list can be accessed through the link: http://www.whed.net/. Some professional certificates may not appear in the WHED and will require individual review.
Any appointment/extension of appointment is subject to WHO Staff Regulations, Staff Rules and Manual.
For information on WHO's operations please visit: http://www.who.int.
WHO is committed to workforce diversity.
WHO's workforce adheres to the WHO Values Charter and is committed to put the WHO Values into practice.
WHO has a smoke-free environment and does not recruit smokers or users of any form of tobacco.
This is a National Professional Officer position. Therefore, only applications from nationals of the country where the duty station is located will be accepted. Applicants who are not nationals of this country will not be considered.
If the selected candidate is residing outside the duty station, he/she will be required to relocate to the duty station at his/her own cost. No travel-related/relocation costs are payable to locally recruited staff.
Editor's Note: World Health Organization (WHO) Recruitment – Apply Online. Please make sure that you are subscribed to the Biotecnika Times Newsletter and our YouTube channel to be notified of all of the latest in the industry. Follow us on all of our social media like Twitter, Telegram, Facebook and Instagram.
Upload your CV to Biotecnika