Animal Biotechnology Career Opportunities: Duties and Skills Required
Animal Biotechnology comprises of combined implementation of engineering and scientific principles to the treatment or manufacturing of animal products by either fish or any animal to offer economic supplies and services.
Computational engineering, bioinformatics, genome engineering, and recombinant DNA technology have progressed the sector of fundamental and applied animal biotechnology. Even though it was commenced as a small basic subdiscipline of applied bioscience, animal biotechnology is now a crucial field offering job opportunities to a wide workforce comprising of administrative persons, technicians, mathematicians, principal investigators, and researchers.
This sector grew profoundly and its significance was recognized quickly around the world.  The major goals of this developing research field are the identification of animal types, their characterization, and breeding. Animal biotechnology is substantially relevant in miscellaneous industries involving food quality assurance, assessment of dairy, and other animal products apart from introducing pure-bred, ailment-free species.
Therefore, if you are a zoophilist and have opted for animal science as your career, animal biotechnology provides you with umpteen possibilities. Animal Biotechnology is deeply rooted in the research and development industries. Animal biotechnology career opportunities have enormously expanded with the recruitment of personnel including administrative persons, mathematicians, researchers, technicians
, and principal investigators.
What Is Animal Biotechnology?
Animal biotechnology is a sub-discipline of biotechnology where molecular biology expertise is employed to refine the genetic makeup of animals thereby enhancing their competitive features for animal husbandry, drug manufacturing, and industrial uses. It has been utilized to develop genetically engineered animal breeds that have the finest growth rates, disease tolerance, and the ability to make medicinal proteins. The ultimate objective is to synthesize products, improvise animals, and produce microbes for particular farming needs.
Steering Fields In Animal Biotechnology
Animal Biotechnology has links to various bioscience sectors like proteome, transcriptome, & genome sequencing and applications, animals & cells, genome editing of microbes & bioengineering, cryopreservation, ART (Assisted Reproductive Technology), the microbiology of eukaryotic & prokaryotic microbes of animal origin, and animal healthcare. Genetic refinement of livestock, genetic tailoring of animals for recombinant therapeutic production, model animal development to study human diseases are crucial contributions of animal biotechnology. One other significant objective of animal biotechnology is to choose animals having high-quality traits like good resistance to climatic stress, pathogens, parasites, & diseases, and enhanced growth & nutrient utilization. Gene editing & genetic engineering methodologies such as CRISPR-Cas9 (Clustered Regularly Interspaced Short Palindromic Repeats), TALEN (Transcription Activator-Like Effector Nuclease), and ZFN (Zinc Finger Nucleases) are employed in genetic manipulation of microbes originating from embryos, stem cells, and GR tract of animals.
The scientific stream of veterinary technology has evolved in four essential branches: animal product improvement ameliorated animal health and well-being, human health progression, and ecology sustenance methods. Animal biotechnology consists of studies of all kinds of fauna: domestic and lab animals, fish, livestock, poultry, and insects. Scientific research has paved to the arrival of three important fields such as transgenics, animal cloning, animal genomics, and gene knockout technology. Each field is described below.
Transgenics: Introduction of a new gene from a foreign organism to the host animal employing recombinant DNA technology to pass advantageous genetic codes. This shift of genes changes the traits of the animals by altering the proteins they produce.
Animal Cloning: Identical or genetic duplicates of an animal can be produced by somatic cell nuclear transfer (SCNT). The nucleus from the adult somatic cell of the donor is introduced to an enucleated oocyte. The embryo is positioned at the uterus of the surrogate mother for reproductive cloning.
Animal Genomics: Delineation and characterization of the animal's whole genome enabling precise knowledge of the fundamental aspects in growth, disease vulnerability and immunity, and key factors of nutritive value. Firms and scientific organizations of animal biotechnology are operating specifically for human and animal healthcare. Recombinant DNA technology, skin grafting, stem cell engineering, vaccine and organ manufacturing, and cloning are few popular areas of this field.
Gene Knock-Out Technology: This specific method creates replacement organs for humans. Lately, the pig is the primary source of replacement organs. But, human cells and pigs cells are incompatible immunologically, and hence, gene silencing or knock-out is performed for repressing the pig gene accountable for immune incompatibility.
Animal Biotechnologist Job Profile
Animal Biotechnologists are accountable for exploring and understanding the parameters affecting animal health such as the nutrient requirements in the diet and breeding techniques. They develop approaches using their scientific findings for more effective means of manufacturing. They have an extremely intricate profession with a multitude of functions requiring a huge amount of commitment and expertise.
Job responsibilities of an animal biotechnologist:
Report technical briefings to animal health care workers or veterinarians
Carry out heat detection assessment and regular insemination of the herd
Keeping archives of protocols, herd work, and crisis time
Daily disinfection of the tools and instruments
Devise and assess novel dietary supplements for peasants
Assess the nutritional and chemical quality of the feed and its supplements
Supervise and conduct research studies
Begin and promote patent submissions for novel products
Assure that each and every process abides with the norms and offer health and safety
Retrieving and exploring samples like cells, blood, microbe culture, food, and living organism for further assay
How To Build Your Career In Animal Biotechnology?
Attain Bachelors in Animal Biotechnology or related discipline; minimum 55% marks. Candidates acquire a thorough knowledge of biochemistry, molecular and cell biology for ameliorating animal production. These courses commonly concentrate on key animal science concepts that enlighten students all about various animal scientific researches in different sectors.
Complete Masters in Animal Biotechnology or related discipline; Two years course. Master degree holders learn advanced subjects within biomedicine & animal biotechnology. Individuals acquire experience in implementing scientific principles for discerning disease control, toxin's effects on human & animal health, and disease processes.
Procure Ph.D. specializing in any field of animal biotechnology. This course offers the most advanced level of research & study in the field of animal biotechnology and science.
The next step is to enhance the skills needed for animal biotechnologists. Few required skills are mentioned below:
A research-oriented mindset with a great deal of perseverance. Must possess a considerable interest in biological sciences
Awareness of the latest technologies and researches across the world
Expertise in handling manufacturing processes.
Animal Biotechnology Subjects 
Zoology
Animal Biotechnology
Diary Technology
Diary Science
Animal Physiology
Poultry Management
Livestock Management
Animal Breeding Genetics
Animal Husbandry
Institutes For Animal Biotechnology And Zoology
Career Prospects For Animal Biotechnology
Educational sector: Postgraduates and Ph.D. scholars can apply for scientist and professor positions. Various competitive exams are conducted by ASRB for the respective posts.
Research centers: Organizations like DRDO, DBT, ICAR, DST, ICMR, CSIR offer a multitude of possibilities in scientist positions and project assistant positions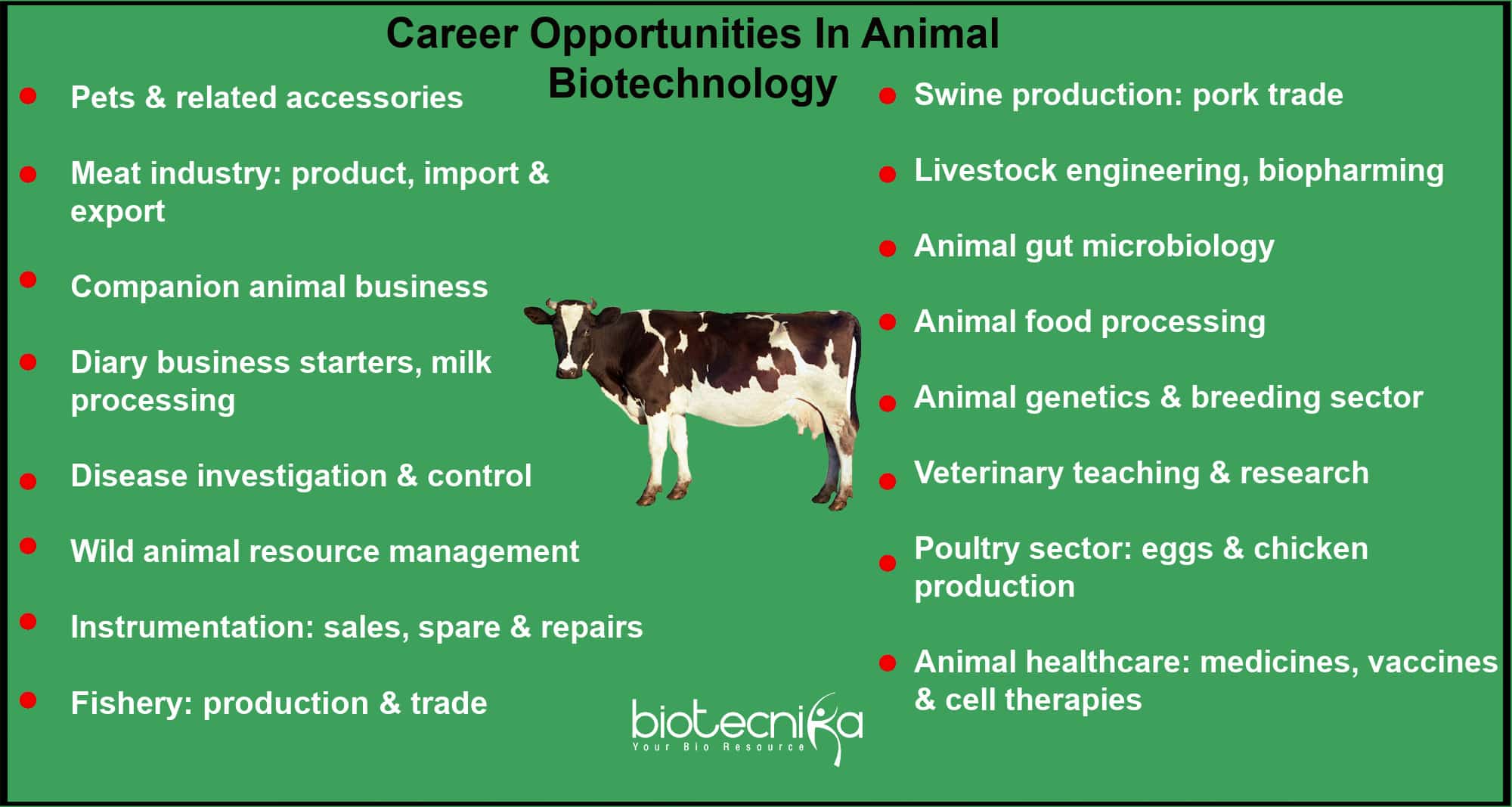 Government division: Potential PG candidates are recruited by governmental institutions like FAO, Central or state livestock and poultry breeding farms, NABARD, etc. They are recruited as farm managers, CEO, officer-in-charge.
Private division: PG students with adequate industrial training are employed by different private companies working for human and animal welfare.
Entrepreneurship: Individual firms can be started with PG in Animal Biotechnology. NABARD and other national banks provide endorsement for these entrepreneurs.
Salary Details For An Animal Biotechnologist
The average salary for a fresher starts from 20,000 to 25,000 rupees Approximately.
The average salary for an experienced candidate can go from 50,000 to 75,000 rupees
Applications Of Animal Biotechnology
Human health amelioration: Medical industries have been using animals for several years. Engineered animals are converted to manufacturing houses to produce medicinal protein in their blood, eggs, and milk, which can be employed in the creation of biopharmaceuticals. Apart from that, animal biotechnology can also be applied for the production of transplant organs that are human-compatible, cells, and tissue for the betterment of human health and welfare.
Animal Health Improvisation: Animal Husbandry has been used for decades to enhance the livestock population. Now current techniques involved to perform the task are cloning, genetic mapping, artificial insemination, and embryo transfer. With animal biotechnology, peasants can boost breeding, leading to a healthier population. Further advancement in animal therapeutics has enabled in production of disease-free animals or in curing ailments with appropriate drugs.
Nutritional Value Enhancement in Food: Enhanced animal health leads to safer food consumption. This is majorly due to the progress in the medical sector. Also, food standards can be enhanced with the addition of required characteristics via genetic engineering.
Ecological and Animal Sustenance: Animal Biotechnology assists in the production of eco-friendly animals, and sustains vulnerable species. This is achieved through enhancement in feed and farm animals. The best attribute of advanced animal biotechnology is that it provides the chance for preserving gene pools of the endangered species. Studies pertaining to this can also strengthen the genetic diversity enabling a healthier herd.
Scope Of Animal Biotechnology In India
India has the greatest animal farming in the world with the biggest livestock population. The majority of the rural inhabitants in India depend on this sector for their income. Livestock meets both food requirements and balance during a crisis. Thus, it is crucial to assure viable animal production and health. Healthy animals correspond to a healthy population and environment. Therefore, it is also vital to ameliorate animal health and prevent diseases.
Animals have always played an essential role in human civilization. Animal breeding has to be performed for introducing high-quality animals although phenotypic traits can be altered with adequate feeding and protection from different illnesses. In order to perform animal breeding in the enormous livestock population in India, efficient animal breeders are required.
There is a wide array of scope for veterinary biotechnologists in numerous sectors such as research institutes, defense organizations, biotechnology companies, food-processing plants. Apart from research, they can opt for a teaching profession in different universities.
The requirement for medical products like veterinary vaccines, protein feed, and medicine is rising every day, thereby increasing animal biotechnology career opportunities.
Visit Biotecnika for Animal Biotechnology Jobs in India.
Animal Biotechnology Career Opportunities, Animal Biotechnology, Career Opportunities