Early Grant Guidelines
Are you nervous about early grant funding applications for a bright research career ahead? Are you concerned about your insufficient experience or shortage of preparatory information in your present field of study? This article is presenting you with a few tips and hacks to make it easy.
Why should one start applying at the earliest?
Every bit of experience you have in your academic life is appended in your resumé or curriculum vitae and each one is influenced by the other. Hence, your bachelor's experience will become a stepping stone for your Masters. Similarly, your Master's work becomes the base for your Ph.D. studies and so on. Start submitting applications at the earliest, thereby you will understand the method of writing a grant. The more you try to write, the sharper your expertise will be.
Pre-doctoral grants
In some cases, few supervisors advise you to write an early grant for funding a postdoc due to the expensive equipment, reagents, and supplies. Even if that is not the case, it is good practice to do so, because these specific writing abilities are golden for your CV in your further postdoctoral admissions.
This significantly steps up your resumé/CV for your upcoming career and further grant submissions if you succeed in acquiring a pre-doctoral scholarship. These grants have intense competition, particularly nowadays. Achieving an early grant for a postdoc emphasizes your accomplishments and your competitive abilities on your resumé.
Postdoctoral grants
Moreover, few PIs or Primary Investigators approve of funded postdoctoral aspirants alone. Whereas the other primary investigators insist their postdoctoral students submit applications for grants during their academic period. Hence, obtaining the former funding exposure is beneficial and for few situations, essential for your postdoctoral work. Few Grants are favorable for an early grant for a postdoc career and aid in the transition from a postdoctoral position to maybe an assistant professor. Possessing many years of writing skills for applying for a grant before your postdoctoral studies will shape you into a more potent applicant for the K99 grant.
The grant application process moves forward in such a way that the funding agency checks for any prior grants in your resumé/CV and if you already have such a profile, it is highly probable for you to acquire the grant.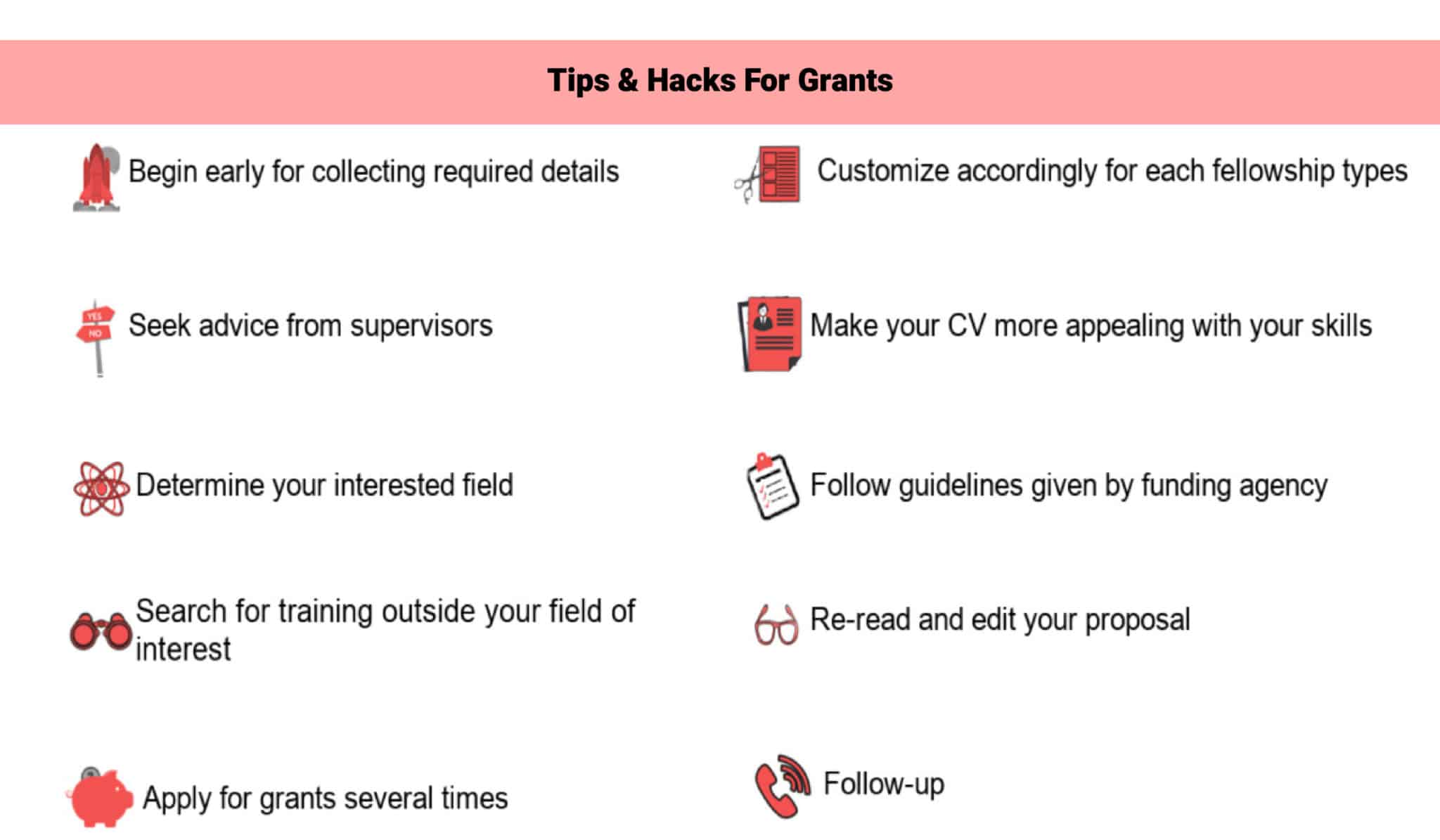 Nervous about being incompetent in your area of study?
If you don't have sufficient skills for the new sector, then do a detailed background study with a literature review and precisely elucidate the present state of knowledge in the respective field. Possessing a basic knowledge of the literature in your new sector will assist in compensating for your shortages in relevant skills. Collaboration with adepts in the respective sector is beneficial as well. This especially is accountable to cite pioneers and data experts. This association will back your suggested experimental design. Alliance commonly promotes sharing of knowledge, boosts your critical thinking, creativity, and progress- all crucial for progression in the field.
For the last few decades, scientists have started pointing out the relevance of sharing knowledge to reduce the bench to bedside duration, to get therapeutics to patients faster. This may additionally facilitate you to add more techniques that are not available in your laboratory. Based on your area of study, few techniques will boost the quality of your proposal for the grant. Always remember to emphasize the novel features of your project. Novelty can raise the value of your proposal much ahead of other grant applications. If your proposal for the grant is very well written all other attributes along with this make it highly probable for success.
Application with less preliminary information?
Are you worried about the inadequate amount of preliminary information? This is possibly an issue we all face during grant application.  Always bear in mind that if you already have the complete data required for the project, then you might think of funding as useless as there is nothing to do.
Precisely elucidate the preliminary information you possess and mention the reason for the importance of your research proposal in the respective sector. Assure that you cautiously describe any challenges or caveats you may encounter for this project, as a thoroughly planned project is much more significant than the preliminary information. If you have succeeded in working through all past challenges, then describe these shortly in your proposal for the grant.
Integrate the preliminary data from your research associates. This is an excellent means to prove that you are developing your knowledge in the respective field and that you possess adepts in the field jointly working on your project.
On the other hand, there are fellowships particularly drafted for small scale projects to assist you in acquiring preliminary data. Some fellowships are intended to help aspiring scientists in procuring preliminary information for extremely potential proposals and novel research projects, to enable them to submit even more large grants in the near future.
Keep in touch with the funding agency
Contact the in-charge person at the agency to double-check the website information like the page length and to introduce yourself. Certain aspects of the grant might have altered lately, which your grant mentor or coordinator may not know. Don't feel that you are not allowed to contact the program manager even if you are not a PI, since you are the one who is submitting a proposal for this fellowship.
Always write convincingly
With so much competency and difficulty in the biomedical science world to obtain funding, you should trade your scientific projects to the reviewers of grants at the agency for funding. The principal factor is persuasion. Draft your grant eloquently and precisely so that an individual unfamiliar with this field can get your intention, your preliminary findings, and the reason for this project to be beneficial to the community. Your proposal should convey the significance of your study for the medical society, it should be clear, well-written, and competitive.
Seek feedback from senior people in your sector regarding grant
It would be great if you can present the grant at any one of the seminars conducted by your department, prior to grant submission. This will essentially provide you a golden chance to receive suggestions from your peers, and to find whether your proposal covers everything needed for an anonymous reviewer to understand.
If the seminar presentation is impossible to do, then go and individually seek guidance from as many faculty members as possible from your institution. Ask them to go through your grant and give you suggestions. It is also good if you can seek feedback from a member of an entirely distinct department for your grant before submitting it.
In addition to that, even suggestions from an external person to the scientific community or a family member for your grant can be beneficial. In a few cases, it can be possible for a non-scientific person to be part of the panel for your grant review.
Apply several times even if you get rejected
If you are declined for a grant application, go through the comments provided by the reviewers and then keep your grant away in a drawer for some time in order to cool yourself from the rejection. Then take it out again and thoroughly go through the comments once more and begin altering your grant for submitting to a separate funding group or resubmission. Even though it seems harsh for you with the reviewer's comments, it might surprisingly aid you in obtaining the following fellowship.
Writing a proposal for a grant is extremely challenging, stressful, and competitive. Nonetheless, expertise for drafting a proposal for the grant is important in biomedical research. Receiving an early grant for a postdoc will boost your resumé, shape you to be more competitive for a postdoc, or industry level jobs and assistant professor roles, or even for further upcoming fellowships. Remain positive as you draft your grant applications and always bear in mind to consider feedback as an improvisation aid for you to make your grant appealing again for the forthcoming submissions. All the best wishes!
Check Biotecnika Website For Latest Research Grants
Early grant for research career
Author: Geema George