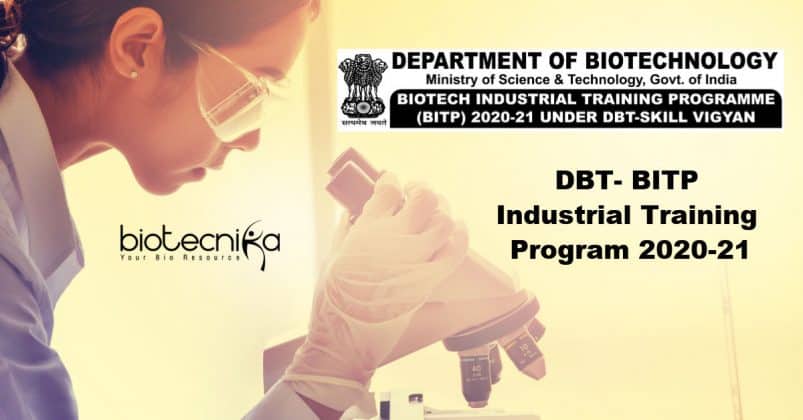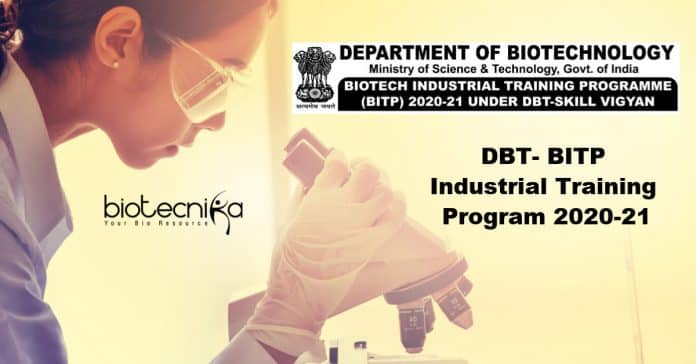 DBT BITP 2021 – DBT-Biotech Industrial Training Programme 2021
DBT BITP 2021 – DBT-Biotech Industrial Training Programme 2021. Biotech students are encouraged to apply for the training programme announced by DBT India 2020-21 as per the details given below:
This call expires in :
01
Days
17
Hours
06
Minutes
27
Seconds
DEPARTMENT OF BIOTECHNOLOGY
Ministry of Science & Technology, Govt. of India
BIOTECH INDUSTRIAL TRAINING PROGRAMME
(BITP) 2020-21 UNDER DBT-SKILL VIGYAN
Applications are invited from bonafide Indian citizens residing in India for hands-on training in the industry. The programme provides an opportunity to students who have completed their education and intend to start their career in industry to acquire practical skills and experience working on projects alongside industry experts as well as an opportunity to industry to identify potential candidates for their human resource requirements. The training will be for a period of six months during which stipend will be paid to trainees and bench fee will be paid to companies to cover expenses towards training.
Attn: Biotechnology Industry
Requisitions are invited from biotechnology & life sciences companies interested to
provide hands-on training for six months. The companies will also have to pay a stipend to the trainees as per the apprenticeship norms in addition to stipend paid by DBT. For
filling "Requisition Form" please visit www.biotech.co.in. Companies also need to register on www.apprenticeshipindia.org. Life Science Sector Skill Development Council (LSSSDC) will help the companies in registering on the apprenticeship India portal. Trainees would be provided to companies subject to availability.
Attn: Biotechnology Students
Eligibility: B.E./ B.Tech./ M.Sc./ M.Tech./ MBA Biotechnology/Bio-informatics and students admitted under DBT supported post-graduate teaching programs. Candidates appearing in the final semester/ year examination are also eligible to apply. The degree should be from an Indian recognized university with minimum 50% marks or equivalent grade completed in the year 2018 / 2019 or completing in 2020.
Mode of Application: Students may apply online by visiting the website www.biotech.co.in. The details regarding filling of the form, payment of application fee and uploading of documents are given on the website.
Mode of Selection: Candidates will be selected through a computer-based test conducted in multiple cities/centres. Selection would be subject to meeting the eligibility criteria. Trainer company would be provided subject to availability.
Certification: After completion of training, trainees will have to undergo an online
`Assessment' conducted by Life Science Sector Skill Development Council (LSSSDC).
Trainees who will qualify the `Assessment' will be awarded "Apprenticeship Certificate" under National Skill Qualification Framework (NSQF) by LSSSDC.
Important Dates:
The application will open on: November 3, 2020, at 11.00 a.m.
The application will close on: December 3, 2020, at 5.00 p.m.
Important Links:
Note : Kindly send all BITP related queries to [email protected].
See Notification Below
Editor's Note: DBT BITP 2021 – DBT-Biotech Industrial Training Programme 2021. Please make sure that you are subscribed to the Biotecnika Times Newsletter and our YouTube channel to be notified of all of the latest in the industry. Follow us on all of our social media like Twitter, Facebook and Instagram.