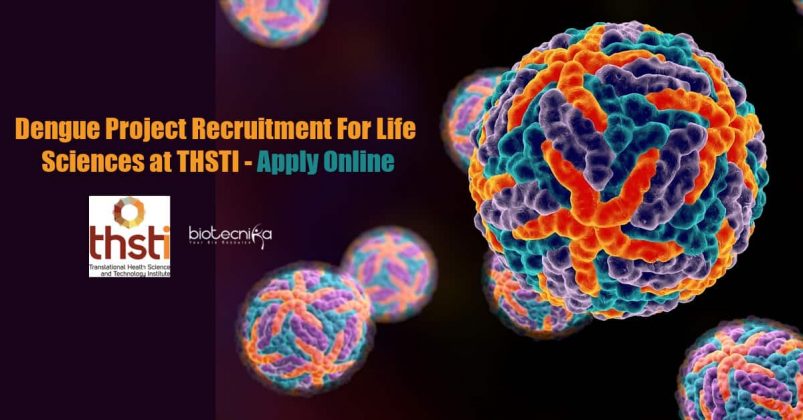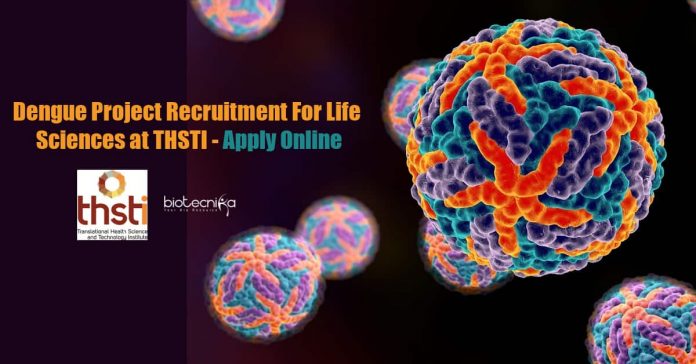 THSTI Latest Project Life Science Jobs – Applications Invited
THSTI Latest Project Life Science Jobs – Applications Invited. MSc/MTech Life Sciences check out the details on the jobs that are available at THSTI. THSTI Jobs. Interested and eligible candidates check out all of the details on the same below:
This job expires in :
-29
Days
-7
Hours
-16
Minutes
-26
Seconds
Rolling Recruitment Notice No.: THS/RN/01/2020/10-ll(A)
Job Title: Project Associate-II
No of Position: 01
Project Name: "Repositioning Fluoxetine and Salmeterol for treatment of dengue infections – Pre-clinical development and proof-of-concept studies"
Name of the PI: Dr Guruprasad R. Medigeshi
Age Limit: 35 years
How to Apply:
These are short-term positions and extension will be granted subject to satisfactory
performance of the incumbents and tenure of the project for which they are selected.
Those appointed to these positions will not have any claim for regularization of their
employment.
All educational, professional and technical qualification should be from a recognized
Board/University.
The experience requirement specified shall be experience acquired after obtaining the minimum educational qualifications required for the post.
Persons working in Govt./ PSUs / autonomous bodies should apply through proper channel or produce a relevant 'No Objection Certificate' at the time of Interview/presentation.
The age limit, qualification, experience and other requirements may be relaxed at the
discretion of the competent authority, in case of candidates who are otherwise suitable.
In case candidates are not found suitable for the posts notified, they can be offered lower post / lower emoluments on the recommendation of the Selection Committee.
Age and other relaxations for direct recruits and departmental candidates: i) By 5 years for candidates belonging to SC/ST communities. ii) By 3 years for candidates belonging to OBC communities. iii). For Persons with Benchmark Disabilities (PwBD) falling under the following categories: iii(a) UR – 10 years , iii(b) OBC -13 years iii(c) SC/ST – 15 years iv) For Ex-servicemen upto the extent of service rendered in defence forces (Army, Navy & Air force) plus 3 years provided they have put in a minimum of 6 months attested service. v) Age is relaxable for Central Government servants up to 5 years in accordance with the instructions or orders issued by the Central Government, from time to time. vi) There is no upper age limit for the Institute employees who are treated as departmental candidates.
Number of positions may vary depending upon the requirement at the time of
interview/skill test.
All results will be published on our website and all communications will be only through email.
Canvassing in any form will be a disqualification.
Procedure for filling up online application:
a) Before filling up the on-line application, keep the following documents handy:
i) A soft copy of your passport size photo and also the signature, (only jpg/jpeg/png format)
ii) A detailed CV (PDF format only containing details of qualification, positions held,
professional experience/distinctions etc.
iii) The documents in support of educational qualification and experience (PDF format only as mentioned below:
> Matriculation Mark sheet
> Intermediate Mark sheet
> Graduation Degree/Mark Sheet
> Post-Graduation Degree/Mark Sheet (if any)
> Pertinent experience certificates
> Caste/Disability certification in the format recommended by the Govt. of India, If applicable
iv. The application fee is to be deposited on the internet based on the details provided below.
1. Unreserved candidates/EWS/OBC: 200
2. SC/ ST/Women/PwBD: 100.
After submitting the application, you will be automatically redirected to the dashboard wherein you will be required to click on "Pay Online" button in order to proceed for payment.
♠ The payment can be made by using Debit Card/Credit Card/Internet Banking/UPI.
♠ As soon as payment is made, no correction/modification is possible.
♠ Candidates are requested to keep a copy of the provisional invoice for future reference.
♠ Fee as soon as paid will not be refunded under any circumstances.
b) The eligible and also interested candidates may apply online at the Institute's website: www.thsti.res.in/career. Applications via any other mode will not be accepted.
c) On successful submission of your application, an auto-generated email containing the reference number will be sent to the email address provided. Please keep a note of the reference number for future correspondence.
d) Applicants are needed to keep a printout of the on-line application by utilizing the button on the dashboard for future reference.
e) Candidates should guarantee that he/she satisfies all eligibility criteria as a stimulated advertisement. If it is found that he/she does not meet the stipulated criteria, the cand will be cancelled.
f) Incomplete applications will be summarily rejected as well as no correspondence in this regard shall be entertained.
g) Applicants are requested to use Google Chrome internet browser for best results in submission of online application.
h) In case of difficulty in filling the online form, please send e-mail to [email protected].
h) Important Date:
► Last date for receipt of online application: 02nd November 2020
Maximum monthly consolidated emoluments: (i) Rs.35,000/- +HRA to Scholars who are selected through (a) National Eligibility Tests- CSIR-UGC NET including lectureship
(Assistant Professorship) or GATE or (b) A selection through process National level examinations conducted by Central Government and their Agencies and Institutions. (ii) Rs. 28,000/- +HRA for others who do not fall under (i) above.
Qualifications: M.Sc or M.Tech in Life Sciences with two years of post-qualification research experience in cell biology, biochemistry, virology, immunology and infectious diseases after the qualifying degree.
Desirable Qualifications: Animal models of infection, handling RNA viruses, animal cell culture.
See Notification Below
Editor's Note: THSTI Latest Project Life Science Jobs – Applications Invited. Please make sure that you are subscribed to the Biotecnika Times Newsletter and our YouTube channel to be notified of all of the latest in the industry. Follow us on all of our social media like Twitter, Facebook and Instagram.