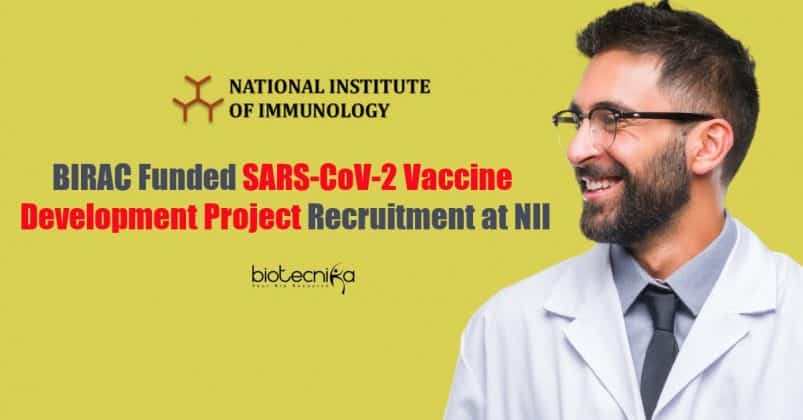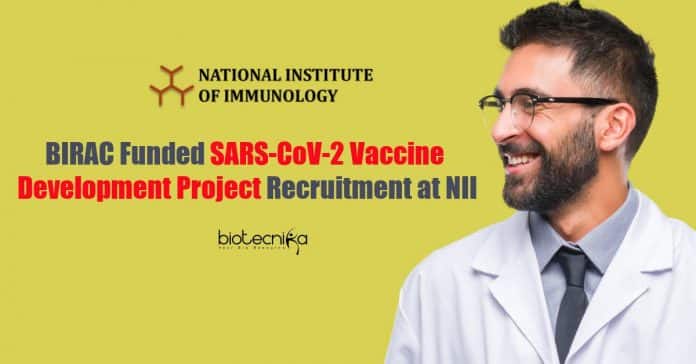 NII Research Life Science Associate Job – PhD Walk-In-Interview
NII Research Life Science Associate Job – PhD Walk-In-Interview. PhD Life Science Research Associate Job. PhD Jobs. Life Science vacancy. Interested and eligible applicants can check out all of the details on the same below:
This job expires in :
-35
Days
-7
Hours
-16
Minutes
-27
Seconds
Job Name: Research Associate (One Position Only)
Title of Project: "A novel vaccine evaluation platform to support to SARS-CoV-2 vaccine development in resource-limiting setting" funded by BIRAC
Principal Investigator: Dr Santiswarup Singha, SS-VII ([email protected])
Duration: 6 Months ( or six months only)
How to Apply:
APPLICANT MAY FILL APPLICATION IN THE PRESCRIBED FORMAT ALONG WITH ESSENTIAL DOCUMENTS FOR VERIFICATION.
APPLICATIONS INCLUDING INCOMPLETE INFO SHALL NOT BE ENTERTAINED.
DATE OF PASSING THE EXAMS MUST BE INDICATED CLEARLY.
JUST REGISTERED CANDIDATES WILL CERTAINLY BE INTERVIEWED.
NO TA/DA WILL CERTAINLY BE PAID FOR ATTENDING THE INTERVIEW.
Date of Interview: 27th October 2020 (Tuesday)
Registration Time: 11.00 AM to 12.00 Noon
Educational Qualifications: PhD in any kind of branch of Life Sciences.
Job Description & Desired Knowledge:
The Research Associate will perform the experiments for producing peptide-major histocompatibility complex ( p-MHC)- tetrameter, labelled with fluorochromes for
characterizing antigen-specific T-cells. The experiments will have moderate-to-high complexity, including (however not limited to bacterial culture, transformation, cloning, purification of plasmid DNA, cell culture for producing lentivirus, protein biochemistry, expression of p-MHC, formulating p-MHC tetramer, animal handling, and also flow cytometry. The Research Associate will also record, analyze as well as plot the data to compile right into the report for communication with PI in a planned and timely manner
Experience in bacterial culture, cloning, transformation, qRT-PCR and plasmid DNA isolation.
Experience in cell culture, including (but not limited to) HEK-293T as well as Chinese hamster ovary (CHO) cells).
Experience in working with lentivirus, transduction for making stable protein expression cell lime (preferably in CHO cells).
Sound knowledge in fast protein liquid chromatography (FPLC)- based protein purification techniques consisting of gel-filtration, affinity, as well as ion-exchange chromatography.
Experience in characterizing the purified-protein utilizing SDS/NATIVE PAGE, Western blot analysis.
Experience with Flow cytometry.
Experience in optical, fluorescence microscopy.
Working knowledge of Immunology, computer mouse handling, including harvesting of tissues as well as collecting blood for characterization of immune cells by flow cytometry.
First author publications (minimum one) in Microbiology/ Immunology/ Biochemistry or relevant field.
Solid communication ability consisting of advanced skills in Microsoft Office suite (Word, Excel, PowerPoint), data analysis software such as GraphPad prism/ Origin/SigmaPlot etc. and ability to work in a team.
Emoluments: Rs. 47,000/- per month consolidated plus 24 percent HRA (According To DST OM dated 30.01.2019).
See Notification & Download Application Format Below
Editor's Note: NII Research Life Science Associate Job – PhD Walk-In-Interview, national institute of immunology jobs. Please make sure that you are subscribed to the Biotecnika Times Newsletter and our YouTube channel to be notified of all of the latest in the industry. Follow us on all of our social media like Twitter, Facebook and Instagram.