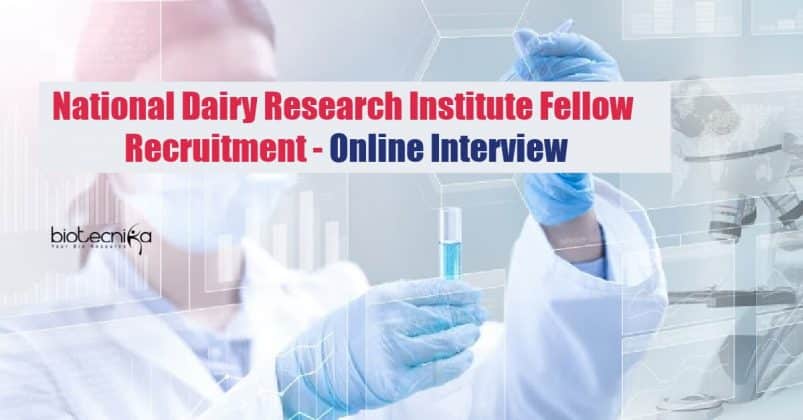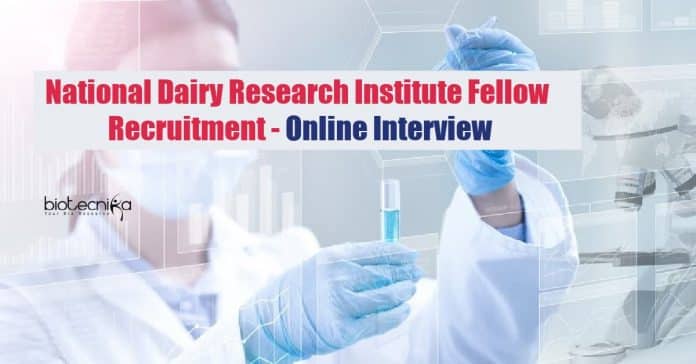 NDRI Microbiology Jobs – SRF For Food Technology
NDRI Microbiology Jobs – SRF For Food Technology. MSc/MTech/BTech Microbiology/Food Technology/Food Science & Technology recruitment for r&d jobs. ICAR-NDRI is recruiting for research positions. ICAR-NDRI Research Fellow Recruitment. Interested candidates can check out the SRF vacancy at ICAR-NDRI, as per the details given below:
This job expires in :
-19
Days
-14
Hours
-17
Minutes
-7
Seconds
CAR-NATIONAL DAIRY RESEARCH INSTITUTE
ADUGODI, HOSUR ROAD, BENGALURU-560 030
KARNATAKA STATE
The Online Interview for the position of One Senior Research Fellow in below mentioned project/scheme will be conducted at this Institute on the prescribed date/time on a contractual basis, which is co-terminus with the project/scheme. The qualified candidates are invited to appear prior to the Selection Committee for Interview at SRS of ICAR- NDRI, Bengaluru.
Job Title: SRF
No. of Positions: 01
Name of the Project: DST Funded project "Electrohydrodynamic Encapsulation of
Probiotics in Prebiotic nanofibers for Food Applications: under Dr Heartwin A. Pushpadass, PI & Principal Scientist, SRS of ICAR- NDRI, Bengaluru
Duration: Three years or coterminous with the project whichever is earlier.
Age Limit: 35 years for Men as well as 40 years for Women in case of SRF on the date of Interview. (Relaxation for SC/ST/OBC as well as PHC based on GOI/ICAR guidelines).
How to Apply for NDRI Job:
Online Mode: 15-11-2020 at 10.00 a.m. onwards
The above position is purely short-term and also will be filled out on Contractual basis. The selected applicant will have no right/claim for regular appointment at this Institute, as the engagement is co-terminus with the Project/Scheme. Interested candidates might attend online Interview as the case may be. No TA/DA will certainly be paid for attending the interview.
All Candidates interested in attending the interview, are requested to send scanned copies of application addressed to the Asst. Administrative Officer, SRS of ICAR-National Dairy Research Institute, Adugodi, Bengaluru– 560030 based on attached format, affixed with recent passport size photo as well as copies of self-attested certificates in support of age, qualifications, experience, testimonials and other qualifications on or before 10-11-2020. Email be mentioned in the application for communication purpose. Canvassing in any kind of form will certainly result in disqualification of the applicants.
List of candidates that are found eligible for the Online Interview will be published on the Institute website on 14-11-2020. Eligible candidates will also be informed through phone/email/WhatsApp.
Note:
(1) Those applicants who are currently working in any project/scheme/ organization Should Enclose a copy of the "No Objection Certificate" from his present employer.
(2) On the date of submission of documents by post (i.e. 10.11.2020), required Degree Certificate should (at the very least PDC) should be in hand.
(3) The experience will certainly be counted in the pertinent field after acquiring the basic minimum qualifications.
(4) Professional Courses will be taken into consideration as specified in DBT OM No. 5/DS( F)/ DBT/2014 dated 10th September 2014.
(5) Chosen candidates will certainly be required to produce all original documents at the time of joining.
Application format: Name, Father's Name, Date of Birth, Full Present as well as Permanent address with Telephone Numbers as well as email address, Category: General/SC/ST/ OBC, Preferred mode of the interview (online), Qualification details with percentage marks from matriculation/high school onwards (starting from the highest qualification first), Previous Experience, if any type of, self-declaration regarding truthfulness in the application, signature with date and place.
Emoluments: Rs. 35,000/- per month + HRA as per OM of DST HRA will certainly be provided if Govt accommodation is not provided (based on ICAR guidelines).
Essential Qualifications for NDRI Job:
(a) Post Graduate Degree in Microbiology (Basic Science) with NET or Graduate Degree (Professional) in Microbiology/Food Technology/Food Science & Technology/ Food Engineering/ Food Process Engineering / Agricultural Process Engineering/ Food Science/ Dairy Technology with NET or equal or Post Graduate Degree (Professional) in the above subjects.
(b) 2 years of research experience in the relevant field.
See Notification & Download Application Format From Below
Editor's Note: NDRI Microbiology Jobs – SRF For Food Technology. Please make sure that you are subscribed to the Biotecnika Times Newsletter and our YouTube channel to be notified of all of the latest in the industry. Follow us on all of our social media like Twitter, Facebook and Instagram.