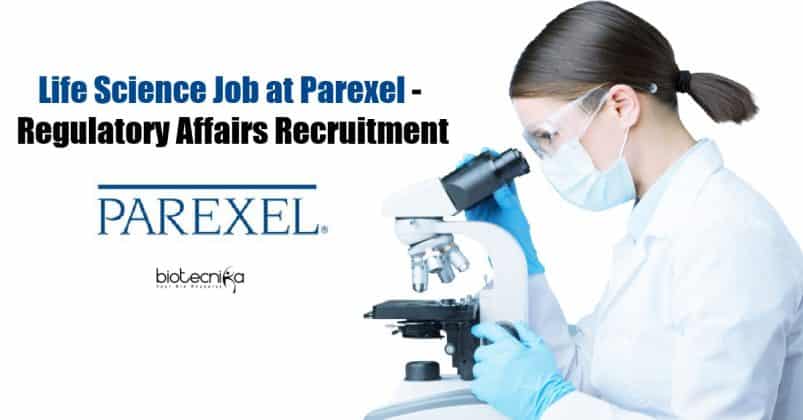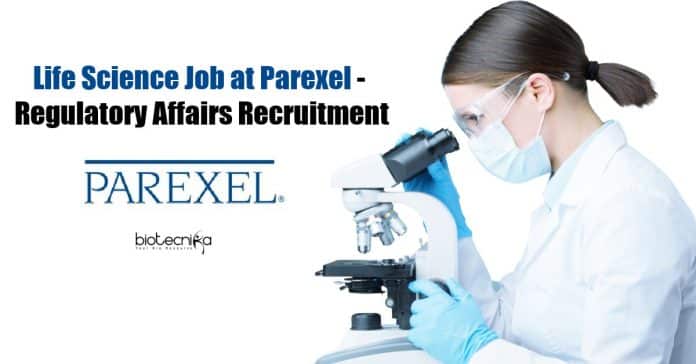 Life Science Vacancy Parexel – Regulatory Affairs Job Opening
Life Science Vacancy Parexel – Regulatory Affairs Job Opening. Life Science Jobs – Parexel Hiring, Apply Online. Parexel Regulatory Affairs careers. Parexel has job openings for life sciences candidates. Check out all of the details on the same below:
Parexel Vacancy Details
Designation: Senior Regulatory Affairs Associate
Requisition ID: 61664BR
Location: Bengaluru, Karnataka, India
RESPONSIBILITIES:
Good understanding of the regulatory framework, consisting of regional trends, for various types of applications as well as procedures for small and large molecules across all regions in addition to knowledge of global pharmaceutical legislation and also guidance particularly linked to regulatory CMC aspects in the ICH countries. Experience with ROW countries would be a plus.
Expertise in CTD/ eCTD compilation and submissions, technological review of the submission documents along with Post Approval activities: Renewal, Variations and other lifecycle management activities (ideally for Europe, USA and also International markets would be an asset). Exhibit excellent CTD writing abilities.
Comprehensive knowledge as well as experience with developing regulatory CMC strategies and also CMC dossier content requirements.
Product Portfolios: Generics, Consumer Health, Biologicals/Vaccines etc.
Lead and/ or contribute to the planning, prep work (consisting of authoring where relevant) and also the delivery of simple, as well as with experience, increasingly much more complex regulatory upkeep submissions from either a global and/or regional perspective.
Liaise closely with cross-functional members with aligned product responsibilities.
Develop, execute and maintain submission delivery plans, submission content plans, and also proactively provide status updates to designated stakeholders.
Identify regulatory risks and also propose mitigations to Lead RPM and also cross-functional teams.
Support operational and compliance activities for assigned CMC deliverables, including generating work requests as well as submission content plans, submission tracking and document management making use of the support as well as the input of Global Regulatory Operations and Marketing Companies.
Need to able to prepare, review and also submit Administratively, CMC related, Labelling as well as Safety variations to Health Authorities as well as likewise perform post Approval relevant updates (where applicable).
Ensure that the Regulatory Information Management system is maintained and updated for all activities under role responsibility, consisting of a review of documents.
Well versed with MA Transfers and also related activities preferably for EU as well as international markets.
Solid knowledge as well as experience of CMC gap assessment and also defining CMC action plans.
Determine the types of regulatory submissions or internal documentation that are required in situations.
Gap regulatory assessment (regulatory strategy) based on relevant HA requirements.
Preparing and also Prioritizing the gap resolution dossier concerning the update of the MA dossier as needed.
Supports Site regulatory product managers with regard to Regulatory Gap assessments.
Supports Site project teams and also external stakeholders as part of project execution.
Needs to able to deal with Health Authority Queries, Change Control management in addition to the coordination and follow-ups with internal/ external stakeholders and also local RA affiliates.
Must able to perform Artwork reviews.
Help and provide support in the prep work, distribution as well as follow up of registration documentation needed to affiliates/ regulatory authorities.
Identify relevant guidance documents, international standards, or consensus standards and provide interpretive assistance.
Maintain current knowledge base of existing as well as emerging regulations, standards, or guidance documents.
Exhibits excellent project management skills.
Demonstrates the ability to focus on work as well as define steps needed to achieve specified project outcomes.
Ensure that quality standards are met and that the deliverables meet strict deadlines.
Outstanding interpersonal as well as intercultural communication skills, both written and verbal.
Attention to details and also able to think strategically.
Multi-tasking capability.
Qualifications: B.Pharm, M.Pharm or any type of life sciences related discipline.
Editor's Note: Life Science Vacancy Parexel – Regulatory Affairs Job Opening, life sciences msc jobs. Please make sure that you are subscribed to the Biotecnika Times Newsletter and our YouTube channel to be notified of all of the latest in the industry. Follow us on all of our social media like Twitter, Facebook and Instagram.