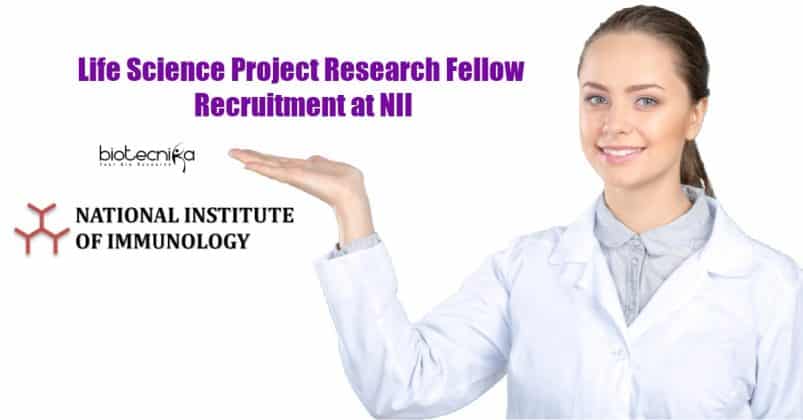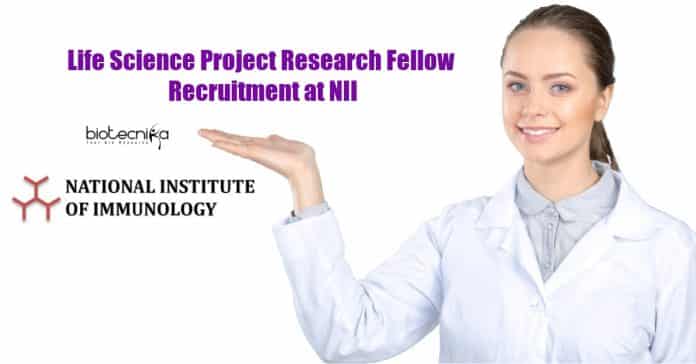 Life Science Research Fellow Job Opening at NII
Life Science Research Fellow Job Opening at NII. Recruitment of MSc Life Sciences candidates at NII. Senior Research Fellow Post. Research Job Openings at NII. Check out the details given below:
This job expires in :
-32
Days
-7
Hours
-16
Minutes
-35
Seconds
NII Vacancy Details
Job Name: Senior Research Fellow (Project)
No. of Posts: 01
Title of Project: Project entitled "Unraveling the molecular mechanism of the
transfer of -octanoyl chain from C8-ACP to the lipoyl domains by the Lipoate Protein Ligase B of Leishmania" funded by SERB
Principal Investigator: Dr. Monica Sundd Staff Scientist-VI ([email protected])
Duration: Tenable till 10.10.2021
Conditions for NII Vacancy:
The candidates chosen for the above posts will be on contract for a single year or length of the project whichever is shorter, at a moment.
No hostel/ home centre will be supplied.
Applicants may clearly mention the class they belong to i.e. SC/ST/OBC/PH and attach documentary evidence of exactly the same.
No TA/DA is going to be compensated for attending the interview if called for.
Shortlisted applicants will be intimated by e-mail concerning the date and time of interviews. Interview of shortlisted applicants will certainly be held online with video conferencing.
Apart from sending application in the prescribed format given below, candidates
should send complete Curriculum Vitae along with the names of three referees.
Curriculum Vitae should contain details of the experimental expertise.
Canvassing in any form will be a disqualification.
How to Apply for NII Vacancy:
Interested candidates might apply directly, STRICTLY IN THE PRESCRIBED FORMAT
GIVEN BELOW, via e-mail, to the Investigator of the project, clearly indicating the name
of the project in addition to their full C.V., e-mail id, fax numbers, telephone numbers. Only Shortlisted applicants will be called for interview and also they needed to send attested copies of all their certifications and also a Demand Draft of Rs 100/- drawn on Canara Bank or Indian Bank payable at Delhi/New Delhi in favour of the Director, NII (SC/STPH and also Women applicants are exempted from payment of fees) based on submission of documentary proof), at the time of interview.
PS: Due to the outbreak of COVID-19 pandemic, the Interview will certainly be held via Online mode only. Please mention your valid e-mail ID while applying for the above position.
LAST DATE OF RECEIPT OF APPLICATIONS: 30.10.2020.
Qualification for NII Vacancy: Post Graduate in any kind of field of Life Sciences, with NET qualification, and two years of research experience in protein chemistry/Structural Biology.
Job Description & Desired Knowledge: Candidate must have experience in cloning, protein purification, and biophysical/structural biology techniques.
Emoluments for NII Vacancy: The chosen candidates will certainly draw consolidated emoluments based on Institute Rules, relying on qualifications & experience.
Rs. 35,000/- per month plus 24% HRA (As per DST OM dated 30.01.2019).
See Notification & Download Format Below
Editor's Note: Life Science Research Fellow Job Opening at NII. Please make sure that you are subscribed to the Biotecnika Times Newsletter and our YouTube channel to be notified of all of the latest in the industry. Follow us on all of our social media like Twitter, Facebook and Instagram.