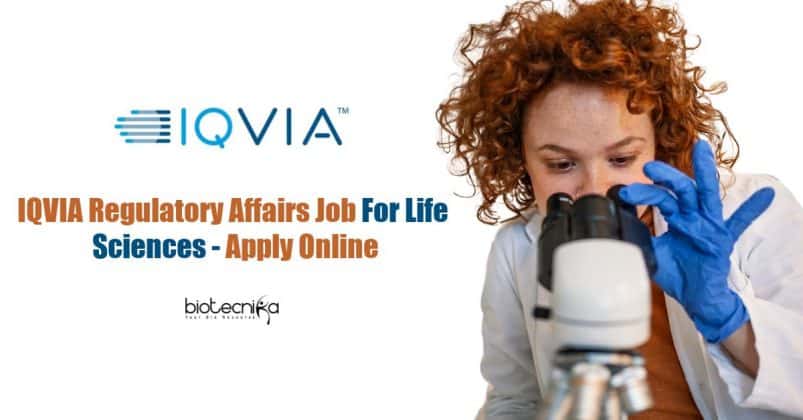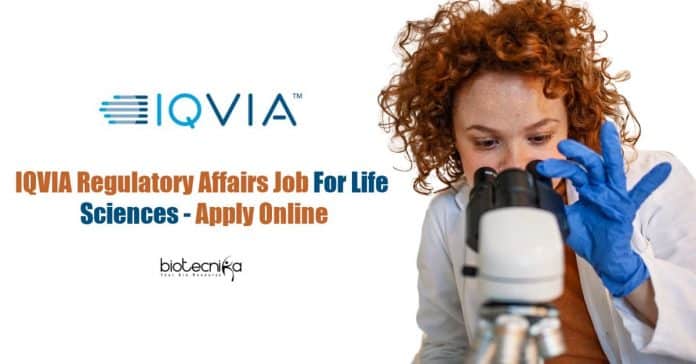 IQVIA Regulatory Affairs Job For Life Sciences – Apply Online
Life sciences candidates are encouraged to apply for a Regulatory Affairs position that is vacant and available at IQVIA. IQVIA Regulatory Affairs Job For Life Sciences – Apply Online. For more details on the Job description, responsibilities and such, check out all the details posted below.
Job Title: Reg Affairs Officer 2
Job ID: R1154308
Location: Bangalore, India
Job Overview:
An individual contributor who is fully proficient in applying subject matter knowledge for a professional discipline. Works under limited supervision.
Essential Functions:
Acts as a Regulatory Team Leader on more complex projects, which may include technical writing;
Prepares and/or reviews regulatory documentation in area of expertise, as appropriate;
Establishes relationships with many customers; may meet face to face without the rest of the team to discuss regulatory issues, present lessons learned and discuss customer comments;
Acts as an SME/ expert in Regulatory knowledge in Chemistry, Manufacturing and Controls/ Lifecycle Maintenance/ Marketing Authorization Transfers/ Labeling/ Publishing as applicable;
Understands the Scope of Work, deliverables and management of the budget for any given project and manages workload as appropriate;
May give guidance to junior colleagues, including feedback on the quality of technical documents, and may assist in their training and development;
May present to clients on complex regulatory processes at large full-service bid defence meetings by phone or in-person;
May act as a reviewer for regulatory standard operating procedures, as assigned and appropriate;
May prepare and deliver regulatory training to IQVIA small groups or individuals;
Performs other tasks or assignments, as delegated by Regulatory management;
Qualifications:
Bachelor's Degree Degree in Lifescience or related discipline Req Or
Master's Degree Degree in Lifescience or related discipline Req
At least 3-4 years of relevant experience
Good understanding of the Research and Development process (Chemistry, Manufacturing & Controls, Preclinical and Clinical), laws and related guidelines, as appropriate;
Possesses a specific regulatory or technical expertise;
Good, solid interpersonal communication (oral and written) and organisation skills;
Ability to establish and maintain effective working relationships with coworkers, managers and clients;
Strong software and computer skills, including Microsoft Office, publishing applications and tools, as applicable;
Demonstrates self-motivation and enthusiasm;
Ability to work on several projects, with direction from senior staff as appropriate;
Ability to follow standard operating procedures consistently; provides independent thought to assist in process improvements;
Ability to make decisions on discrete tasks under senior supervision;
Requires advanced knowledge within a specific discipline typically gained through extensive work experience and/or education;
Makes adjustments or recommended enhancements in systems and processes to solve problems or improve the effectiveness of job area;
Problems faced are general and may require an understanding of a broader set of issues, but typically are not complex;
Ability to adapt quickly to a rapidly changing environment;
Applicable certifications and licenses as required by the country, state, and/or other regulatory bodies
Editor's Note: IQVIA Regulatory Affairs Job For Life Sciences – Apply Online. Please make sure that you are subscribed to the Biotecnika Times Newsletter and our YouTube channel to be notified of all of the latest in the industry. Follow us on all of our social media like Twitter, Facebook and Instagram.