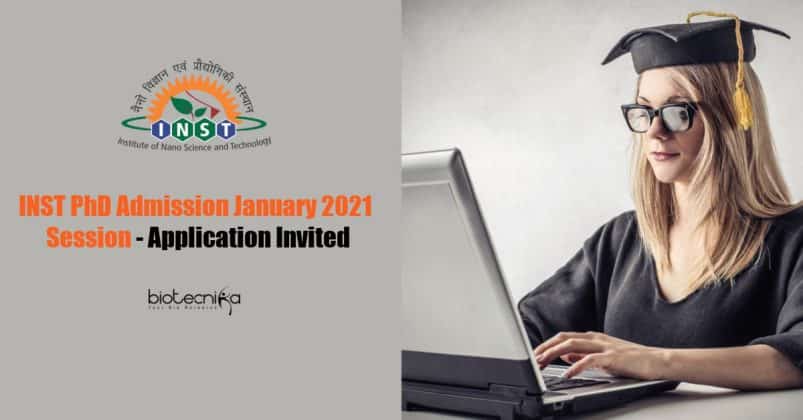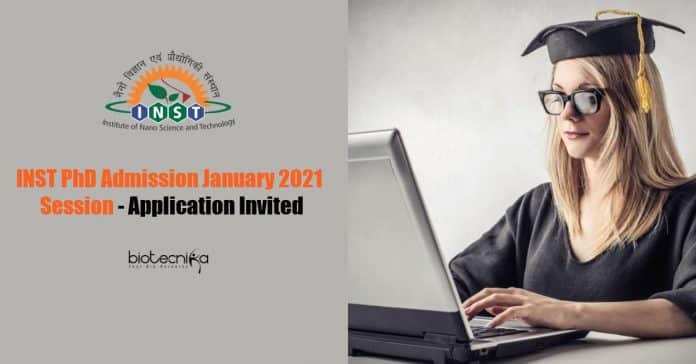 INST PhD Admission 2021 January Session – Application Invited
INST PhD Admission 2021 January Session – Application Invited. Institute of Nano Science and Technology (INST) invites applications from prospective candidates for admission into its PhD. Program in several areas of Nanoscience and Nanotechnology for the session beginning in January 2021. Check out all the details on the same below:
This Call Expires In :
-24
Days
-13
Hours
-34
Minutes
-2
Seconds
No. 9(1)/2020-INST
Ph.D. PROGRAM – JANUARY, 2021 SESSION
Interested candidates with a good academic track record and a strong intent to
pursue Ph.D. in areas related to Nanoscience and Technology like Quantum Materials & Devices, Energy & Environment, Chemical Biology, Computational Nanoscience, etc. Students with an independent source of fellowship, such as CSIR-NET (JRF), UGC-NET (JRF), etc are encouraged to apply.
ELIGIBILITY CRITERIA: M.Sc. in (Life Sciences)/ M.Tech. in Basic, Applied Sciences or Engineering and related areas
QUALIFYING EXAMINATION : GATE/ CSIR or UGC-NET/ JEST/ JGEEBILS (TIFR/ NCBS)/ ICMR-JRF/ DBT-JRF/ DST-INSPIRE/ GPAT.
Students registered with IISER Mohali for their BS-MS program can apply as per IISER
Mohali's norm for INST PhD Admission.
 APPLICATION PROCEDURE FOR INST PhD ADMISSION
1. The application form for PhD programme can be downloaded from Institute website
http://inst.ac.in/careers.php. The duly filled APPLICATION FORM together with the images or scanned copies of all the testimonials consolidated into a single PDF file should be sent to [email protected] as an advanced copy of the application. (Important)
2.Online SYNOPSIS accessible at https://docs.google.com/forms/d/e/1FAIpQLSd-LesAEfu4QDsn0oqa62ev4azldHEICAKwBp0c4CNKBGM6Q/viewform?usp=sf_link should be filled out.
The hard copy of the application with the following documents should be sent to "The Director,
Institute of Nano Science and Technology, Habitat Centre, Phase – 10, Sector – 64, Mohali,
Punjab-160062" so as to reach on or before due date:
(a)Photograph duly pasted on the application form
(b)Application fees
(c)Self-Attested photocopies of Certificates/Testimonials in support of age, educational qualifications (Mark Sheet, Degrees & Certificates of class X and above)
(d)Experience certificate in case of working candidate
(e)Self-attested photocopy of a valid certificate for candidates belonging to SC/ ST/OBC/ PH category
3. The envelope containing the application form should superscribe "Application for the
PhD Program – January 2021".
4. The list of the shortlisted candidates will be uploaded to the Institute (INST) website.
The shortlisted candidates will be called for Interview via the email address provided by
candidate.
5. PhD Interview will be conducted via Online Mode. In case, we switch to the offline
mode, the candidates called for interview will be paid sleeper class rail fare or NonAC Bus Fare (on the production of the ticket) from a place of residence to Institute and back.
6. The candidate are advised to visit the Institute website (www.inst.ac.in) frequently to
track the latest developments.
Last Date: Applications from interested students should reach INST through Registered/ Speed Post/Courier/ By Hand, by 10th November 2020. Applications received after this date shall not be entertained in any case.
APPLICATION FEES
The PhD applicants may transfer the application fee online to a Bank Account of the
Institute, indicating their name and purpose for the online transfer. In the application
form, the applicants need to provide online transaction details. Kindly find the Bank
account details in a file annexed to the advertisement.
An application fee of Rs. 590/- for General/OBC or Rs. 295/- for SC/ ST/ PH is required to
process the application.
Award of the Degree: Selected PhD students will be enrolled in the PhD program of INST-IISER, Mohali. PhD degree will be awarded by IISER, Mohali (http://www.iisermohali.ac.in/).
Download Application Format From Below
See Notification Below
Editor's Note: INST PhD Admission 2021 January Session – Application Invited. Please make sure that you are subscribed to the Biotecnika Times Newsletter and our YouTube channel to be notified of all of the latest in the industry. Follow us on all of our social media like Twitter, Facebook and Instagram.