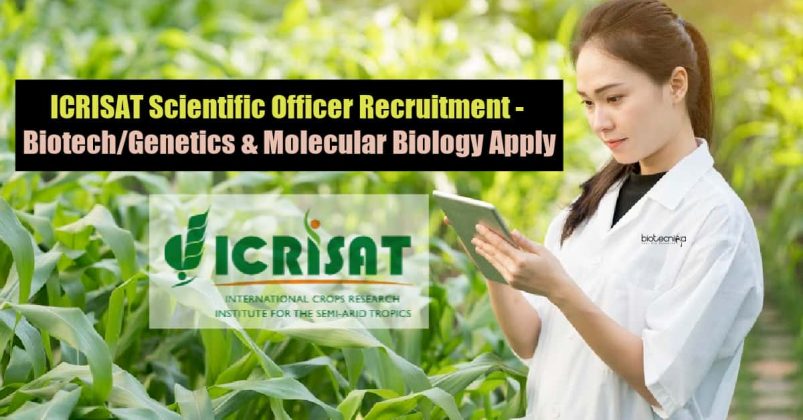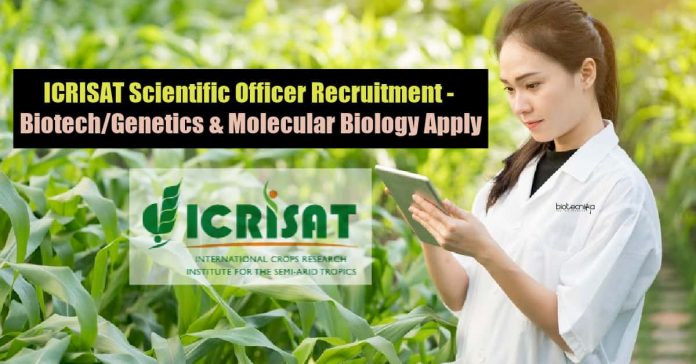 ICRISAT Scientific Officer Recruitment – Biotech/Genetics & Mol Bio Apply
ICRISAT Scientific Officer Recruitment – Biotech/Genetics & Mol Bio Apply. ICRISAT hiring for research vacancies, and msc candidates with mentioned qualifications are eligible. Check out all the details posted below on the same:
This job expires in :
-15
Days
-19
Hours
-16
Minutes
-29
Seconds
Name of Job: Scientific Officer (Breeding Innovations)
No. of Posts: 01
How to Apply:
Applicants ought to apply on or prior to 19 November 2020 with latest Curriculum Vitae, and the names as well as the contact information of 3 referees who are knowledgeable about your professional qualifications as well as work experience. All applications will certainly be acknowledged; nevertheless, only shortlisted candidates will be contacted.
Please CLICK HERE to send your application.
Deadline: on or before 19 November 2020.
Responsibilities:
The Project Associate will work closely with the AGGRi- modernization team to ensure the everyday smooth running of the project activities. Coordinate all cross-functional activities of the project at the local level.
The Project Associate will work on to ensure the daily smooth running of the project as well as keeping track record.
The PA will certainly be responsible for creating appropriate systems for documentation related to modern breeding strategies, improvement as well as implementation plans of all NARES.
PA would additionally aid to create training as well as workshop materials for NARES.
Provide aid in the distribution of materials, genotyping logistics, bar-code generation, electronic data capture, support in organizing events, training programs, workshops, networking seminars to facilitate national as well as international partners.
Perform any other relevant duties as assigned by supervisor from time to time.
Essentials:
Post Graduate degree in Plant Breeding/ Genetics/ Molecular Biology/ Biotechnology.
Abilities & Knowledge: Basic knowledge of MS Office programs such as Word as well as Excel or related software.
Experience in Molecular markers, phenotyping as well as project management will be an added advantage.
General:
This is a Locally Recruited Staff (LRS) position for 3 years (36 months) as well as renewable depending on the performance of the incumbent, funding availability, as well as likewise the Institute's ongoing requirement for the position.
Editor's Note: ICRISAT Scientific Officer Recruitment – Biotech/Genetics & Mol Bio Apply, icrisat recruitment. Please make sure that you are subscribed to the Biotecnika Times Newsletter and our YouTube channel to be notified of all of the latest in the industry. Follow us on all of our social media like Twitter, Facebook and Instagram.