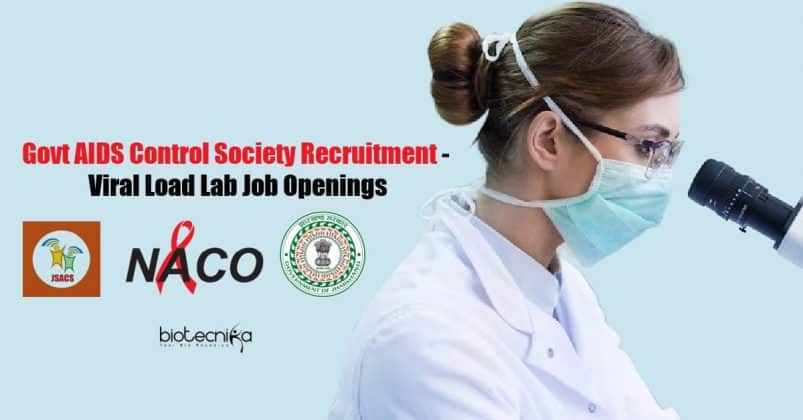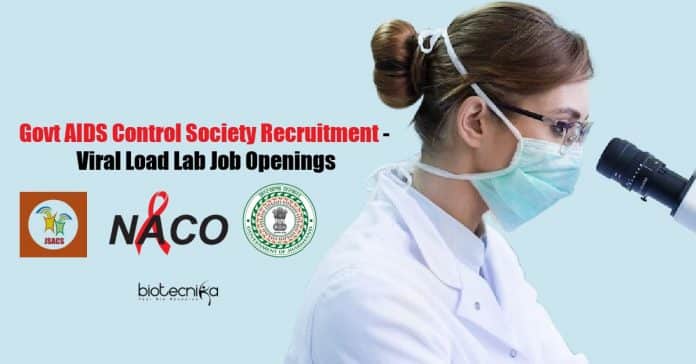 Govt Job Openings 2020 – Jharkhand State AIDS Control Society
Govt Job Openings 2020 – Jharkhand State AIDS Control Society. MSc Microbiology, Biotechnology and Life Sciences Technical Officer Job Opening. Govt. of Jharkhand Job Openings. Interested and eligible applicants can check out all of the details on the same below:
This Job Expires In :
-29
Days
-7
Hours
-16
Minutes
-31
Seconds
Govt. of Jharkhand
Jharkhand State AIDS Control Society
Dept. of Health & Family Welfare
Sadar Hospital Campus, Purulia Road, Ranchi
Tel./ Fax – 2211018, Website – www.jsacs.org.in
Adv. No. – —-02/JSACS/20-21
Last date of receipt of Application: 2/11/2020
Jharkhand State AIDS Control Society, Department of Health & Family Welfare, Government of Jharkhand invites applications from suitable applicants for (A) Technical Officer (TO) & Lab Technician positions in Viral Load Lab (VL Lab) (B) Technical Officer (TO) & Lab Technician positions in State Reference Laboratories (SRL). The positions would certainly be purely contractual in nature. Details for the posts are as follows:
The details regarding Qualification, Experience, Terms of Reference (TOR) are available on the web site of Jharkhand State AIDS Control Society i.e. www.jsacs.org.in.
Name of the Post: Technical Officer, Viral Load Lab
No. of Posts: 01
Type of Empoyment: Contractual
How to Apply:
The candidate will certainly find the whole advertisement at the bottom left side as Latest Recruitment of the http://recruitment.jharkhand.gov.in.
Candidate needs to register herself/himself on recruitment portal using Register tab on.
the Home page of http://recruitment.jharkhand.gov.in. For which the whole process flow has been attached as Annexure-I.
After a successful online payment applicant will get the payment receipt as well as his/her application process will certainly be finished. The applicant needs to keep safely his/her Application Request ID as well as password.
For any difficulty send out an email on

[email protected]

at least a day prior to closure of application deadline i.e.,…02/11/2020………… till 05:00 PM.
Note:
The appointment of professionals will be totally on contract basis for a period of one (1) year, which may be extended after the annual review of performance, output and also desired impacts. Nonetheless, the contract may be terminated when it comes to unsatisfactory service.
The successful applicant will have to sign a contractual agreement.
The contract shall not confer any kind of rights or claim of extension/ absorption in the department. The candidate will have to produce an affidavit in the case.
These are all posts for district level.
The remuneration will certainly be paid based on NACO norms/ order/ standards.
Request for transfer will certainly not be entertained as well as subsequently contract may be terminated.
Candidature of the candidate is liable to be cancelled if any discrepancy is found in the documents submitted at any stage as well as legal action will be taken for the same.
No TA/DA will certainly be admissible to appear for Written Exam/ Interview or both.
The max-age limitation for apply will be 62 years.
The selection of the applicant will be completely on the basis of Requisite Qualification, Requisite Experience as well as on the basis of merit list prepared after Written Examination/ Interview or both.
The Project Director, Jharkhand State AIDS Control Society, Ranchi reserves the right to.
cancel/ postpone the recruitment completely or partially if so required. No claim will be.
admissible in case of such cancellation/ postponement.
The application form made available by offline/postal/hand/ any other mode shall not be entertained and summarily rejected.
A non-refundable application fee for all category is Rs.1,000/-(One Thousand rupees only) via on-line payment Gateway.
Disabled applicants (with at the very least 40% disability) are exempted from exam fees.
Applicants wishing to apply for greater than one post will certainly have to submit a separate application together with an application fee.
All disputes will subject to the jurisdiction of Hon'ble High Court, Jharkhand.
The last date of receiving the online application is 02/11/2020 till 05.00 pm.
The Decision of the Society in any type of matter relating to the recruitment at any stage of the recruitment process will be final as well as binding upon the applicants. No correspondence or personal inquiries in this regard shall be entertained.
Remuneration per month: Rs.30,000/-
Qualification & Experience: M.Sc. in medical Virology/ microbiology/ Biotechnology/ Life
Science.
Minimum of two years experience in Molecular Diagnostic Lab or another lab/
Applicants with experience of working in NABL accredited or applied lab will certainly be favoured.
Terms of Reference:
Routinely perform Viral Load testing.
Develop SOP and various other pertinent documents for NABL.
Support development as well as the implementation of a Quality Management System in the VL lab.
Follow SOPs as well as forms of the VL laboratory and as defined.
Report generation as well as dispatch within turnaround time.
Ensure all documentation as per the National standards.
Analyze lab data consisting of program data and also QC data.
Guarantee participation of lab in EQAS program.
Supervisory role for troubleshooting, root cause analysis of testing errors at the lab.
Monitor quality indicators based on lab-quality policy.
Perform training on sample collection as well as transportation for linked sites.
Ensure maintenance of all samples for sample repository for later evaluation.
Ensure confidentiality of specimen whatsoever levels.
Will certainly be accountable for every single report generated by lab To attend all training/meeting organized by NACO/ SACS.
To enter data in IMS.
Visit the ART centre to monitor as well as review the work related to viral load sample collection by MHL.
Submission of certified statement of expenditure at periodicity defined by SACS.
Submission of the monthly testing report to NACO.
Coordination with SACS and NACO for lab consumables, kits and various other things for the smooth functioning of the lab.
Perform any other duties as assigned by Lab in-charge and also SACS.
See Notification Below
Editor's Note: Govt Job Openings 2020 – Jharkhand State AIDS Control Society. Please make sure that you are subscribed to the Biotecnika Times Newsletter and our YouTube channel to be notified of all of the latest in the industry. Follow us on all of our social media like Twitter, Facebook and Instagram.