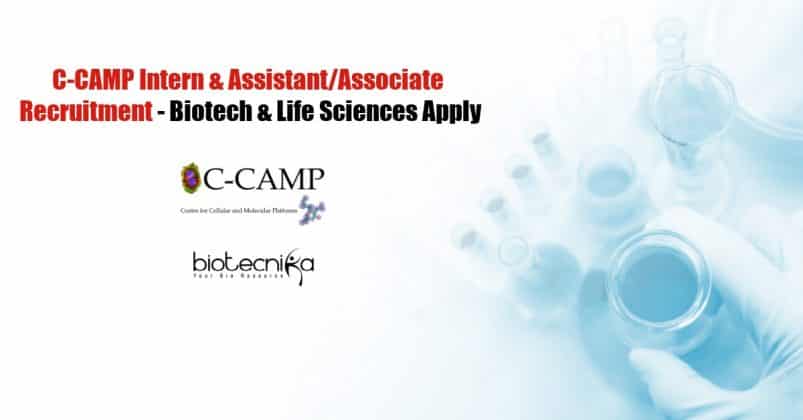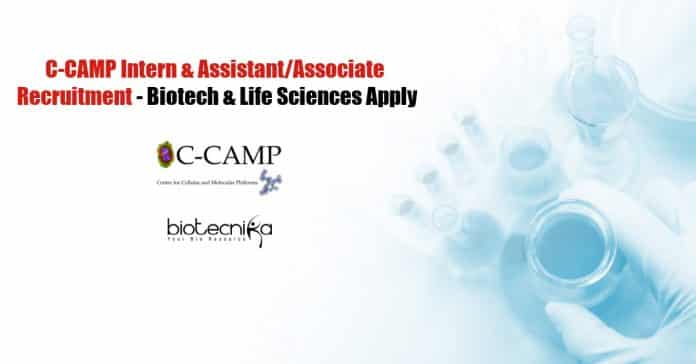 C-CAMP Biotech & Life Sciences Job Openings – Apply Online
C-CAMP Biotech & Life Sciences Job Openings – Apply Online. Technology Assistant/Associate & Entrepreneurship and Technology Outreach Intern vacancies at C-CAMP. MSc/PhD Biotechnology/Biochemistry & Life Science Job Openings at C-CAMP. Interested and eligible applicants can check out all of the details on the same below:
This job expires in :
-26
Days
-7
Hours
-16
Minutes
-37
Seconds
Centre for Cellular and Molecular Platforms (C-CAMP), is a Dept. of Biotechnology (Govt. of India) initiative and a not for profit organization based in Bangalore. We act as an enabler of Bioscience Research, Innovation as well as Entrepreneurship by providing Research, Development, Training and Services in State-of-the-art Technology Platforms. As a part C-CAMP's mandate of promoting entrepreneurship and also innovation, C-CAMP has actually created and fostered an entrepreneur-friendly culture in and around academic/research environment through its involvement in seed funding schemes for Startups, Entrepreneur Mentorship program as well as Bio-incubation facility.
Technology Assistant/Associate
Positions are immediately available at Biologics Characterisation Facility (BCF) at Centre of Cellular and also Molecular Platform (C-CAMP), Bangalore.
How to Apply:
To apply, send your detailed Curriculum Vitae, with the subject line "TA Biologics Characterisation Facility" to "[email protected]" on or before 30th October 2020.
Responsibilities:
Sample prep work for Mass Spectrometry based Method Development, Qualification and analysis for Biologics/Biosimilar/Large Molecule work.
Method development for Biologics Characterisation by LC-MS and LC-MS/MS
HPLC based Method Development, Qualifications and Analysis of Biologics/Biosimilar/Large Molecule Sample.
Various Other Biophysical Technics such as Circular Dichroism (CD), Fluorescence, Differential Scanning Calorimetry (DSC) etc.
Data Analysis, Prep Work of Report. And also writing of Standard Operating Procedure (SOP) is required.
Regular Maintenance of analytical Instruments in the Department.
Support to manage everyday activities.
To conduct thorough hands-on training for the students and researchers
To maintain the lab updates such as: procurements, laboratory cleaning and safety, management of scheduler, logbooks for the instruments.
Essential Qualifications:
MSc in Biotechnology/Biochemistry with 2-5 years of experience (Industry Preferable) in HPLC, LC-MS in Biologics Characterisation. Fresh PhD with LC-MS and various other biophysical techniques background and Understand Protein Chemistry are Encouraged to Apply.
---
Entrepreneurship and Technology Outreach Intern at C-CAMP
The Communications Office at Centre for Cellular and also Molecular Platforms is looking for a dynamic, self-driven and also proactive individual to join as Entrepreneurship and Technology Outreach Intern. In this position, the incumbent will report directly to the C-CAMP Outreach Manager.

The Intern shall be responsible for supporting the Manager in content creation, content updating as well as content sharing in all C-CAMP outreach efforts with an emphasis on infographics, graphical representations, UI/UX interfacing, graphic designing, video as well as photo editing.
She/he will certainly work very closely with all Programs in Charge, Outreach Consultant in addition to Outreach Manager in order to capture as well as convey news and/or data from each of C-CAMP's programs. She/he has to be conversant with basic social media management and also will likewise curate and maintain databases. She/he needs to be able to work both on independent and collaborative ideas to better enhance C-CAMP's visibility and also a presence on social media as well as elsewhere.
How to Apply:
Apply with your resume to [email protected] with the subject line "Outreach Intern".
The last date is 5.11.2020
Eligibility Qualifications:
Bachelor in Arts or in Mass Communications ideally with a diploma in multimedia design. MSc candidates with Life Sciences specialization that have flair for designing and infographics are likewise welcome.
Desired:
Minimum experience in graphic design, multimedia content generation
Active interest in photography, photo and also video editing
Comfortable with Adobe Photoshop, Adobe Illustrator, or the like. with accessibility to basic design software program
Salary: Shall be commensurate with qualification and also experience
The position is on a contract basis, initially for a period of six months with provision for full-time employment based upon performance assessment.
Editor's Note: C-CAMP Biotech & Life Sciences Job Openings – Apply Online. Please make sure that you are subscribed to the Biotecnika Times Newsletter and our YouTube channel to be notified of all of the latest in the industry. Follow us on all of our social media like Twitter, Facebook and Instagram.