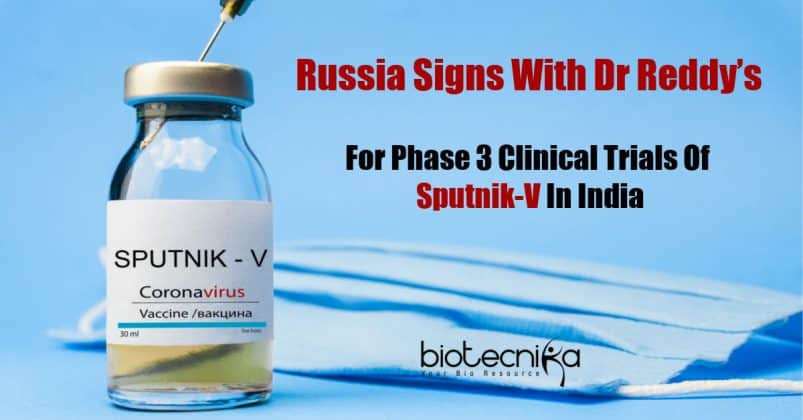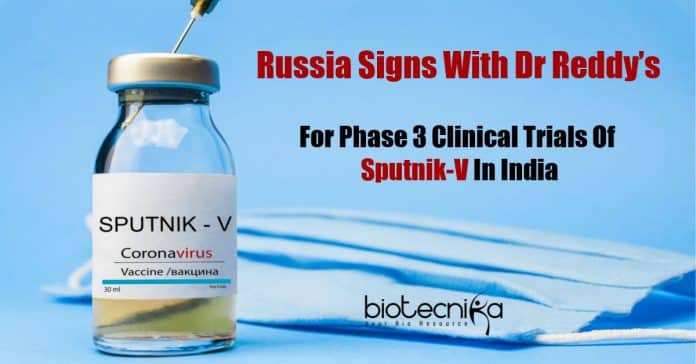 Dr. Reddy to start phase 3 clinical trials of Sputnik V in India
RDIF – Russian Direct Investment Fund, Russia's sovereign wealth fund, has actually consolidated with the Hyderabad-based pharma company Dr. Reddy's Laboratories Ltd to supply 100 million dosages of the world's first registered COVID-19 vaccine Sputnik V (adenovirus vector-based vaccine) – the COVID-19 vaccine developed by Russian scientists in India once it has received all the required regulatory approvals.
Phase 3 clinical trials of the Sputnik V vaccine will be carried out by Dr. Reddy's according to Indian governing standards, where it will be tested on thousands to develop efficacy as well as safety for Sputnik V in India.
Officials from RDIF stated that deliveries could possibly begin in late 2020 subject to completion of effective trials as well as registration of the vaccine by governing officials.
They further added that the deal between RDIF and Dr. Reddy's shows the growing awareness of countries and companies to have a diversified anti-COVID vaccine profile to protect their populace.
The outcomes of phase 1 and 2 clinical trials were published in the journal The Lancet.
India and Russia have been in touch on Sputnik V
Kirill Dmitriev, RDIF Chief Executive Officer stated that India is among the countries that are worst impacted by COVID-19, claiming Sputnik V will "give a safe and clinically certified alternative" to help the country fight against this ongoing pandemic.
He said that they are really pleased to join Dr. Reddy's. For over 25 years, Dr. Reddy's has had an extremely well developed as well as respected presence in Russia and is one of the leading pharma firms in India.
He added that India is among the most drastically influenced countries from COVID-19 as well as their team believes that their human adenovirus dual-vector platform will offer a safe as well as clinically verified alternative to India in the battle against the pandemic. Partners of RDIF will certainly obtain an efficient as well as a safe drug to combat COVID-19.
The system of human adenoviral vectors, "which is the core of the Russian vaccine, has actually been evaluated in more than 250 scientific research studies over decades, as well as it has been found to be safe without any negative long-term effects, said Kirill Dmitriev.
For the manufacture and clinical trials of the vaccine, the RDIF has been in touch with many pharma firms in India. However, this is the first formal agreement it has actually contracted.
Talks on the possibility of the vaccine being produced in India is being continued by the Russian and Indian government. RDIF has got the guarantee from New Delhi for the cooperation in its efforts to carry out phase III trials and also manufacture the vaccine.
Sputnik V vaccine could offer a reputable alternative in the battle against COVID-19 in India, said G.V. Prasad, Co-Chairman and Managing Director of Dr. Reddy's Laboratories.
He further added that they are happy to join with RDIF. The outcomes of phase 1 and 2 are promising, and also they will certainly be performing phase III trials in India to satisfy the demands of the regulators in India.
Currently, in India, 3 other vaccines are in various phases of clinical trials. One of the vaccines currently in phase 3 trials are established by scientists at the University of Oxford which are being produced by the Serum Institute of India.
Phase 2 clinical trials for the vaccines by Zydus Cadila and Bharat Biotech are preparing to start.
Author: Sruthi S