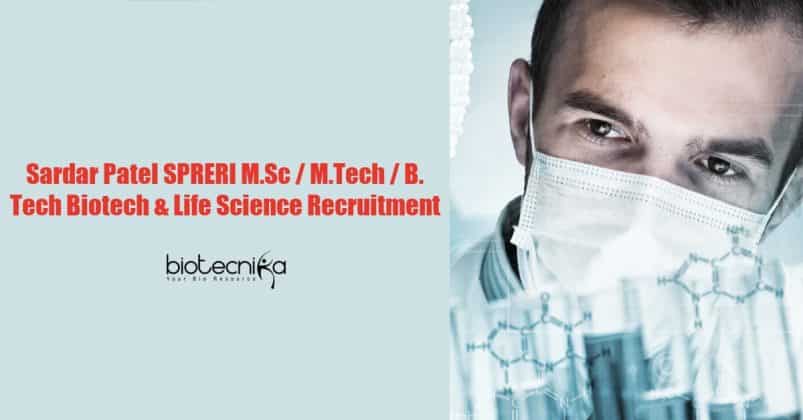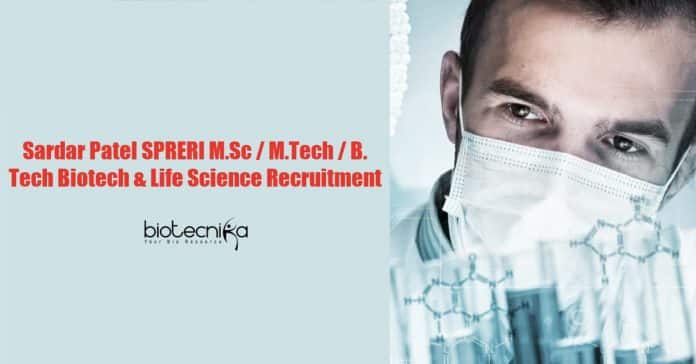 Sardar Patel SPRERI M.sc / M.Tech / B.Tech Biotech & Life Science Recruitment
Sardar Patel SPRERI M.sc / M.Tech / B.Tech Biotech & Life Science Recruitment. MTech/BTech/MSc Biotechnology/Life Sciences/Biochemistry Project Jobs at Sardar Patel Renewable Energy Research Institute, SPRERI. Interested and eligible applicants can check out all of the details on the same below:
This job expires in :
-65
Days
-14
Hours
-12
Minutes
-51
Seconds
Applications are invited from motivated and also qualified applicants for the position of Project Assistant (01) in a research project entitled "Development and demonstration of a green technology for conversion of crop residues into gaseous and solid bio-fuel for household/commercial application", funded by Department of Biotechnology (DBT), Government of India.
Post I
Position: Project Assistant (Bio-chemical Conversion Technology Division)
No. of Posts: 01.
Brief of the Project:
The project aim is to design, develop and also demonstrate a continuous process for conversion of crop residue into gaseous bio-fuel as well as seeks to address the negative impact of burning of crop residues in the open field.
Duration: The project period is of 1 year.
How to Apply:
Interested candidates are needed to send their application in the prescribed format in addition to detailed curriculum vitae. The application can be downloaded from SPRERI website (download from web site www.spreri.org/jobopening) and email the completed one to [email protected], with the subject line "Application for Post of Project Assistant: Bio-conversion Technology Division". Only shortlisted candidates will certainly be called for an interview.
Last date of application: 30.09.2020
Remuneration: The amount of project assistant will certainly be based on DBT, Government of India standards.
Essential Qualification: M.Tech/ B.Tech (Biotechnology or appropriate field) or M.Sc (Biotechnology/Life Sciences/Biochemistry or pertinent field).
Desirable Qualification:
Basic knowledge of analytical techniques, Standard methods for the examination of water as well as wastewater, proficiency in Microsoft Word, Excel and PowerPoint, good verbal and also written communication skills and also Lab maintenance.
Two to three years of experience in research work and also candidates with exposure in field projects will certainly be chosen.
Ability to function effectively within a multi-disciplinary team environment.
Main duties:
The selected candidate is expected to assist the Principal Investigator as well as other team members in carrying out research and development, testing, data collection analysis and report preparation.
---
Post II
Position: Principal Scientist (Bio-chemical Conversion Technology Division)
Number of vacancies: 01
Specialization: In the area of liquid bio-fuels
Essential Qualifications and Experiences:
Post-graduate degree in Engineering (Chemical/Mechanical/Environmental Engineering /Renewable Energy or any related areas) with 8-10 years experience after M.Tech or PhD in Biotechnology/Biochemistry/Enzymology/Microbiology with 5-7 years of rich experience in the field of liquid bio-fuels in R&D Institute or R&D division of any reputable industry on biomass energy/bio-fuel related technologies.
Job Description:
Proven research experience in Bio-energy (liquid biofuel) with a significant contribution to R&D programmes as Principal Investigator with outstanding publications in reputed journals/books
Team leader with excellent teamwork and communication skills
Keep up with the latest technology developments in Bio-energy
Able to define strategic planning, goals and tactics to manage research activities of divisional projects
Ability to work with strict deadlines and budgets
Able to complete projects with due diligence to ensure projects meet all financial and technical requirements
Able to guide young scientists in research and innovation in the execution of various projects
Application deadline: 30.09.2020
Remuneration: Negotiable based on qualification and experience (8.0-10.0 lakhs p.a.)
How to apply: Interested candidate(s), who meet the above-referred qualification and experience, may submit their applications in the prescribed proforma (download from www.spreri.org), along with their detailed bio-data including contact information of three references at [email protected], indicating the subject Application for Post of Principal Scientist-Bio-chemical Conversion Technology Division in the area of "Liquid bio-fuels".
Editor's Note: Sardar Patel SPRERI M.sc / M.Tech / B.Tech Biotech & Life Science Recruitment. Please make sure that you are subscribed to the Biotecnika Times Newsletter and our YouTube channel to be notified of all of the latest in the industry. Follow us on all of our social media like Twitter, Facebook and Instagram.