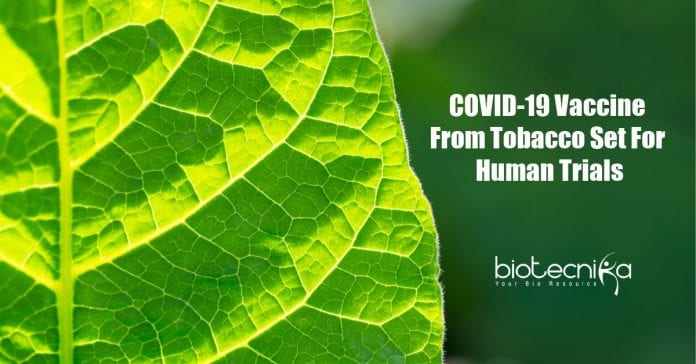 COVID-19 vaccine from tobacco ready for human trials
Every biotechnology and pharmaceutical company is racing to discover a COVID-19 vaccine. British American Cigarette, one of the biggest cigarette (Lucky strike cigarettes) makers worldwide claimed that its subsidiary Kentucky BioProcessing is ready to begin testing its prospective vaccine in humans.
The manufacturer of Lucky strike cigarettes claimed that it has manufactured the COVID-19 vaccine using protein from tobacco leaves. They are anticipating a response from the FDA.
We are optimistic and it's a vital part of our strategy to try as well as develop a much better tomorrow, said Kingsley Wheaton, the chief marketing officer of Lucky cigarettes.
The firm said that in the pre-clinical trials the vaccine has actually shown positive immune reactions.
The firm utilizes tobacco plants in developing a prospective COVID-19 vaccine, which is stemmed from the genetic sequence of SARS-CoV-2.
This technique generates the vaccine faster than the conventional methods, reducing the time required from several months to about 6 weeks.
Another cigarette company, Megicago Inc, a biotechnology company partly owned by rival cigarette maker Philip Morris International Inc, is likewise developing a plant-based vaccine that can be made available in the first half of next year.
Manufacturing the COVID-19 vaccine using tobacco is way different in the effects of other relevant products on our health. According to the World Health Organisation, smoking cigarettes can increase the signs and symptoms of COVID 19.
Tobacco manufacturers across the world have actually been delving into the race to establish a COVID-19 vaccine.
Soumya Swaminathan, chief scientist, the World Health Organization said that almost 24 vaccination prospects are there in clinical trials, though the success rate of such programs is usually 10%.
To develop COVID-19 vaccines, the firm uses the plant Nicotiana benthamiana – an Australian plant that's a close relative to tobacco. It is easy to host genetic material and develop particles that mimic a virus in this plant as it had a weakened immune system. The plants act as "bioreactors" that can harvest clinical-grade material in lesser time.
Author: Sruthi S