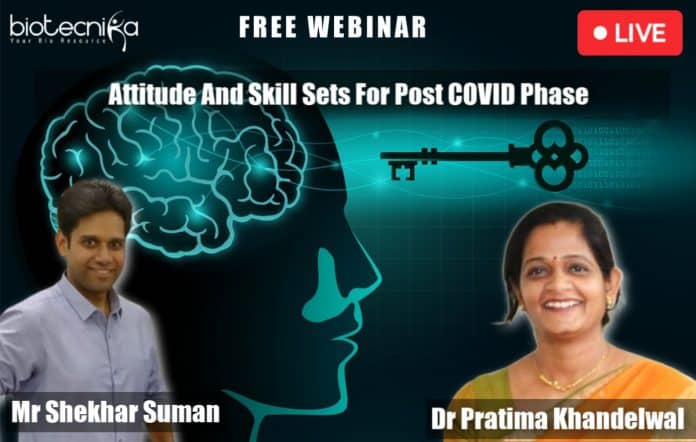 Attitude And Skill Sets For Post COVID Phase
Biotecnika Free Webinar with a Special Guest Speaker
Learn the Art from the Expert – Dr. Pratima Khandelwal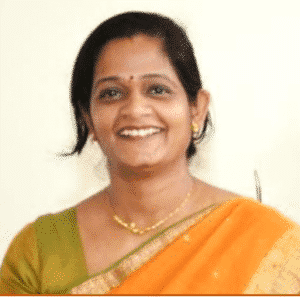 The COVID-19 pandemic has turned the world upside down. We all are going through a difficult phase, as well as a tremendous change. And it's difficult for each one of us to cope with this entirely new situation. Many of us bio-professionals are uncertain about the future and are in a confused state on how this is going to affect our career and how we need to change or improve to face the post Covid phase.
We are frustrated now. But we have to somehow adapt to this new world. Biotecnika's free webinar on "Attitude And Skill Sets For Post COVID Phase" is going to guide you through this process. We are here to help you develop a positive attitude and essential skills that could make your post-COVID professional life much easier.
The world is changing, and we need to catch up with this race with the most demanding skills of the time. But what are they? How do we gain them? We have many more questions like this on our minds. Constantly googling for your questions might not be giving you the answers you are looking for. That's why Biotecnika is offering you an opportunity to get all your answers from an expert – who has 25+ Years of experience training Students & Teachers Alike – A mentor who has changed the life of Many – Dr. Pratima Khandelwal
Webinar agenda: Attitude And Skill Sets Required For Post COVID Phase
Webinar Details:
Date: 18th May 2020
Time: 7 PM IST
Mode Of Webinar– Online
Duration: 1.5 Hrs to 2 Hrs Approx
Registration Fee– Free of cost for all Biotecnika Members & Subscribers
Subject: All Bioscience Professionals & Students
Speakers: Mr. Shekhar Suman, Dr. Pratima Khandelwal
Who is Dr. Pratima Khandelwal?
Biotecnika's free webinar on "Attitude And Skill Sets For Post COVID Phase" will be conducted by Dr. Pratima Khandelwal, who is a Professor & Head, Teaching-Learning Centre at Global Academy of Technology, Bengaluru. She's also the founder of HighFly, a company founded in 2019 in Bangalore and is dedicated to enhancing the capacities of teachers in today's google era.
Dr. Pratima earned her Ph.D. in 2002 in Food Technology and Process & Food Engineering from G B Pant University of Agriculture & Technology, Pantnagar. She is the recipient of VC Gold Medal, and ICAR's JRF and SRF for her masters and doctoral programs, respectively. She has published over 30 national and international research papers, 3 book chapters, and many more conference presentations. She carries a rich experience of about 20years in teaching and research in BE and MSc programs in Biotechnology in institutions at Thapar Institute at Patiala (Punjab), and in Bangalore under BU and VTU affiliated colleges. Her key domains of teaching and research are Food Technology (product development), Food
Safety (biosensors) and Pedagogy for higher education. She has published over 30 national and international research papers, 3 book chapters with many conference presentations. She has guided doctoral scholars under VTU, Belagavi. She is the inventor of two patents, co-inventor of 3 institutes filed patents and co-discoverer of few novel strains of useful fungi along with her Ph.D. scholar. She is the founder member of SASNET-FF and is a reviewer on board of many international food/dairy journals.
This Webinar is for every student and bio professionals who are anxious about their career during this COVID-19 pandemic. The webinar will help you develop a positive as well as constructive attitude and understand the skill sets that would be in most demand during the post COVID period.
If you are having any trouble CHAT HERE with our experts, we will be happy to help you out.
Our Mission: BioTecNika Revolution
Our Vision: To Reach every Bio Professional in the world and help them build a strong career