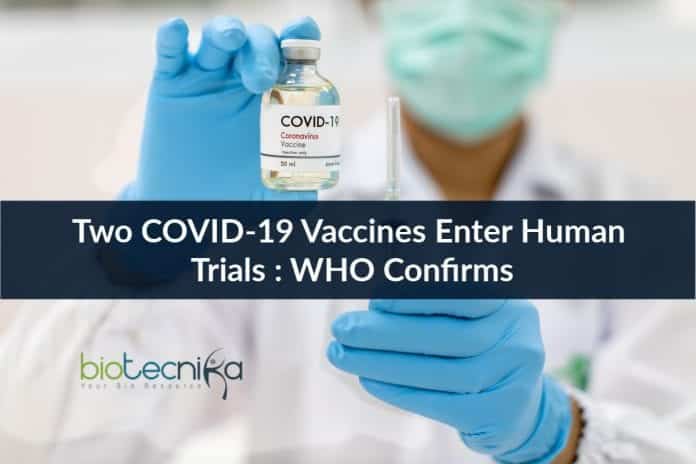 Two COVID-19 vaccines candidates enter human trials – 60 in the pre-clinical phase
The World Health Organisation has confirmed that 2 vaccine candidates against COVID-19 have entered into the very first phase of human trials and 60 other vaccine candidates are in pre-clinical researches.
The Beijing Institute of Biotechnology and CanSino Biological Inc jointly developed a vaccine candidate using the non-replicating viral vector as the template to develop a vaccine with 'Adenovirus Type 5' candidate. The vaccine candidate is similar to the non-corona vaccine candidate like Ebola. The COVID-19 vaccine candidate draft landscape was also released.
As per the sources, adenoviruses cause pneumonia and can deliver potential antigens to induce the production of antibodies that can antagonize the condition. In 2017, the Ebola vaccine was developed by CanSino Biological Inc and the Chinese Academy of Military Medical Science's Bioengineering Institute.
Vaccines developed by Moderna and the National Institute of Allergy and Infectious Diseases have entered the first phase of trials. The mRNA candidate vaccine enveloped in the lipid nanoparticle (LNP) makes use of an RNA platform with many vaccine candidates. To make proteins, the genetic info of the virus is decoded from the DNA. The intermediary between the genetic information
in DNA and the amino acid sequence of proteins is the messenger RNA, which passes the information to the cells to produce proteins that can fight against the viral diseases. The sources said, however, such vaccines are not yet been accepted for human usage.
The companies Bharat Biotech, Serum Institute and Zydus Cadila from India are amongst the worldwide firms working for a vaccine against the coronavirus. Sixty vaccine candidate is in the pre-clinical trial phase, as per the World Health Organisation. Professionals believe it will certainly take 12-18 months to make a vaccine available. The vaccine candidate needs to go via 3 phases of clinical trials to make sure its safety as well as efficiency, including the pre-clinical phase comprising testing in both small and large animals. The human trials are carried out on different populace in different places and have to produce huge information in the 3 phases of human trials for getting the regulative assents. Rapid monitoring is possible in such situations, however, the vaccine candidates have to pass through various tests prior to being brought into use. Generally, only 1 in 10 speculative vaccines make it through the regulatory authorities.