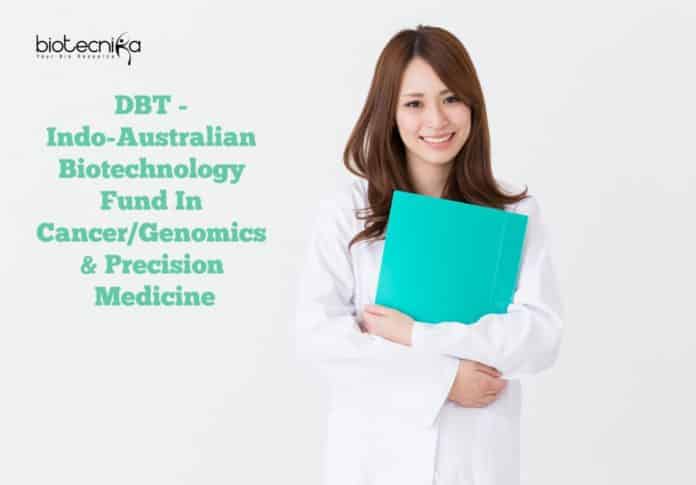 DBT – Indo-Australian Biotechnology Fund In Cancer/Genomics & Precision Medicine
The Indo-Australian Biotechnology Fund by Department of Biotechnology, Ministry of Science & Technology, Government of India notification has been released. Interested and eligible candidates can check out all of the details such as eligibility, how to apply, guidelines and more below:
This call expires in :
-408
Days
-16
Hours
-14
Minutes
-4
Seconds
Department of Biotechnology
Ministry of Science & Technology
Government of India
Indo-Australian Biotechnology Fund
CALL FOR PROPOSALS
(12th Round)
Applications are invited for joint research project proposals to be implemented by Indian scientists in Collaboration with the Australian counterparts. The priority areas of research for Round Twelve of the Indo-Australian Biotechnology Fund are :
Cancer Therapeutics / Theranostics
Genomics and Precision Medicine
Pest-Resistant Crops
Call for proposal opens from 28th August 2019 to 23rd October 2019 (Midnight 12 pm)
On the Indian side, Applicants for funding should submit the completed application form Five (5) hard copies and a soft copy (pdf) as one file only otherwise the exact same will not be accepted for example All relevant documents to Dr Suraksha S. Diwan, Scientist'E', Department of Biotechnology, Block-3, 5 Th Floor, Room No. 517, C.G.O. Complex, Lodi Road, New Delhi – 110003, email: [email protected]
Please see www.dbtindia.gov.in for detailed advertising, guidelines and Application format
1. PURPOSE OF THE GUIDELINES AND PROCESS
These guidelines are provided to help applicants for submitting an application under Round TWELVE for the Indo-Australian Biotechnology Fund (IABF).
These guidelines are applicable to Indian IABF applicants only. Australian applicants should apply to the Australian Government.
These guidelines provide an overview of the IABF, including information on the funding components, current priority areas such as funding and significant dates for Round TWELVE.
Provide information on the eligibility conditions that have to be met to be able to successfully apply for funding under Round TWELVE; information about funding provided to successful applicants; the assessment criteria that will be utilised in determining effective proposals under Round TWELVE.
Process:
The CALL for proposals opens
Guidelines are published on the DBT website
⇓
Complete and submit the application by the due date
⇓
Assessment of applications
All the applications are checked against eligibility criteria
Eligible applications are assessed against the assessment criteria compared to other eligible applications.
⇓
Recommendations of the Expert Panel
The respective Expert panels provide recommendations on applications.
⇓
Grant decisions
Joint Committee decides which applications are successful based on defined criteria
⇓
Announcement of the Results/outcome
Results will be announced on the DBT site
Successful Indian applicants are informed about the outcome.
(We might not notify unsuccessful applicants.)
⇓
Grant agreement
An agreement between Australian and Indian partner applicants is to be executed first. Grant agreement after processing the application for clearance by the authorities of the DBT concerned will be executed.
⇓
Release of grant
The first instalment is going to be released after the execution of respective agreements. Project activities will start. The project will be monitored for progress and additional releases will be made following the evaluation of reports.
2. ABOUT THE PROGRAM
The Indo-Australian Biotechnology Fund (IABF) is a platform for bilateral collaboration in Science jointly managed and funded by the governments of India and Australia.
Since its establishment in 2006, the IABF has supported collaborative, leading-edge research Between scientists in Australia and India across a range of jointly agreed upon priority areas. It has also helped to build linkages between premier educational and research institutions in Both nations.
The Goals of the IABF would be to:
Promote & support cutting edge science and technology (S&T) research by supporting: Collaboration between Australian and Indian researchers in strategically focussed, cutting Edge, scientific research and technology projects; and strengthening strategic alliances Between Australian and Indian researchers.
Facilitate India and Australia's access to the international S&T system.
The Indo-Australian Biotechnology Fund is managed jointly by the Department of Biotechnology (DBT), Government of India and Department of Industry, Innovation and Science (DIIS), Australian Government or Govt. of Australia.
2.1 GRANT OPPORTUNITY UNDER ROUND TWELVE OF THE IABF
Support is provided under the Indo-Australian Fund for S&T Cooperation in Biotechnology (Indo-Australian Biotechnology Fund) for Bilateral collaborative research projects Involving Indian & Australian partners. An application should clearly demonstrate the Activities will' add value by achieving something worthwhile for India & Australia?
Under the IABF, the Indian Government will contribute towards the direct costs of bilateral Activities among the priority areas for collaboration.
A higher budget could be provided to projects which engage industry and other end-user partners In research activities. Examples of an 'end user' partner include for-profit industry bodies And companies, not-for-profit associations, non-government organizations and public sector agencies. End-users may be located in almost any country but should Have the Ability to provide benefits to Both countries.
This has to be taken into account while drafting the project plan and budget.
The grant will be provided for 3 years together with the budget approved as appropriate for the project.
Additional information can be found on the DBT site: http://www.dbtindia.nic.in
2.1 OTHER GOVERNMENT FUNDING
IBAF Grants Aren't intended to duplicate support available from other sources, such as Other Indian Government financing mechanisms. Where applicants already receive Indian Guidelines for Round Twelve 2019-20 of the Indo-Australian Biotech Fund 5 Government funding for their core activities, they'll only be eligible if they can demonstrate that the activity for which funding is sought is additional to their core activities.
Applicants should list all current and requested funding under any other Government Funding Scheme for all key personnel within their proposal.
Collaborative Workshops Won't be financed under round 12
3. DURATION OF ACTIVITIES
Projects may be submitted for financial support for three years. Indian Government support Won't be provided for activities undertaken or expenses incurred before the execution of a Funding agreement
4. PRIORITY AREAS
The priority Regions of research for Round TWELVE of this Indo-Australian Biotechnology Fund are:
Cancer therapeutics/theranostics
Genomic and precision medicine
Pest-resistant crops
5. TIMELINES FOR ROUND TWELVE OF THE IABF
The call for applications under Round Twelve of the IABF will be open for eight weeks. The Round will open at 11.00 am (IST) on 28th August 2019, also close at 5.30 pm (IST) on 23rd October 2019.
The table below summarises the steps and indicative timing for the selection process for Round Twelve:
Activity
Timeline
Round Twelve opens for
applications
28
th August, 2019
Closing date for Round Twelve
applications
23rd October, 2019
Applications assessed and ranked by
IABF Expert Panel.
January, 2020
Joint public announcements made by
Indian and Australian Governments
on successful applications
March/ April 2020
Contract negotiations with
successful applicants
June, 2020
Projects commence
After execution of Agreement
6. ELIGIBILITY REQUIREMENTS
6.1 ELIGIBILITY CRITERIA
To be eligible to apply for funding under the Indo-Australian Biotechnology Fund, theIndian applicant must:
Submit an IABF application in one of the identified priority areas of research
Be one of the following'eligible organisations' (or a consortium of eligible organisations):
♦ Indian Education institution;
♦ Indian Cooperative Research Centre / University;
♦ Indian Public research company;*
♦ Indian Private research company;*
♦ Indian State/Territory-funded research organisation;
♦ Indian not for profit research organisation; or
♦ Other Indian incorporated entity;*
Be from an organisation that's registered under DSIR, is incorporated or if a university,is exempted from income taxation; and
Have a minimum of one Australian partner and confirmation from the implementing Australianagency a corresponding application from that Australian partner has been received(this confirmation will be obtained by the Indian Government).
Joint applications involving more than one Indian partner are acceptable, provided the lead applicant is the main driver of this project and is eligible to apply.
IABF projects should'link Australian and Indian research institutions, as well as otherend-user partners, collaborating on a single substantial project or conducting a variety ofresearch-related activities in a specified field. These Projects might be used as a catalyst to bring together top institutions in India at a particular research field with Australian partners to help build research capacity and enhance the program, commercialisationand sustainability of research outcomes in support of economic growth and development in India. While not compulsory, participation of additional end-user partners is strongly encouraged and funding will be aimed at Projects that can demonstrate a clear path to Guidelines for Round Twelve 2019-20 of their Indo-Australian Biotech Fund end use in support of economic growth and development in India and Australia.
Details of mutual consent in the form of written arrangements to look after equal distribution of that knowhow generated one of the Australian and Indian Partners should be provided along with the application.
* According to DBT's standards of International industry R&D funding.
Applicants must fulfill eligibility criteria to be considered for financing.
Click here to Download Application Format
View Notification Below
Editor's Note: Indo-Australian Biotechnology Fund 2019-2020 call for proposals, Indo-Australian Fund for S&T Cooperation in Biotechnology 2019-2020. Indo-Australian Biotechnology Fund (IABF) 2019-2020. Check out the Biotecnika Times Newsletter and also check out the Podcast we have for free listening on SoundCloud.