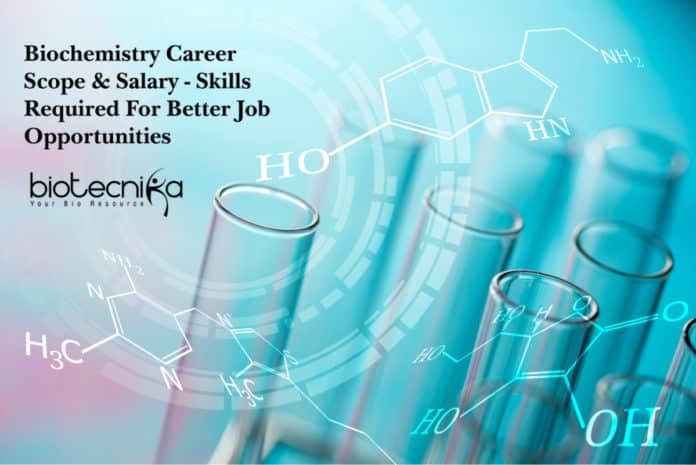 Biochemistry Career Scope Salary – Skills Required For Better Job Opportunities
"Biochemistry is the science of life. All our life processes – walking, talking, moving, feeding – are essentially chemical reactions. So biochemistry is actually the chemistry of life, and it's supremely interesting,"- Aaron Ciechanover.
What is Biochemistry All About?
It is around the beginning of the 20th century that Biochemistry emerged as a distinct discipline when scientists coalesced biology, physiology, and chemistry to look into the chemistry of living systems. It is basically the application of chemistry principles to the study of biological processes at the cellular & molecular level. Biochemistry sightsees the chemistry of living organisms and the molecular basis for the alterations occurring in living cells- thus it is both life science and chemical science. Methods of physics, chemistry, molecular biology, and immunology are being used to study the structure and behavior of the complex molecules found in biological material and also their ways of molecular interactions to form cells, tissues and whole organisms.
Biochemistry, in other words, is about learning the insights of the chemical reactions that make, break, run and repair the components that make up our body. Biochemistry, being the broadest of the basic sciences, includes many subspecialties such as bioorganic chemistry, physical biochemistry, neurochemistry, clinical biochemistry, molecular genetics, biochemical pharmacology, and immunochemistry. Recent advances in these areas have created yokes among chemical engineering, technology, and biochemistry. The facets of biochemistry that deal with the chemistry and function of very large molecules (e.g., nucleic acids and protein) are often categorized under the term molecular biology. Biochemistry is a fledgling science, the term having been known only since about 1900. However, its origins can be trailed much further back.
Biochemists show their interests in cellular multiplication and differentiation, communication within and between cells and organs, mechanisms of brain function, and the chemical bases of inheritance and disease. Biochemistry seeks to unravel the complex chemical reactions that occur in a huge variety of life forms. It provides the basis for practical advances in medicine, biotechnology, veterinary medicine, and agriculture. A biochemist seeks to determine how specific molecules such as proteins, nucleic acids, lipids, vitamins, and hormones function in such processes. Regulation of chemical reactions in living cells is of particular emphasis. It triggers and includes exciting new fields as bioengineering and molecular genetics.
In this article, we are going to discuss on Biochemistry Career Scope Salary, Job Prospects, Top Companies & Institutes Hiring and Much more.
Educational Requirement for Biochemists
Graduation in Biochemistry from a reputed institute – B.sc Biochemistry.
Postgraduation – M.sc Biochemistry is a must after your graduation if you wish to make your career further in this domain.
Some Institutes / Universities offer B.sc / M.sc Biochemistry Integrated courses which can also be a good option.
Msc Biochemistry Postgraduates who wish to get into research must have qualified NET / GATE exam, as a majority of the Govt & private institutes keep this as an essential criterion for job selection.
A Ph.D. in Biochemistry will be a cherry on the cake. For a flourishing career in Biochemistry research field, a Ph.D. Degree is a must. It helps you climb the career ladder faster.
Most Ph.D. holders in biochemistry have bachelor's degrees in biochemistry or an allied field, such as biology, chemistry, physics, or engineering.
Some universities provide a four-year undergraduate course that already includes an industry/research placement year, usually undertaken in the Pharmaceutical or Biotechnical industry or a research institute.
Skills Required
Requisite degree levels vary on the basis of position. For many settings, a bachelor's degree in Biochemistry is ample, while for advanced research work, a doctoral degree is obligatory.
Voluntary certification is obtainable through numerous organizations, including the National Registry of Certified Chemists and American Board of Clinical chemistry.
Students in bachelor's degree programs in biochemistry or a related field typically undertake courses in the biological and chemical sciences, in addition to courses in math, physics, and computer science.
Courses in math and computer science are important for biochemists, as they must be able to do complex data analysis.
Most bachelor's degree programs consist of required laboratory coursework.
Supplementary laboratory coursework is excellent preparation for graduate school or for getting an entry-level position in the industry.
Students can further gain valuable laboratory experience by working for a university's laboratories.
Infrequently, they can also expand such experience through internships with prospective employers, such as pharmaceutical and medicine manufacturers.
During the course of study, an individual develops practical and technical skills through laboratory-based work and also during the final year research project. All these experiences prepare one for research or a technical position.
After graduating chances can be improved by obtaining some relevant work experience, for instance, an internship, in a company or a research laboratory.
PhD programs predictably include advanced coursework in topics such as proteomics (the study of proteins), genetics and toxicology.
A number of graduate programs include courses in bioinformatics, which encompasses the use of computers to study and analyze large expanses of biological data. A lot of time is also spent by graduate students in conducting laboratory research.
For those interested in doing hands-on laboratory work, study at the master's level is usually considered good preparation.
PhD level studies add up further training in the planning and execution of research projects.
Lab experience is required for aspiring biochemists; postdoctoral research work may be required for advanced research positions.
Elementary skills include mathematical, analytical, interpersonal, speaking and writing expertise, and further being detail-oriented.
Knowledge of medical, scientific, query and spreadsheet software is fundamental.
A variety of specialized types of equipment such as gas chromatographs and electron microscopes must be appropriately used by a microbiologist.
If one contemplates a science-based career, pre-entry experience in a laboratory can turn advantageous. A few of the degree courses may include a year's work assignment carrying out scientific research in a government research laboratory, in an industry or other pertinent organizations. Certain companies provide funding to hold up research work in laboratories during the summer. In order to obtain information on these opportunities as well as other internships, it is advisable to visit Biotecnika website on a daily basis to ensure you do not miss out on applying to any of these opportunities.
Further, contacts can be extended to local hospital laboratories to uncover work experiences or even work shadowing opportunities. Valuable networking opportunities can be provided if one has joined the membership of a relevant society or a professional body such as The International Union of Biochemistry and Molecular Biology and American Institute of Biological Sciences. By being a member of such organizations, one can get access to grants and also discounted or free conference attendance.
Whatever the career plans are, it is essential to enhance the degree with additional skills and experiences which indicate that an individual is a proactive person engaging with the world around him. And as the experience gets added, the payroll of individual skyrockets.
Where Can A Budding Biochemist Go? – Job Opportunities
Agriculture: People in many parts of the world are already facing a food shortage. But biochemists are mitigating that impairment by developing innovations in cultivation, improvising the methods of pest control and also optimizing crop storage. Nevertheless, this needs to be made even more efficient.
Medicine: Medical biochemistry pursues to identify the causes of disease, figure out their transference from one generation to the other, identify their effect on the body in chemical terms and make an effort to isolate the indicators that signal looming disease. All these require tracking chemical alterations through normal bodily functions like respiration, muscle contraction, etc.
Nutrition: In this human world, thousands of different diet patterns are built on some near invariable essentials such as minerals, proteins, carbohydrates, fats, and vitamins. The biochemist's job is to investigate their effect on the human body in cases of excess or scarcity of these essentials.
Biochemistry Career Scope / Job Options / Salary
Biochemistry is a valuable degree commercially and that will come in useful for a range of well-paid jobs in an array of important industries. If one is looking for a career at the juncture of biology and medicine, then biochemistry could be interesting for him. The work field within the Biochemistry is vast.
Jobs directly related to a Biochemistry degree include:
Research Fellow
Analytical chemist
Biomedical scientist
Pharma Associate
QA / AC Associate
Healthcare scientist
Clinical biochemistry
Food Safety Analyst
Clinical research associate
Forensic scientist
Research scientist (Life Science)
Scientific laboratory technician
Toxicologist
Lecturer / Professor
Check Latest Biochemistry Jobs here
Career opportunities in Biochemistry can be virtually boundless: government agencies, private research institutions, hospitals, social and non-profit organizations all are in pursuit of good biochemists. They have a common goal – to conduct research, experiment, trials and to find out cures for diseases like AIDS and cancer and even for mental disorders.
Pharmaceuticals always keep their eyes open for biochemistry professionals. Private R&D jobs are among the most lucrative options for a budding biochemist.
Biochemists can work both in the private and public sectors. They have usually involved in research related works, working along with physicists, chemists, healthcare professionals, engineers, and policymakers. They can also engage themselves in various organizations including universities, food institutes, hospitals, agriculture, cosmetics, forensic crime research, drug discovery, education, and many more professionals.
Some of the Public sector fields that offer a career in Biochemistry field are:
Public Health Entities
Drug Manufacturing Companies
Blood Bank & Services
Cancer research institutes
Educational Institutes
Industrial Laboratories
Research Departments
Agriculture and fisheries
Environmental Pollution Control
Forensic Science
Hospitals
Public Health Laboratories
Cosmetic Industries etc.
The largest employers of biochemists in terms of the field are as follows:
Research and development in life sciences: 49%
Universities, colleges, and professional schools; state, local, and private: 15%
Pharmaceutical and medicine manufacturing: 28%
Management, scientific, and technical consulting services: 5%
Wholesale trade : 3%
List of Top Companies Hiring Biochemistry Graduates & Postgraduates are:
Novozymes
Thermo Fisher Scientific
Merck KGaA
Sun Pharma
Paraxel
Siemens
Syngene
Sanofi
Dr. Reddy's
Lambda Therapeutic
Panacea Biotech
Sami Labs
Anthem Biosciences
PI Industries
List of Top Institutes Hiring Biochemistry Graduates & Postgraduates are:
ACTREC
Institutes under CSIR
Institutes under ICMR
Institutes under ICAR
Govt Public Service Commission
IIsc
PGIMER
Central Research Institute of Unani Medicine (CRIUM) – Ministry of AYUSH
ICGEB
IIT's
NIT's
SVP National Police Academy R&D
NIAB & Many More
Biochemistry – Salary Details 
For Biochemistry Freshers the average entry-level salary figures are mentioned below:
| | |
| --- | --- |
| Average Freshers – Entry Level Salary at Research Institutes (Without NET / GATE) | Rs 15,000 – 20,000/- pm |
| Average Freshers – Entry Level Salary at Research Institutes (With NET / GATE) | Rs 20,000 – 30,000/- pm |
| Average Freshers – Entry Level Salary at Biopharma Companies | Rs 18,000/- to Rs 25,000/- pm |
For Biochemistry Candidates With Experience (1-3 years), Average Salary can vary widely based on the organization & the position one is working at.
| | |
| --- | --- |
| For Experienced Average Salary at Research Institutes (Without NET / GATE) | Rs 25,000/- to Rs 40,000/- pm |
| For Experienced Average Salary at Research Institutes (With NET / GATE) | Rs 30,000/- to Rs 60,000/- pm |
| For Experienced Average Salary at Biopharma companies | RS 30,000/- to Rs 80,000/- pm |
Over a period with experience, your value spikes at your workplace and in the industry in general. With further add-on skills and a PhD degree in your bag, you can pursue a successful career in Biochemistry filed with a handsome six-figure salary.
Biochemists characteristically work in offices and laboratories, to conduct experiments and to analyze the results. Those who work with hazardous organisms or toxic substances in the laboratory must abide by safety procedures to avoid contamination. Most biochemists work on teams. Research projects are a lot of interdisciplinary, and biochemists and biophysicists commonly work with experts in other fields, such as chemistry, physics, computer science, and engineering. Those who work in biological research generate hefty amounts of data. They team up with specialists called bioinformaticians, who make use of their knowledge of math, statistics, engineering, and computer science to drill datasets for correlations that might elucidate biological phenomena. Research in biochemistry counts on computers and medical technologies, thus an extensive understanding of computer science and software is of immense help. However, these skills are often attained during job training.
Attention paid to detail, the ability to work with a team and good communication skills are all essential qualities for a biochemist to be able to thrive and succeed in a lab environment. Some biotech companies look out for researchers to help them sell their products. As there are products which often rely on very complex technologies, thus having an expert might be crucial to explain them to the potential customers. This kind of a role for researchers may be seen more commonly in smaller companies, where employees often bear out multiple roles, such as working in research as well as in sales. Working in sales may also require a considerable amount of travel.
Employment of biochemists is projected to grow nearly 11 percent over the next ten years, which is faster than the average for all occupations. More biochemists are expected to be looked for to perform basic research that escalates scientific knowledge and to conduct research and further develop biological processes and products that can improve people's lives. Tools, techniques, and applications of biochemistry are mounting as technology and knowledge progress. However, fiscal concerns may constrain researchers' access to funding for basic research.
The aging population will propel the demand for novel drugs and procedures to cure and to further prevent disease. This increased demand is, in turn, expected to push the demand for biochemists involved in the field of biomedical research. For example, biochemists will always be needed to conduct genetic research and to develop new drugs and treatments that are required to fight the genetic disorders and diseases such as cancer. They will be further needed to develop new tests which are used to detect diseases and other illnesses.
Fields of research and development in biotechnology other than health also are also expected to deliver employment growth for biochemists. These researchers will resume studying the topics that progress our capabilities associated with clean energy, cost-effective food production, and environmental protection.
About the Author
Dr. Deepa Sharma is a dynamic professor at Biotecnika with specialization in Microbiology. With a Ph.D. in Botany,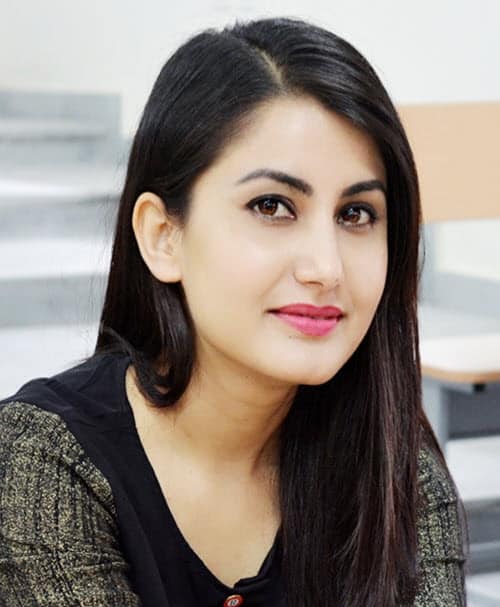 She is an avid follower of the latest life science journals and has quite a number of publications of her own piece of work. She has also been the most patient and a loving teacher to all our students for her true interest in dedicating her immense knowledge towards them. The above article has been penned down by her based on her experience & research she did in the field of Biochemistry.
Keywords: Biochemistry Career Scope Salary, Biochemistry Job scope, Biochemistry Career, Biochemistry Job Opportunities, Biochemistry Average Salary, Biochemistry Career Growth, Biochemistry research filed jobs, Top Biochemistry Companies Hiring, Top Biochemistry Institutes hiring.