BioInformatics National Certification (BINC) Examination 2017
Conducted by Department of Biotechnology, Government of India, New Delhi
& Coordinated by Pondicherry University, Puducherry
Starting of online submission of application : January 29, 2017
Last date for submission of application : February 28, 2017
Examination consists of two parts:
Part I (Paper I) : March 23, 2017 (10 AM-12 PM)
Part II (Paper II & III) : April 09, 2017 (9 AM- 12 PM & 2 PM- 5 PM)
Objective: Pondicherry University, on behalf of the Department of Biotechnology (DBT), Government of India, will conduct the BioInformatics National Certification (BINC) examination. The objective of this examination is to identify bioinformatics professionals for further studies as well as to help potential employers in recruitment of candidates having exceptionally good Bioinformatics skills.
Eligibility: Bachelor /Master degree holders in Life Sciences, Physical Sciences, Chemical Sciences, Mathematical Sciences including Statistics, Agriculture, Veterinary, Medicine, Pharmacy, Engineering and Technology are eligible to appear for the examination. Candidates appearing in final year examination are also eligible to apply.
Application and Syllabus: The online application can be filled from January 29, 2017 to February 28,2017. Syllabus for the examination is available online. It consists of five sections: Bioinformatics, Biology, Physical & Chemical Sciences, Mathematics & Statistics and Computer Science & Information Technology.
Examination: The examination fee is Rs. 600/- for General candidates, Rs. 400/- for Women/OBC candidates and Rs. 200 for SC/ST candidates and no fee for physically challenged candidates. The Part I (Paper I) examination is scheduled on March 23, 2017 and Part II (Paper II and Paper III) on April 09, 2017. Paper I will be of objective type and candidates scoring a minimum of 40% marks in Paper-I will be called to appear in Part-II examination. Part-II examination consists of two papers: Paper II will be of short answer type questions of three hours duration while Paper III will be a practical examination of three hours duration to test analytical ability and programming skill of candidates.
Research Fellowships as per the DBT norms for all the successful candidates those who are interested and qualified in pursuing Ph.D. in India will be awarded. In addition, cash prizes will be awarded to the top ten successful candidates.
How to Apply Guide
You can register for BINC-2017 from the Pondicherry website http://www.pondiuni.edu.in/exams/binc/; from 29th January 2017 to 28th February 2017.
Steps for Registration for BINC 2017 are as follows:
Register to create a Profile
Login with system generated User ID and Password
Submit Application, process payment (if applicable).
Upon creating a profile, you will receive a User ID and Password on your registered email ID and mobile number. Using these credentials you can login as Registered Applicant to fill the Application form. The application may be saved at any stage and can be re-visited to complete later. Once the form is submitted, you will not be allowed to edit any details in the Application form.
Before you register
Kindly follow the instructions below before you start registration:
1. Check your eligibility for BINC 2017 by referring to the advertisement on the website.
2. Ensure you have a valid email id and mobile number.
3. "*" (asterisk) indicates a mandatory field. The boxes marked with this symbol are mandatory.
4. Keep following information ready for filling the form:
a. Personal details
b. Qualifying Exam Mark sheets
c. Applicable Certificates to upload
d. Scanned images of your passport photo and signature (as per guidelines)
Step 1: Registration to get User ID and Password
Then click on 'BINC 2017 – Apply Online'
Then click on `New Registration', you will be directed to registration form
The entries in registration form cannot be changed once submitted, hence, ensure that you enter the required information as below correctly.
Name of Candidate: This should be the same as on valid government id proof.
Date of Birth: Use the calendar icon to select the correct date.
Email Address: Should be valid and unique. You will receive your User ID and Password on this email address only.
Mobile Number: Should be valid and unique. You will receive your User ID and Password as an SMS on this number only.
Captcha : The Captcha box is a special set of characters displayed on the screen. You will need to retype the characters in the box provided. This is a safety feature designed to ensure that a human is entering the details and not a computer program. If you have trouble reading the characters, click on 'Get a new image' to refresh the letters.
Declaration : By selecting the 'I Agree' checkbox in the Declaration section, you are committing to be honest and fair in all your actions and information provided in the Registration Form. It is mandatory to agree to the contents in the Declaration to proceed to submit the form.
Confirmation of Registration : Within minutes of submitting the Registration Form, you will receive a User ID and password on the registered email address from the Administrator. Ensure that you check your mailbox immediately and that it is not considered as spam mail.
You will also receive the User ID and Password as an SMS on the registered mobile number. Using these credentials, you may proceed to complete your application.
This ends Step 1 of the Registration Process
Step 2: Fill Application Form
Registered Users Click on `Applicant login' for Application form with User ID and password received on your email and mobile number.
Please read the important instruction carefully and click on the 'Continue' button.
The Application Form is categorized into the following four sections:
1. Personal Details
2. Qualification Details
3. Document Upload
4. Declaration
Read the Note on top of the form before you begin filling the information. You can Save and exit the form any number of times to edit and complete later or Save & Continue each section till you submit the application. However, you will not be allowed to continue, if mandatory information is not filled or the required Certificates are not uploaded. Once you have completed the last section, your application is considered complete. Post this, changes to any information provided on the application form is not possible. However, you may print or save the form from the website by login in again.
Please note after the form is submitted, payment has to be made for the test (if applicable). You can login by visiting http://www.pondiuni.edu.in/exams/binc/index.php and proceed with your payment. Please do not send the Hard Copy of the Application submitted.
1. Personal Details
Candidate Name and Date of Birth fields will be populated automatically based on the
information provided at the time of registering your profile.
Select Gender (Male/Female/Transgender)
Select the Category (General/SC/ST/OBC)
Select Marital Status (Single/Married)
Select Yes for Physically Handicapped (if applicable).
Your Email id and Mobile number will automatically populate in Application form as filled
during Registration process. If you wish to enter Alternate email id and mobile number you can fill details.
Enter Your Correspondence Address, which will be used for communication.
Enter your Permanent Address.
Once this section is completed, click on Save and Continue to proceed to next section.
2. Qualifying Exam Details
Select Your Qualifying Exam and fill in respective subject.
Please select your Exam status as Passed or Appearing in 2017.
Select your University Name and Percentage of marks obtained.
Select Date of Passing the Qualifying Examination.
Once this section is completed, click on Save and Continue to proceed to next section.
3. Documents Upload
Mandatory Documents:
Upload your recent passport size photograph (Maximum 80 Kb size, in JPG/JPEG format)
Upload your recent scanned signature (Maximum 80 Kb size, in JPG/JPEG format)
Upload your Date of Birth Proof as per guidelines (Maximum 150 Kb size, in JPG/JPEG format).
Date of Birth Proof can be the DOB certificate in English or if in regional language then a
declaration in English; SSC Certificate; PAN Card; Passport.
Upload your Qualifying Marks Certificate and Applicants appearing for Exam in 2017 have to upload scan copy of form in qualifying exam certificate duly filled and signed by HOD/HOI (Maximum 150 Kb size, in JPG/JPEG format).
Documents (if applicable):
Category/Caste Certificate (Maximum 150 Kb size, in JPG/JPEG format).
PH Certificate (Maximum 150 Kb size, in JPG/JPEG format).
Note for Uploading Documents:
a) Please use the provided template forms only for Category/caste certificate and qualifying
marks certificate. No other format will be acceptable.
b) The documents are to be uploaded in the mentioned size limits. The system will not accept
documents beyond desired size limits.
c) To reduce the size, open your document image in MS Paint by adjusting resolution.
Once Documents are uploaded, Click on Save and Continue to proceed to next section.
4. Payment and declaration
In this section applicants need to select Test City Preference. Applicants can select two different preferences of cities.
Applicable test fee will be displayed.
Candidate need to select mode of Payment: Net Banking/Card Payment
Applicant must read declaration and submit the Application form. Before submitting,
candidate must check whether he has filled all the details correctly. No change will be
entertained once the form is submitted.
For making the payment candidates will be re-directed to payment gateway.
Until the payment is successful (if applicable), the candidate will not be registered for
the test.
Please download the Acknowledgement receipt for any future communication (if
required).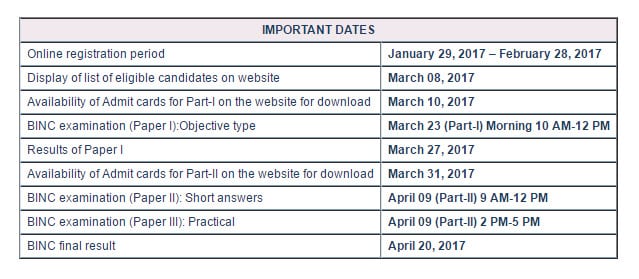 Helpline Details:
E-Mail ID : [email protected]
Toll Free No: 18002669066
Note: Assistance on Toll Free number is available on all days from 09:00 am to 06:00 pm.