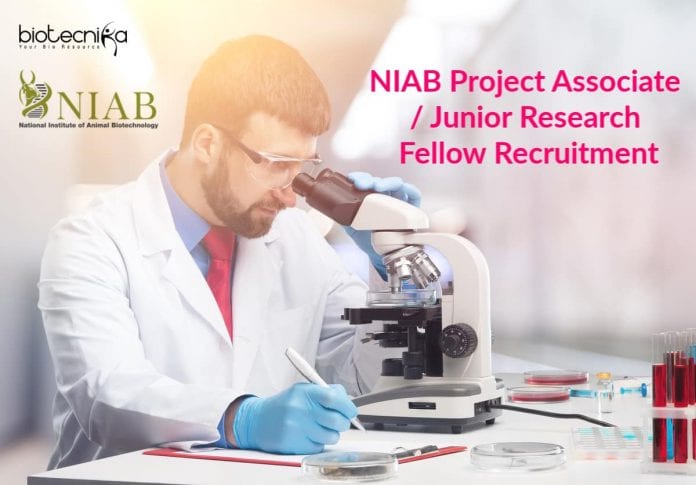 NIAB Job Opening – Biology / Biotechnology / Life Sciences Apply
NIAB Job Opening – Biology / Biotechnology / Life Sciences Apply. National Institute of Animal Biotechnology (NIAB) is hiring for Project Associate/Junior Research Fellow positions. NIAB job opportunity details, project details, application procedure details are given below:
This job expires in :
-231
Days
-11
Hours
-21
Minutes
-30
Seconds
NIAB Job Details
Advertisement No. 05/2020
Name of the Post: Project Associate-I/Junior Research Fellow
Name of the Project: "Identification of key molecular factors involved in
resistance/susceptibility to paratuberclosis infection in indigenous breeds of cows".
Name of the PI: Sarwar Azam
Name of the Co-PI: Dr. Ravi Gandham.
Age: 35 years. (Relaxation is admissible in case of SC/ST/OBC applicants as per Government instructions).
How to Apply for NIAB Job:
Applications are to be filled ONLINE. On-line weblink for submission of application is available from 23 March 2020 and the last date is 12 April 2020 by 5 PM.
Candidates need to fill up on the internet application form at www.niab.org.in. Applicants are advised to fill up the online application form in sufficient time before the last date to avoid last-minute technological issues.
Shortlisted candidates will certainly be asked for an interview before selection. TA/DA will not be paid for attending the interview.
No need to send a hard copy. Interim enquiries will not be entertained.
Eligibility for NIAB Job: Master's Degree in Natural Science or Agricultural Sciences/ MVSc or bachelor's degree in Engineering or Technology or Medicine from a recognized University or equal based on DST OM No. SR/S9/Z -05/ 2019 dated 21.08.2019.
Preferred qualification: Degree in Computational Biology or Bioinformatics or System Biology or Biotechnology or any type of related branch of life sciences. Candidate with experience in programming ( Perl or Python) as well as data analysis will be given preference.
Fellowship amount for NIAB Job: Rs. 31000/- PM + 24% HRA (if relevant) based on the DST standards.
View Notification Below
Editor's Note: NIAB Job Opening – Biology / Biotechnology / Life Sciences Apply. Please make sure that you are subscribed to the Biotecnika Times Newsletter and our YouTube channel to be notified of all of the latest in the industry. Follow us on all of our social media like Twitter, Facebook and Instagram.