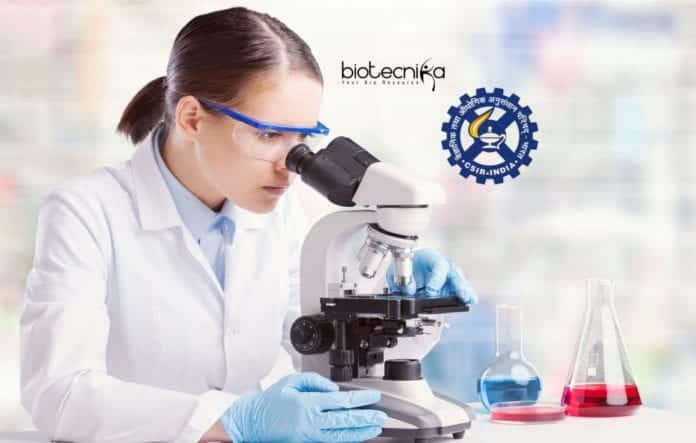 CSIR-CCMB Research Project Staff Recruitment 2019
Amazing opportunity for msc and btech biotechnology, bioinformatics candidates at CCMB. CSIR – Centre for Cellular & Molecular Biology Recruitment 2019. Project Assistant – II / Junior Research Fellow/Senior Research Fellow/Project Fellow jobs for biotech and bioinformatics candidates. Check out all of the info on the dates, eligibility and more below:
This job expires in :
-404
Days
-7
Hours
-46
Minutes
-17
Seconds
CSIR-CCMB is a top constituent research Institute of the Council of Scientific and also Industrial Research (CSIR), conducting research in frontier areas of modern biology. The objectives of the Centre are to conduct high-quality basic research as well as training in the areas of modern biology, as well as promote centralized national facilities for new and also modern methods in the inter-disciplinary areas of biology.
CSIR-CCMB is welcoming applications for filling short-term staff positions to work with various financed projects. Applicants would certainly be evaluated via a nationwide level entrance examination followed by interview of a select variety of candidates based upon the merit list. The successful candidates would be empanelled for recruitment into different projects. Information of the procedure, as well as guidelines, are accessible through links offered on this site.
ADVANTAGES:
A possibility of continuing as a CCMB PhD student exists for extremely brilliant as well as committed Project JRF/SRF by nomination with Academy of Scientific as well as Innovative Research (AcSIR), nonetheless, the applicant is expected to meet the high standards of CSIR-CCMB's research program as well as preferably possess a fellowship such as CSIR-UGC NET or equivalent. It must be kept in mind that mere selection, as well as engagement as a Project staff, does not automatically certify an applicant's entry right into CSIR-CCMB's Ph. D. program.
Project Staff will be provided OPD medical facilities through CSIR-CCMB Dispensary for self only.
Project Staff will be entitled to one day's leave for each and every completed month's service. Nonetheless, in extra-ordinary situations Principal Investigator of the Project and/or Director, CSIR-CCMB may supply relaxation in the regulations considering the exigency.
GENERAL CONDITIONS FOR ENGAGEMENT OF PROJECT STAFF:
The positions of Project Staff are purely Temporary and also on Contract basis under the externally funded/sponsored/Network/ various other project undertaken by CSIR-CCMB as well as is co-terminus with the project's period.
The selection of the candidates would be based on their performance at a national level entrance test followed by interview of a choose variety of students to be held at CSIR-CCMB. A panel of suitable students would be generated after the interview. The validity of this panel would certainly be for a duration of maximum One Year.
Empanelment does not provide an automatic guarantee of engagement. Recruitment into a specific project will certainly be entirely based on the requirement of the project and any kind of specific questions will not be entertained.
Applicants that have completed their degree with requisite educational qualifications only need to apply.
The engagement under project does not provide any kind of right/claim whatsoever, either explicitly or implicitly on the appointee, for regular appointment in CSIR/ CCMB, against any post or otherwise under any kind of legal conditions or precedent.
The age limit will be reckoned as on the date of interview. Age limit shall be relaxable for SC/ST/OBC/ PWD/Women applicants as per Government of India/ CSIR orders.
All the communication relating to the call for interview will be only through electronic mode (via E-Mail/Mobile).
The terms and conditions of engagement of Project Staff might be changed from time to time.
Offer engagement could be given for short duration, i.e. 3 months/ 6 months/1 year, which might be extended additionally on the recommendations of the PI-based upon the requirement, up to the tenure of the Project.
The maximum duration for which Project Staff could be engaged in different projects taken together will be 5 years.
TA/DA and also lodging will certainly NOT be offered to the applicants for standing for the written test as well as an interview.
The performance of Project Staff would certainly be reviewed occasionally so that applicants not found as much as the mark, could be changed.
The trouble of inquiries asked in the written exam go to qualifying exam level. While the questions will certainly be largely from wide Biology discipline, there will suffice to focus on various other areas such as Physics, Chemistry, Mathematics/Statistics, General Awareness, Logical Reasoning, as well as Aptitude. Applicants might refer to the CSIR-NET or equal exam for the syllabus.
Ask for a change of exam centre will certainly not be entertained at any type of stage. In case of non-availability of the primary examination centre because of factors beyond our control, 2nd or 3rd choice will be allocated. Thus, applicants are suggested to carefully select exam centres at the time of filling the application form.
Candidates short-listed for interview will need to travel to CSIR-CCMB as well as require to make necessary travel, accommodation and also other arrangements at their own. No request referring to accommodation, traveling support or any kind of such issue will be entertained.
Interviews will certainly be of roughly 20-30 min and also candidate is expected to be available throughout the day.
Canvassing in any type of form will immediately render incompetency of the candidature.
For any kind of info not easily accessible through these descriptions, please contact [email protected]. Please note that questions answered here will be not entertained via the email communication.
Eligibility:
Project Assistant-II / Junior Research Fellow/
Project Fellow
(a) M. Sc. in any branch of biological Sciences/Bioinformatics/Ecological Sciences/Environmental Sciences/ Agricultural Sciences/Chemical Sciences or comparable degree with minimal 55% marks or equivalent GPA score.
OR
(b) B. Tech/B. E. in Biotechnology or Bioinformatics with minimal 55% marks or equivalent GPA score.
OR
(c) M. B. B. S./ B. V. Sc./ B. Pharm. with a minimum of 55% marks or comparable GPA score.
Emoluments: Rs. 25000/month + HRA as applicable
Upper Age Limit: 30 years as on the application close date
---
Project Assistant-III/Senior Research Fellow
Any of the credentials for the initial position with extra at the very least 2 years of research experience.
Emoluments: Rs. 28000/month + HRA as applicable
Upper Age Limit: 35 years as on the application close date
Note:
CCMB reserves the right to reject interview of those applicants that can not produce proofs verifying that the candidate is in the last year/semester of the certifying degree.
Aside from project funded internally or by CSIR, the guidelines for qualification, emoluments etc. set by the financing agencies (such as DBT, DST, MoES etc.) would be adhered to.
SC/ST/OBC(non-creamy layer)/ PWD/Women candidates will be eligible for 5 years of relaxation in the upper age limit.
Applicants applying for 2nd position (i.e., PA-III/SRF) are automatically qualified for the initial position (PA-II/JRF/Proj. Fellow) provided they satisfy age requirements and do not need to apply separately for the initial position (PA-II/JRF/Proj Fellow).
Important Dates:
Online Registration Start Date: Friday 11th Oct 2019
Online Registration End Date: Friday 25th Oct 2019
Admit Card: Tuesday 29th Oct 2019
Computer Based Test: Sunday 17th Nov 2019
Announcement of candidates shortlisted for interview: Monday 18th Nov 2019
Date of Interviews: Monday 2nd Dec 2019
Important Links:
Editor's Note: CSIR-CCMB Research Project Staff Recruitment 2019, CSIR-CCMB Research Project Staff, CSIR-CCMB Research Project Staff vacancies, msc jobs, btech jobs, biotech jobs, bioinformatics jobs, biotechnology jobs, bioinformatics careers, csir-ccmb jobs, ccmb jobs, ccmb recruitment. You can check similar jobs and biosciences opportunities by signing up for the Biotecnika Times Newsletter and also following us on all of our social media. Check out the Podcast that we have for free listen on SoundCloud.