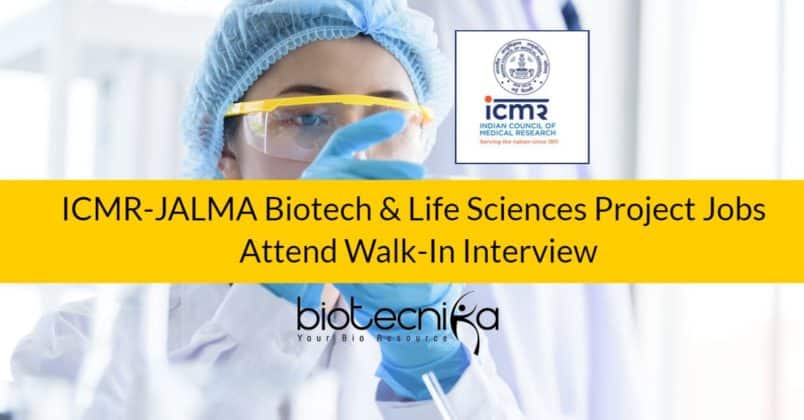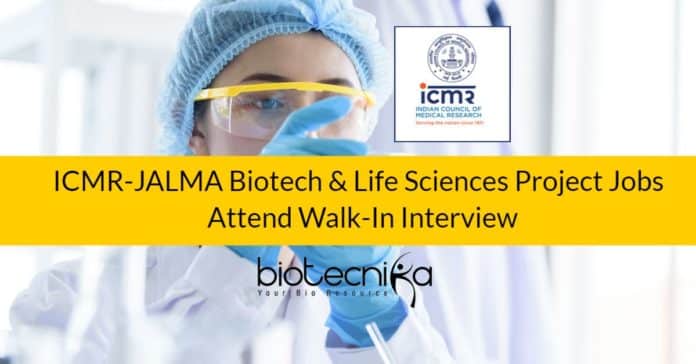 ICMR-JALMA Biotech Project Jobs – Life Sciences Candidates Walk-In
MSc Life Sciences candidates are requested to apply at JALMA. JALMA is recruiting for postgraduate candidates, for life sciences research fellow vacancies. National JALMA Institute for Leprosy & Other Mycobacterial Diseases is recruiting for research fellow vacancies as per the details given below:
This job expires in :
-519
Days
-7
Hours
-29
Minutes
-23
Seconds
Post I
Post Name:  Project Assistant
Vacancies: 03
Project Title: "Death Audit: Strengthening mechanisms for TB deaths reporting under the programme "
Salary: Rs. 31,000/-
Age Limit: 30 years
Essential Qualifications: Graduate in life sciences from a recognized university with 3 years of work experience from a recognized institution OR a Master's degree in life sciences subject.
---
Post II
Post Name:  Project Assistant (Bioinformatics)
Vacancies: 03
Project Title: "Estimation of the proportion of Non-Tuberculosis Mycobacteria (NTM) among TB patients who fail RNTCP treatment"
Salary: Rs. 31,000/-
Age Limit: 30 years
Qualifications:
Essential: Bachelor's in Bioinformatics or MSc in Bioinformatics/ Life Sciences/ Biotechnology or equivalent. Working knowledge/ experience in Bioinformatics is essential.
Desirable: Knowledge of NGS/ Data Analysis/ Statistical and Computational Genomics/ Bioinformatics.
How to Apply:
Depending upon on the number of applicants written test/interview may be undertaken.
Please note that no complaints will be entertained if the applicant misses the dates for the interview.
No separate call letters will be sent to the homes of the applicants.
The applicant should bring with them, the application form that has been linked below (Annexure-II) duly filled, all relevant original documents and a photocopy of the documents.
No TA/DA will be compensated for attending the interview.
Date, Time & Venue of Interview: 01.07.2019 at 10:00 AM at ICMR-JALMA
Click here to View Notification & Download Application Format From Below
Editor's Note: For more on ICMR-JALMA Biotech Project Jobs, life science jobs, life sciences jobs, jobs in life sciences, jobs for life science, msc job, jobs for msc graduates, msc vacancies, msc careers, msc recruitment, check out our Newsletter and also follow us on all of our social media platforms. And also, the Podcast we have for free listen on SoundCloud.